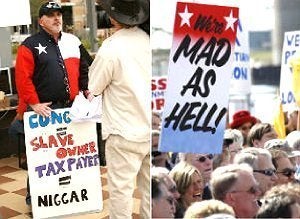 The National Association for the Advancement of Colored People is prepared to offer a resolution that condemns racism the group believes to be coming from the Tea Party movement, the Kansas City Star reports.
The measure -- which is expected to receive a vote this week by NAACP delegates at the organization's annual convention in Kansas City, Mo. -- requests "all people of good will to repudiate the racism of the Tea Parties, and to stand in opposition to its drive to push our country back to the pre-civil rights era."
Anita Russell, who heads the Kansas City NAACP local chapter, indicated to the Star that she's "pretty certain" the resolution will be approved.
Tea Party conservatives have struggled to combat charges of racism. A Washington Post-ABC News poll released back in May suggested that 28 percent of Americans see racial prejudice as an underlying element of the movement.
Brendan Steinhauser, who serves as director of campaigns for the conservative coordinating group FreedomWorks, told the K.C. Star: "I just don't see racism in the tea party movement." He added, "Racism is something we're absolutely opposed to."
Popular in the Community