Ever been to the cashmere farms of the Gobi Desert and thought, "I can create a symbiotic business with the herders?" That's the story behind Diederik Rijsemus and Matthew Scanlan's founding of Naadam, a men's knitwear company that's releasing its first collection this coming season. Read on to learn how two men in their early twenties, with little background in fashion, made their mirage a reality.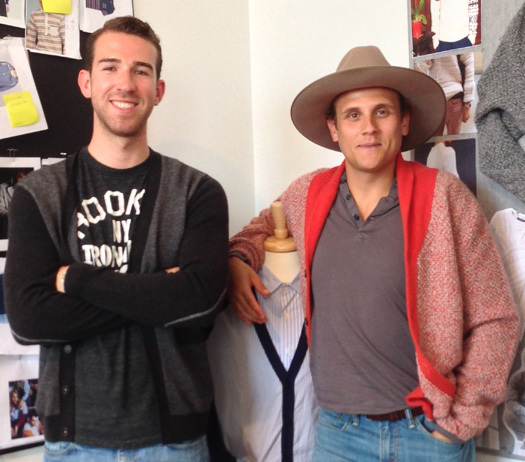 Diederik Rijsemus and Matthew Scanlan (photo by Alex Schattner)
Alex Schattner: What was the inspiration behind Naadam?
Matthew Scanlan: We founded Naadam about a year ago to design knitwear, particularly men's sweaters, while supporting and celebrating the people in our supply chain. Diederik and I went to Mongolia, where the best cashmere in the world comes from. This required a fifteen-hour flight to South Korea, and then a twenty-hour drive into the middle of the Gobi Desert. There's no way to find [the cashmere farms] unless you have a guide. There are no roads. No GPS. [The guides] just look at a mountain pass, and then go there.
Diederik Rijsemus: So, we met with the herders who harvest the cashmere from goats.
I had no idea that's where cashmere comes from.
M: Neither did we. This exploratory mission showed us how little we knew about where everything we own comes from. There are people at the base of this supply chain that are ignored when it's not actually that hard to find the goat source, and say, "This sweater came from this herder in the Gobi Desert," but the desire has to be there.
We went a step further. We asked [the herders], "What do you need help with? What's going on in your lives, and what kind of assurances can we give you?" One was livestock insurance. So, now we take a percentage of our profits and work with local NGOs to provide the herders with insurance.
D: It helps them, it strengthens our supply chain, and it guarantees the safety of our business.
Like social entrepreneurship?
M: It's socially conscious business, and it's a story we can tell. On each sweater's hangtag is the herders' name, and the province where that sweater comes from. They produce the best cashmere in the world, and people should know that. They supply the world's top fashion brands.
They must have a lot of goats.
D: Yes, and it takes the fur from about three goats to make a single sweater.
M: The fur mostly comes from the goat's downy underbelly. These goats specifically produce long thin fibers, which create softer, less pilling, sweaters.
D: That's the difference between a cheaper cashmere sweater at Uniqlo, and ours. Unfortunately, these are only things [most people] notice after wearing the sweater for a while. That's why educating the consumer is part of our business model.
Do either of you come from a fashion background?
D: No, and that's one of the reasons that we only made sweaters that we would wear.
M: The first sweaters were V-necks and cable-cord V-necks. We launched through a Kickstarter campaign and it blew up. All we did was tell the same story we're telling you.
D: It was a great opportunity to get pre-order sales, set up an email list, and receive design and style feedback. The comments we received on sizing, fit, and quality, were invaluable.
How did you improve on designs?
M: We have this phenomenal designer that just started working with us. She's been in the industry fifteen years, and she's one of the most respected people in knitwear. We told her our stories, and she said, "This is what I've been waiting for my whole life." Her contributions have given us credibility from investors to interns.
One intern and I traveled up and down the East Coast showing the line to buyers. One night, we needed a place to stay, so we went to my parents' house. The next morning I woke up, and [the intern] was sitting at the kitchen table with my mom talking about the business like it's his. My parents whispered to me on our way out, "Does he own part of the company?" That level of interest can't be bought.
How was the response from buyers?
M: We're going to be in about thirty stores across the country. This is our first season and we launched at the Liberty Fairs trade show in NY. We were shoved amongst the top guys in the industry, which was great. I was ecstatic leaving there every day. People were coming down from other floors to visit our booth and hear our story. We were being talked about.
We didn't do any large stores this season. What we wanted to do were boutiques. Cool and interesting and curated. Where we stood out, and could tell our story. Where I could go in from time to time and speak with customers directly. In NYC we're working with stores like In G-d We Trust, Modern Anthology, and Atrium. These stores carry brands we want to be next to.
M: For the wholesale side of the business, we make the sweaters for x amount, and sell to a store. We collect our margin and then the store takes theirs, which is usually 2.5X more, but they're absorbing a lot of risk. We saw this and said--and we're not the first--that by selling online you cut out the middleman. Online, we make a better profit margin and keep prices more stable. So, to cut out the competition between what we sell to stores and online, Nadaam has two separate collections.
M: We're extending from our current collection to also making shirts and jackets for men, and then we will be doing a similar collection for women. Taking this huge leap forward, and making a larger footprint in the marketplace, will require more investors.
How are you going about the investment process?
M: We meet most people through networking, and on AngelList. We offer the opportunity to be involved in something special. It's a longer-term investment, but it's a unique opportunity. AngelList allows both sides of the process write what they're looking for, and hopefully communicate. We're mostly seeking investors with knowledge of the fashion industry.
D: Besides money they bring production experience, and networking to the table. Their help will hopefully get us into different stores and better estimate production, merchandising needs, and hiring decisions.
How has your age played a part in the process?
M: One investor told us that the first time she met us she thought, "Who are these two twelve year olds?" Then she heard our story, and our enthusiasm, and she was onboard. I think ultimately [our youth] helped us, because a lot of people enjoy being mentors. I can enter conversations and say, "I'd really like to talk to you. I'm young, I'm just starting out, and I can use some advice."
Our families have also been very supportive. We're so fortunate to be able to follow our dream. When you're growing up, you're told that's the goal, but it's rarely what you're expected to do as an adult. So, now we're in this thing, and there's no going back.
Related
Popular in the Community