The world's oldest known person, a Japanese woman, has died at the age of 117.
Nabi Tajima died in a hospital Saturday on her native Kikai Island, one of Japan's southernmost islands, located roughly 900 miles southeast of Tokyo, local media outlet Kyodo News reported. She had been hospitalized since January, according to the publication. 
"She passed away as if falling asleep," Tajima's 65-year-old grandson Hiroyuki told Kyodo News. "As she had been a hard worker, I want to tell her 'rest well.'"
Tajima reportedly had nine children ― seven sons and two daughters ― and at least 160 descendants. She claimed her secret to longevity was eating "delicious food" and sleeping well, reported The Washington Post.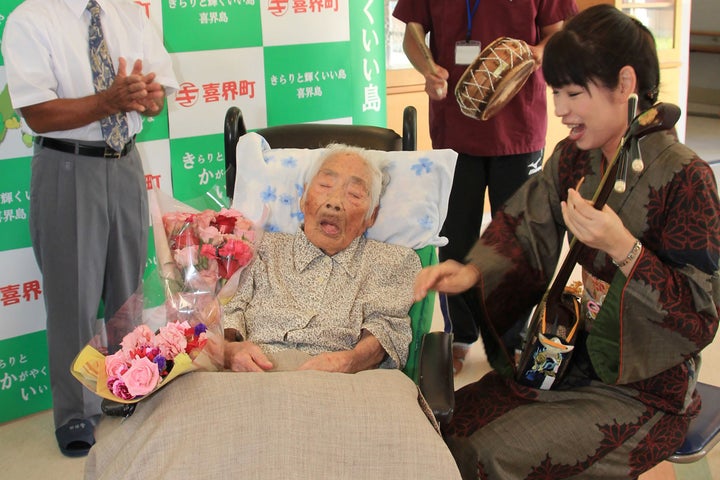 Born on Aug. 4, 1900, Tajima was the last known person born in the 19th century, which includes the years between Jan. 1, 1801 and Dec. 31, 1900. The same year she was born marked the second iteration of the modern Olympic Games. She was born roughly 14 years before the start of World War I and had just turned 45 when the U.S. dropped two atomic bombs on Japan during World War II.
Tajima was one of just 37 living supercentenarians ― people who are at least 110 years old. Nearly half of the world's remaining supercentenarians were born in and live in Japan, according to the Gerontology Research Group.
She inherited the title of oldest living person after Violet Brown of Jamaica died in September at the age of 117. Chiyo Miyako, another Japanese woman, has become the world's oldest person, the research group reported.
Calling all HuffPost superfans!
Sign up for membership to become a founding member and help shape HuffPost's next chapter