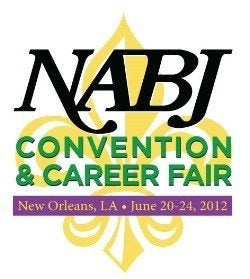 The National Association of Black Journalists 37th Annual Convention and Career Fair or NABJ nabj.org is being held in NOLA aka New Orleans, Louisiana from June 20th to 24th. The tag line is "new platforms, new directions, New Orleans"
It wasn't supposed to happen this year because since 1999 about every four years the Unity Journalists of Color Conference unityjournalistsofcolor.org takes place instead.
Renamed UNITY the conference will still take place in Las Vegas August 1 - 5 sans NABJ but with original members AAJA AAJA.org (Asian American Journalist Association) NAHJ NAHJ.org (National Association of Hispanic Journalists) Native American Journalists Association NAJA naja.org and first timer NLGJA NLGJA.org http://www.NLGJA.org(National Lesbian and Gay Journalists Association)
NABJ 2012 kicked off with Vice President Joe Biden at the opening reception giving a speech about how he and the President are the better candidates His take away was a quote from the late Kevin White:
"Folks don't compare me to the almighty, compare me to the alternative."
Here are the top 5 questions (with answers) attendees (or maybe just me) get asked about NABJ:
Black journalists comprise less than 5% of the newsroom population. One of NABJ"s goals is to increase newsroom diversity.
4. How many people attend these conferences and is everyone there black?
Thus far there are 2200 folks registered. Most of the attendees are black but of course anyone can attend if they pay the registration fee. A large percentage of the recruiters at the career fair, speakers and panelists are not black.
3. How much does it cost to attend?
Registration is about $450 the host hotel $164 a night plus taxes air and ground transportation and food, probably around $2,000.
2. Exactly what happens at these conferences ?
Professional development, networking, job searches, speeches, plenaries, film and mixers. It's not just for journalists, but all media workers, students, educators, bloggers, Public relations pros, editors, and producers. There is something for all these tracks in print, broadcast, and new media.
Discussion of hiring diversity in the workplace as well as fair and accurate coverage of issues involving people of color is also discussed. Trayvon Martin"s family was here and held a press conference.
And the number one question:
1. When is the "National Association for White Journalist's Association Conference"?
People of color are still in the minority in the United States and a even smaller percentage in the workforce. Ergo, any time there is a journalism conference not specifically labeled as, for people of color, it will be attended predominately by white folks.
I am privileged to have the opportunity to network and develop some professional skills. It's nice not to be the only black person in the room when this happens.
I enjoy meeting new contacts and reconnecting with old friends. That's one of the beauties of life at NABJ just like most conferences.
Next year"s conference will be in Orlando.
Popular in the Community