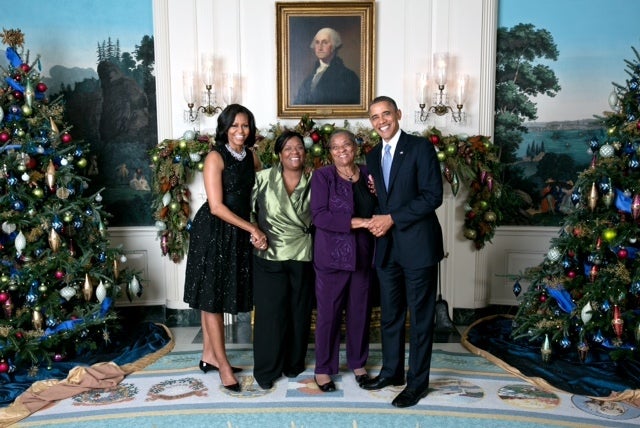 The multi-faceted and talented MSNBC news executive Yvette Miley has been chosen by the National Association of Black Journalists (NABJ) as the 2017 recipient of the Chuck Stone Lifetime Achievement Award. She will receive this honor at the 2017 Salute to Excellence Awards ceremony at the organization's annual convention and career fair later this summer in New Orleans.
Miley is the senior vice president and executive editor of MSNBC news network. She is also a news veteran with a career in journalism spanning over 30 years."My time at NBC News and MSNBC has afforded me the opportunity to work alongside the best in the industry," Miley said in a statement about the award. "Although I didn't have the privilege of personally knowing Chuck Stone, I owe my career to him and others like him. Chuck's courage and commitment to journalism and to NABJ opened doors for all of us."
NABJ's Chuck Stone Lifetime Achievement Award recognizes a journalist with at least 15 years of experience and a proven record of exceptional contributions to the enrichment , understanding and advancement of black life and culture, according to the organization's press release. Miley worked in the South Florida area, including Miami, for many years before joining MSNBC in June of 2009. She has earned numerous awards including two Emmys for coverage of the Andre Cunanan/Gianni Versace story and the downtown Miami Tornado, a Peabody Award for coverage of Hurricane Andrew in 1992, four Edward R. Murrow Awards and four Associated Press Awards.
Miley is a graduate of the University of Florida in Gainesville, Florida and was raised in Riviera Beach, Florida in Palm Beach County. For a closer look at MSNBC news executive and the NABJ's 2017 Chuck Stone Lifetime Achievement Award recipient Yvette Miley, check out the questions and answers below.
.What are your hobbies? I love to write. I love sports. I love football and racquetball. I'm a season ticket holder for the New York Liberty of the WNBA. Right now it's March Madness so I would have to go with basketball for right now (as my favorite sport).
What would you do if you will visible for a day? I would follow Dawn Staley, the head coach of the University of South Carolina Gamecocks to see here in her practice and her interaction with her team. But I would have to split that with sitting in on a practice with UConn's women's basketball team with Geno Auriemma (head coach).
If you could have dinner with anyone history, who would it be? I would want to have dinner with hair Henrietta Lacks. She really has been the cornerstone of modern medicine and all of the advances because her cells were used in research and I would just like to spend dinner with her talking about her life. During the time that she was alive, she didn't know of the impact that she would have. So I would like to roll back the clock and have a discussion with her about her life in the moment.
What is the best advice you ever received? Step away from the computer and talk to people and build relationships.
What event in history would you have liked to have witness? I've been so fortunate to be in a position to have chronicled so many incredible events in my lifetime. And yes there's tragedy involved but there's also a triumph of the human spirit. Even when tragedy happens, you can find the goodness in people. You can find a community coming together. Weather is the Shuttle Challenger exploding or Hurricane Andrew The days leading up to this search for Gianni Versace's killer how the community galvanized for all of that. Racial conflicts and incredible decisions by the Supreme Court that have impacted so many people, so I've been fortunate to have chronic of those events. And it's important to me as a journalist to know that there are people impacted by the things you cover. When you report knowing that what happened to them could happen to you, your coverage is more humane. In terms of being able to witness history, it's every story and it's every day and it's an incredible privilege.
What is your favorite childhood memory? I was in elementary school and me and a couple of my friends went on this incredible day, journey walk in Palm Beach County. We ended up at a farm. We jump the fence and rode the horse that was on the farm. One of our friends was thrown by the horse. And then we walked several miles in the opposite direction and we ended up jumping off the bridge on Blue Heron (Boulevard) and swimming over to Peanut Island. We started out at first light that day and we just walked all over Palm Beach County. It was about seven of us. And we just had good fun exploring every neighborhood and every facet of Riviera Beach. I'll never ever forget that day. It was an adventure. In that moment we were totally free.
Who is your hero, someone who inspires you? There is a great Alice Walker quote that I think about when I think of my mom. "My mom knew what I needed to know without knowing a page of it herself." My mom didn't have the opportunity to finish high school or attend college. So she knew I needed to. And she did everything she could to give me the opportunity. She worked as a maid. So we were not wealthy but we didn't lack for anything. I just felt like no matter matter how many hands went into the pot of rice, the pot was always full. She just always found a way. So she'd have to be my first hero.
What is something that most people don't know about you? I am a big lover of country music. I listen to Trace Atkins, Carrie Underwood and Blake Shelton (to name a few). I was once serenaded (a little bit) by Blake Shelton.
What three things would you bring with you if you were stuck on a desert island? The Bible because I love good reading, a basketball and (a pair of) binoculars so I can look at the stars at night.
Calling all HuffPost superfans!
Sign up for membership to become a founding member and help shape HuffPost's next chapter