This very large Hawaiian flag was part of a visual installation about Hawaiian houselessness created by Bernice Akamine.Pix by R. Kealohapau'ole Manakū
Everything Bernice Akamine has done over the course of her working life seems to have prepared her for what could well turn out to be her defining project as a visual artist. One of the 12 artists honored with an inaugural Hawaiʻi fellowship from the Native Arts and Cultures Foundation (NACF)in 2015, Akamine is focused on completing Kalo, a traveling installation of 94 plants fashioned out of paper and stone that commemorates the resistance to the overthrow of Queen Lili'uokalani.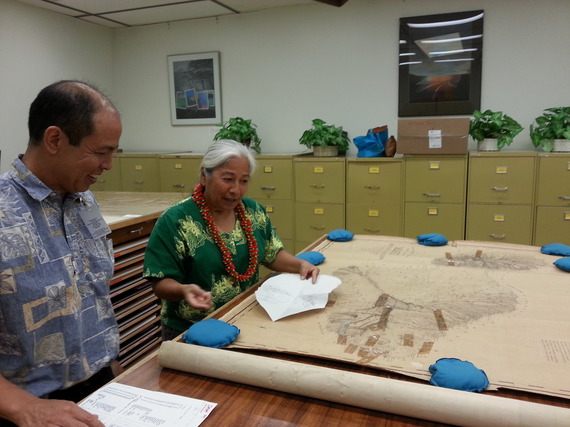 Bernice Akamine pores over an 1885 map of Maui with Gerald Yonashiro of the Department of Accounting and General Services.
As she researched old maps at the Department of Accounting and General Services in Honolulu recently, Akamine pointed to the various ahupuaʻa on the island of Maui, explaining how she intends to reproduce them on the carefully crafted leaves she will fashion out of paper.
"Each plant will speak for the voices that were raised in opposition from each island. One side of each leaf will carry the reproduced image of signatures from the island, the other will show the moku (land divisions) and ahupuaʻa. These maps are very important to helping me get it right," she says.
There are many dimensions to what Akamine wants to get right.
"I want to counter the notion I sometimes hear expressed by some that 'my voice does not count.' I hope that as people look at all the names represented on the plants that they will feel the same pride I see and hear each time someone tells me they found the name of an ancestor of theirs on the petition protesting annexation. Every voice matters. And when those voices come together, they become powerful and sustaining," she added.
Reclaiming Culture, Rewriting History
Another important dimension of her project is cultural reclamation and a reinscription of what was almost completely erased. "We need to remember," she says. She is inspired by the example of the musicians of the Royal Hawaiian Band who refused to sign the oath of allegiance to those who had illegally removed the Queen and installed a provisional government. "They said they would rather eat stones...and they sang as much in the now beloved song 'Kaulana Na Pua.' They even performed that song at public events attended by those who had overthrown our Queen. I guess they were singing truth to power."
Akamine is aiming to complete the exhibit by the end of the year in order to begin to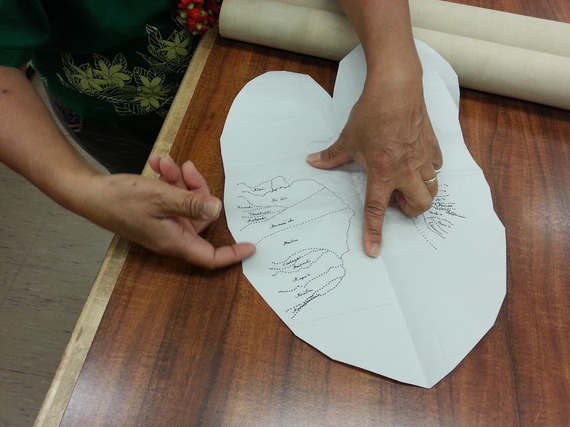 The artist traces the boundaries on acetate before transferring it to the leaves. Kauai is done. On to Maui!
Show it in conjunction with the celebrations honoring the 100th anniversary of the passing of Queen Lili'uokalani. "My first exhibit date is already set for January 8-28, 2016 at the Wailoa Arts and Cultural Center in Hilo. And I am looking for suitable venues on all the islands represented in the Anti-Annexation Petition: Kauaʻi, Oʻahu, Molokaʻi, Maui and Hawaiʻi."

Retracing the Path of the Petition
Like the original petition which travelled the islands, garnering signatures, Akamine is reaching out to friends and family and fellow artists across the Hawaiian islands, looking for the materials she needs. The inscribed leaves she is creating will be inserted into a stone base. "Having a husband with a drill helps!" she says.
"I have about 50 special stones, gathered over the years from places significant to me. I am hoping to get more and I will make sure that there will be at least one from every island," she promises.
This master dye-maker will get her dyes for the project from the soil of each island represented in the Petition. She has been known to inspect the shoes of those who have just returned from inter-island travel to see if she can scrape enough soil from their soles to extract the color she needs! "A teaspoon of ʻalaea (red dirt) can give me all the dye I need for a single island," she says. She recalls the unexpected good fortune of a chance encounter one day with a man who mentioned he was planning a trip to Molokaʻi. Hearing what she needed, he soon after sent her two bags of lepo (dirt) from his family's lo'i (taro patch) in Molokaʻi.
The Kalo project calls for a variety of skills that Akamine has honed over the years. She started working life as one of Hawaii's pioneering female tile-setters and masons and got certified in the trade at Honolulu Community College. More recently she was thrilled to be able to attend a program at the Smithsonian to learn the art of restoring kapa (bark cloth). In between, she earned Art degrees at the University of Hawaii. Her groundbreaking work includes participating as one of the artists who made the kapa kihei worn by the Hālau o Kekuhi at the Merrie Monarch Festival in 2011. This was the first time in over a hundred years that a hālau had performed in public wearing kapa.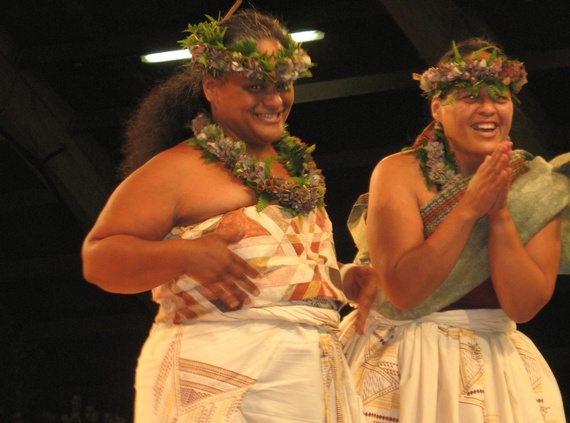 Kapa onstage at Merrie Monarch for the first time in more than 100 years. Akamine was one of the artists who made the kapa.Pix from http://berniceakamine.com/
Bernice Akamine describes herself as a contemporary artist and cultural practitioner: "My artwork is informed by my Hawaiian culture: the native plants and their uses, the natural environment, the people, and na mo'olelo, the history and stories."
Explaining the impact of the NACF grant, she said: "The Fellowship allows me to make and exhibit a piece of art that truly moves my heart: a piece that speaks of strength and unity as kanaka maoli, while instilling a sense of individual pride; a piece that is in my head, in my sketchbook, and burning inside of me to get out."
Thanks to her plan to donate all the plants she creates to Hawaiian Homestead Associations, Native Hawaiian Centers in colleges and universities in Hawaii, and to Hawaiian Civic Clubs locally and on the mainland, thousands more will get to feel that burning pride and the strength of community.
REAL LIFE. REAL NEWS. REAL VOICES.
Help us tell more of the stories that matter from voices that too often remain unheard.