Both were recognized by the Native Arts and Cultures Foundation in 2013 and 2014 respectively, for their thoughtful, politically charged work that speaks to what has been done to the ʻāina in the name of development. Their work addresses the challenges Hawai'i faces as it wrestles with damage to the environment, and invites us to be better stewards of the earth. In Landgraf's own words, "There is no denying that "we are in a lot of hurt right now."
Chun and Landgraf presented the lecture Kū Mākua as part of the exhibition initiative Ga ni tha May 6-11, 2015, curated by Nancy Marie Mithlo of Occidental College and the Autry National Center. Ga ni tha featured photographer Keli Mashburn, video artist Marcella Ernest and Maria Hupfield presenting the performance Jiimaan.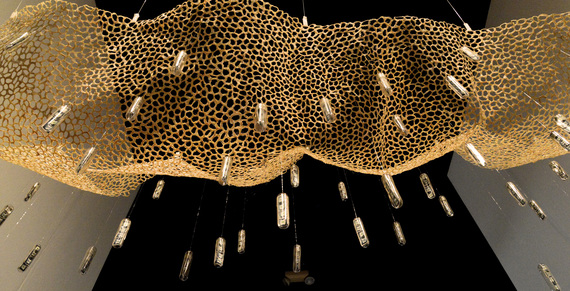 Maluna no ke ko'iko'i by Kapulani Landgraf. For many Native Hawaiians, the passage of Senate Bill 1171 and its enactment into law in 2013 by Gov. Neil Abercrombie means less protection for iwi (human remains) and Hawaiian cultural sites. It frees developers from having to do a complete archaeological inventory survey prior to construction. With approval from the State Historic Preservation Division of the Department of Land and Natural Resources, developers can now conduct their surveys in phases. This piece of art asks the question: How do we bind people to their responsibilities?
"Although the Native American artists did not know our artwork, our brief time together became enriched after our lecture when they saw what kind of work Kapulani and I do. We discovered similarities in the way that our people were treated historically and continue to be treated today. We also address problems that are shared amongst all indigenous peoples, such as poor health, incarceration and abuse," said Chun.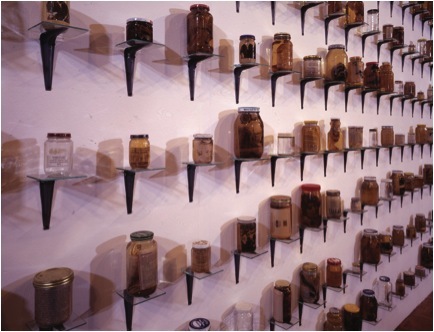 Kaili Chun titles this work O ke aka ka 'oukou; O ka 'I'o ka mākou (loosely translates to "Yours the Shadow; Ours the flesh). She explains: The white side consists of 278 used food jars containing non-Hawaiian "imagery" of Native Hawaiians soaked in my grand-father's sauce recipe for pickled onions. Included, were copies of drawings and etchings by Russian, French and English artists who accompanied the likes of "Captain Cook," as well as modern maps, land surveys, geographical reports, and American laws defining Native Hawaiians as individuals having at least 50% Hawaiian blood. Note: under this law, I do not exist as a Native Hawaiian- nor do my parents. The jars also suggest the western, euro-centric practice of "collecting" the exotic "other."
Mithlo explained that both events - the exhibit Ga ni tha and the lecture Kū Mākua - addressed significant philosophical concepts that are exemplary of global indigenous wisdoms. Chun and Landgraf spoke about the concept Kū Mākua simultaneously referencing a type of tree, the role of the warrior, and the representation and memory of ancestors.

A Transformative Experience
Reflecting on their experience, Landgraf said, "Going to the Venice Biennale was transformative. The artwork was highly innovative, politically engaged, conceptually strong and mostly fearless."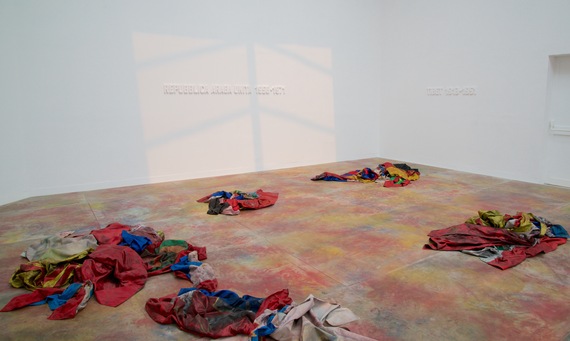 "Dead Flags" by Ivan Grubanov in the Serbia Pavillion which was formerly the Yugoslavia pavilion. The flags on the ground represent the nations that were dissolved as borders changed during the second half the 20th century. The artist poured paint on the flags and the dyes ended up as patterns on the floor, further transformed by the heat of the skylight. Pix and caption by Kapulani Landgraf.
As educators, both Chun and Landgraf expressed concern about the absence of an informed assessment of Native Hawaiian work.
"We need to have a critique among ourselves about what is good and not good. We lack that. We need to get to the foundation, what the artist's intent is in creating art and speaking to experiencing life in Hawai'i," said Chun.

Replacing a Colonialist Mentality with a Community Focus
Mithlo sees progress in the fact that "many Native professionals and collaborators are increasingly entering the fine arts field as artistic directors, curators and writers. This allows for a more accurate assessment of the work. Supporting Native art that has clear intent, consistency and evidences a deep commitment to an expansion of core philosophical values is the goal of many individuals and organizations in our field," she said. "We need to leave behind vestiges of a colonialist mentality and be guided by community-focused values."
Landgraf also pointed to the field being "overly informed by commercial values."
Returning to Hawaii, Landgraf says it's hard not to feel that art in Hawai'i is "so status quo." Being in Venice gave her a sense of how much other countries respect contemporary visual artists.
Landgraf was impressed by the immense scale of the event and the opportunity it provided to showcase the work of artists like themselves who need room to mount large exhibits.
"I found it exciting to see the many venues and the size of the venues where art can be shown in Venice. In Hawai'i, space is almost non-existent, especially large installation space. In Venice they re-purpose their buildings; in Hawai'i too often the approach is to destroy and build new."
Both artists have returned to Hawai'i newly energized about pushing themselves further, testing new ideas and directions.
"I can't even begin to explain the inspiration and motivation that has been kindled inside of me," said Chun.
"Being a part of Ga ni tha was very valuable exposure to a larger community of artists, " said Landgraf. "We desperately need that kind of exposure and critique to extend ourselves further, not just individually, but as a culture."
Ga ni tha received support from the Native Arts and Cultures Foundation, the Osage Nation Foundation, the Canada Council for the Arts, the Autry National Center and Occidental College.
Showcasing NACF Fellows Nationally
Landgraf voiced the hope that a national exhibit would be developed of the work of all the NACF fellows. "It would show the very real positive impact NACF has had on all of us. Without NACF's introduction to Nancy Marie Mithlo, and the funding they provided, Kaili and I would not have had this incredible opportunity to see, and be seen and heard at the Venice Biennale," said Landgraf. She spoke of encountering some of the usual stereotypes when they said they were from Hawai'i--the association with paradise, for example. "But people in Venice quickly moved past that and understood when we talked about our experience of being colonized."
Landgraf is confident that "Venice would be captivated by a Hawai'i venue which tells the story of what is really happening with Hawai'i and Hawaiian issues."
As Chun remarked, "A dialogue and conversation began with this introduction and I believe it will continue in the future."
Popular in the Community