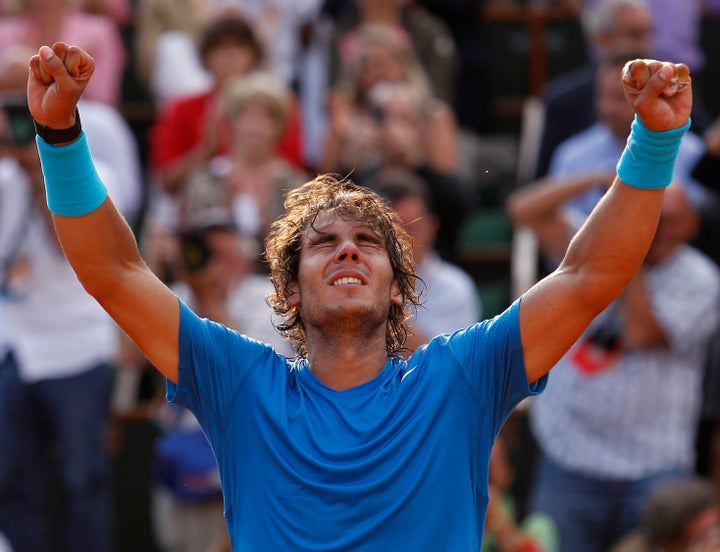 Let me begin this by pointing out that I am a huge Roger Federer fan and for a long time I have been a true believer when people have said Roger is probably the best tennis player who ever lived. There certainly has never been such an elegant player with more beautiful form and strokes or all around game. And the game has never seen another player like Roger who can move with such grace and speed, and who never seems to break a sweat or get his shoes and socks dirty as his feather-light footwork carries him ballet-dancer like around the court.
With his classic strokes (updated for today's new power game), Roger would easily have been at home among the players of yesteryear playing with wood rackets and long pants. And with the most major Grand Slam singles titles ever at 16, it's been hard to argue against the many who have anointed Roger as the "Greatest of All Time." But after yesterday's win by Rafa Nadal over Roger Federer in the French Open Final, maybe it's time to seriously give that appointment a closer look. Maybe Rafa isn't just the "King of Clay;" maybe he's way more than that.
As the match was nearing its conclusion, John McEnroe made the comment that "it's hard to see how Roger could have played much better that he did." Yet Roger lost -- for the 17th time overall to Rafa who Roger has now beaten only 8 times overall. In Grand Slam Finals, Nadal holds a decisive 6-2 edge over Federer. Nadal is also the youngest player of the open era to win a career Grand Slam (winning all four Grand Slam singles titles) and the second male player (Andre Agassi is the other) to win a Career Golden Slam (all four Grand Slams and an Olympic Gold medal). He has also won three Davis Cup Finals as part of the Spanish team, and holds a record 19 ATP World Tour Masters 1000 titles. By comparison, Federer has never won a singles Olympic Gold medal or won a Davis Cup Final for his country Switzerland.
Nadal, who just turned 25 years old, now has won 10 Grand Slam singles titles, only 6 behind Federer who turns 30 in August. And Novak Djokovic, at 24, is coming right behind both of them. No one can predict how many more Grand Slam singles titles Roger has left in him, or how many more years Rafa's extreme physical style of play will allow him to continue before his knees finally give out. Can Rafa eventually eclipse Roger's record-breaking 16 Grand Slam titles? Time will tell. But as John McEnroe astutely pointed out yesterday, "it's hard for Federer to be considered the greatest player of all time when he's lost to Rafa more than twice as many times as he's beaten him. He might not even be the best player of his own era."
Related
Popular in the Community