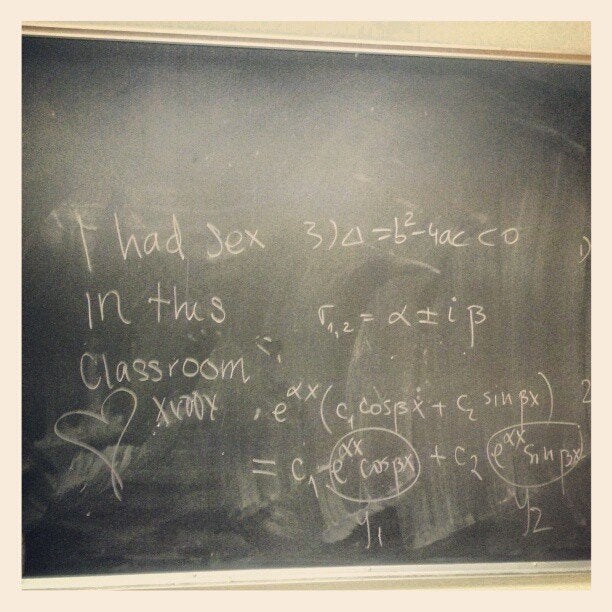 Last week, students at the University of California, Berkeley who picked up a copy of the campus newspaper, The Daily Californian, could have discovered the best spot to have sex in the campus library: near the religion section.
Cho's investigative report was inspired by a February 2012 piece in the Daily Cal about whether having sex on campus was actually "doable." That article asked, "How actually feasible and enjoyable is it to fuck on campus?" Cho's response last week was, "Yes -- having sex on campus is actually very doable, and it's lots of fun. It's also surprisingly easy."
Cho writes that her research took place in one afternoon on the day before Thanksgiving. She and a partner went to the in the Berkeley library's Main Stacks, and decided "the shelves full of books on religion seemed like the best place to fuck."
"For a place to have loud ass-slapping sex," Cho suggested the ground floor of a building named Moffitt, where she went next. "It gives you an idea of how fantastic it would be if your hot [Graduate Student Instructor] pounded you on the front desk every time you forgot to turn in a homework assignment." After Moffitt, she and her partner then engaged in another campus building named Wurster.
Don't be scared. Make the screw session worth getting caught, and remember that you are definitely not the first person to have had sex on campus, nor will you be the last.

Other than providing fun places to get down, Berkeley is the best place to explore your sexuality. Our school is a predominantly safe and accepting space with many places, people and resources to help you discover your sexual self. It is the place where I learned what it means to be queer, to recognize the presence of patriarchy, to attempt polyamory and to become more confident in my sexuality so I could go ahead with new experiences -- attending naked parties and orgies and writing a sex column, just to name a few.
Cho's column quickly sparked a debate about her true aim in the comment section. A reader quickly pointed out that Cho was was in violation of California Penal Code Sec. 314, which states, "Every person who willfully and lewdly, either: 1.Exposes his person, or the private parts thereof, in any public place ... is guilty of a misdemeanor."
Cho did not respond to a request for comment from The Huffington Post. Stephanie Baer, editor-in-chief of the Daily Cal, said while this particular column did get a lot of pageviews, it wasn't "unusual" to see it go viral.
"We're glad to see that so many people find it interesting," Baer told HuffPost in an email, adding, "We chose to run it because we thought it would be a topic our readers would enjoy, and that, especially since we have published similar pieces in the past, it was within Nadia's free speech rights to share her experiences."
Cho writes a weekly column about sex and this was her last piece of the semester. A week earlier, she wrote about her steady friend with benefits and non-exclusive relationship. "[T]his semester, I was not interested in being exclusive with anybody or spending large amounts of time with one person. I just wanted to fuck people," Cho wrote. "So I communicated this to my partner, and we both came to the conclusion that neither of us was interested in being a couple." (We're presuming this was likely her partner for the on-campus romps.)
After it went to press, Cho thanked her loyal readers on Twitter:
THANK YOU SO MUCH to everyone who has been supportive of my writing on SEX ON TUESDAY ♥

— Nadia Cho (@nadiiacho) November 29, 2012
Popular in the Community