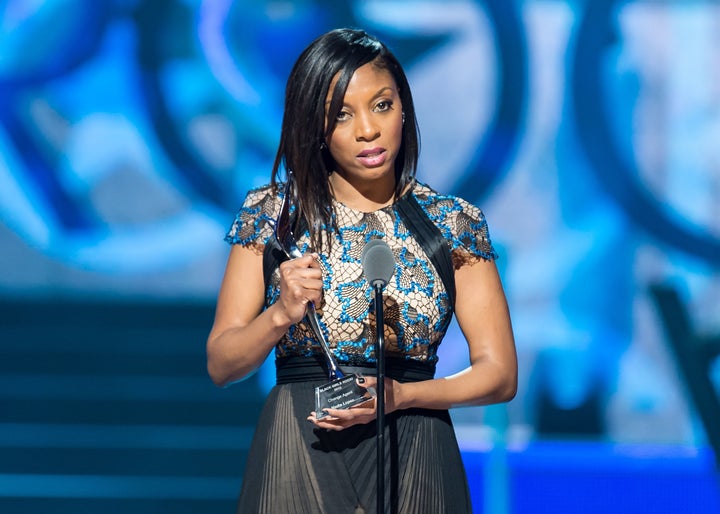 It just took one picture to prompt a big ripple effect.
Vidal Chastanet was walking home from a deli in January 2015 when a photographer approached him, The New York Times reports. The man with the camera was Brandon Stanton, who runs the popular Humans of New York blog. Stanton asked 13-year-old Chastanet who had influenced him. He responded by describing Nadia Lopez, the principal of Mott Hall Bridges Academy in Brownsville, Brooklyn.
"When we get in trouble, she doesn't suspend us," he said. "She calls us to her office and explains to us how society was built down around us. And she tells us that each time somebody fails out of school, a new jail cell gets built. And one time she made every student stand up, one at a time, and she told each one of us that we matter."
The picture, and Chastanet's praise for his principal, went viral. It prompted Stanton to spend time at the school and help start a fundraising effort to send students on a field trip to Harvard University. The campaign raised over $1 million. Just one month after Chastanet met Stanton, he and Lopez found themselves meeting President Barack Obama at the White House.
The Huffington Post caught up with Lopez to chat about the book and ask her how her life has changed since she became known as the inspiring principal from Humans of New York.
What made you want to write this book?
I felt like there's a lot of criticism being placed on education and educators. There's always the conversation about how we're failing children, especially those in the most disadvantaged communities, without a clear understanding of why it is and some of the adversities we have to overcome on a day-to-day basis in order to just inspire and encourage children.
It's telling the stories of the humans who are impacted in these schools, the parents, the scholars, the staff, myself and my family and what it takes to sustain having quality education in a high-needs area.
What is the takeaway you want people to have after reading this book?
Children and educators are so much more than numbers, and that this work can't be done in isolation. Folks need to come out, volunteer, partner with schools and actually visit schools before policies are created.
"There needs to be a conversation about creating a preschool-to-college pipeline, as opposed to the school-to-prison pipeline."
What do you want people in positions of power to think about when they think about the challenges facing schools?
There needs to be a conversation about equity and access across all schools, regardless of ZIP code. There needs to be a conversation about creating a preschool-to-college pipeline, as opposed to the school-to-prison pipeline.
How has your life changed in the past year?
I would say just more work. My day job hasn't stopped. I [work] just as much as I was before this story came out on Humans of New York. I have to juggle that, being a mom, writing this book and trying just to enjoy what little I have left of life.
I'm grateful to be part of stirring the conversation when it comes to education and changing the narrative of Brownsville. There's a lot of statistics that speak to all of the negative stereotypes, but I've been able to shine a light on what's possible.
Do you think your students' impressions of you has changed at all?
No. Who I am today is the same person I was when I opened the school. I was always relentless, compassionate, honest and a person of faith, so I had a strong belief in what was possible and my kids knew that. If they didn't know anything else, they knew Ms. Lopez was here to fight for them and fight with them as long as it was appropriate. They always knew I was their champion.
What do you want the world to know about Brownsville?
I want them to know that it's a place of brilliance. People are resilient despite what they've been forced to live without. A lot of blame is put on the parents, or there's this narrative that the parents are not concerned with their childrens' success, and that's not necessarily the case. Parents are apprehensive because they've been through a public school system that may not have educated them. I have a lot of parents who did not graduate middle school and had kids at a very young age. Part of my work is just to educate my parents on how to be present in schools, ask the right questions, and teach them what they need to expect and how to advocate for those things.
What could society be doing to better serve your students?
My kids don't need to be saved. They need opportunities and access.
People gave to a campaign that allowed us to raise $1.4 million just so children could have the opportunity to visit colleges and have summer programs. That goes a long way.
This interview has been edited and condensed for clarity.