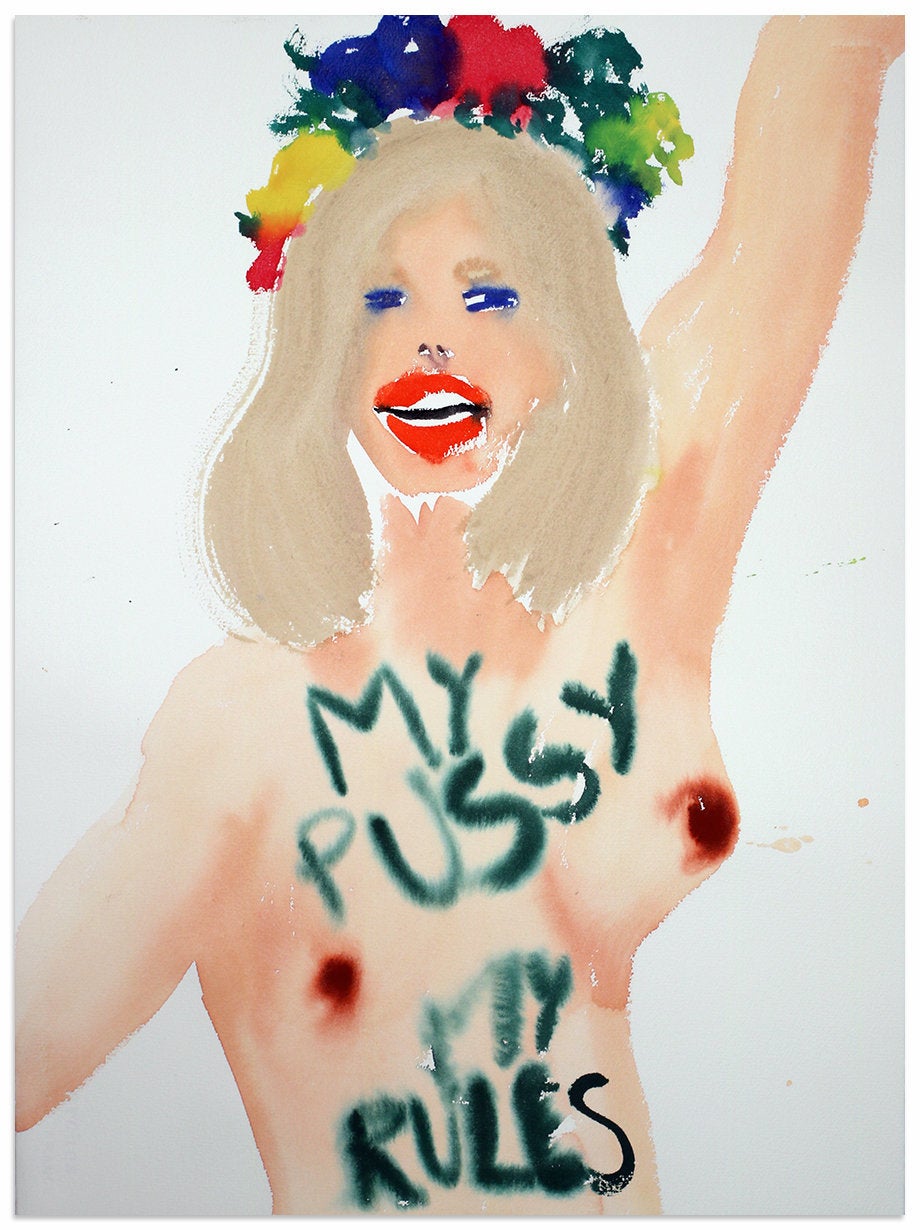 But this is not the first time women have been targeted, oppressed, discriminated against, scrutinized, doubted or judged. Far from it. And throughout history, no matter the bullshit thrown their way, women have somehow mustered up the power to fight back and push forward. Sometimes, this even happens topless. 
A series of badass watercolors by artist Nadine Faraj celebrates the many women who have bared all to challenge the patriarchy and rebel against everyone who thinks women should sit quietly and look pretty while men determine the destinies of their bodies and minds. In her series "Naked Revolt," Faraj depicts activist women from around the world who have used their bodies as feminist weapons.
From the BlackOUT Collective in San Francisco to the Ukrainian group FEMEN based in France, from Muslim feminists in the Middle East to students in Canada and South Africa, Faraj's subjects are real-life activists who crusade for the right of women to possess and express their own bodies without being endangered, demeaned, or accused of narcissism or promiscuity.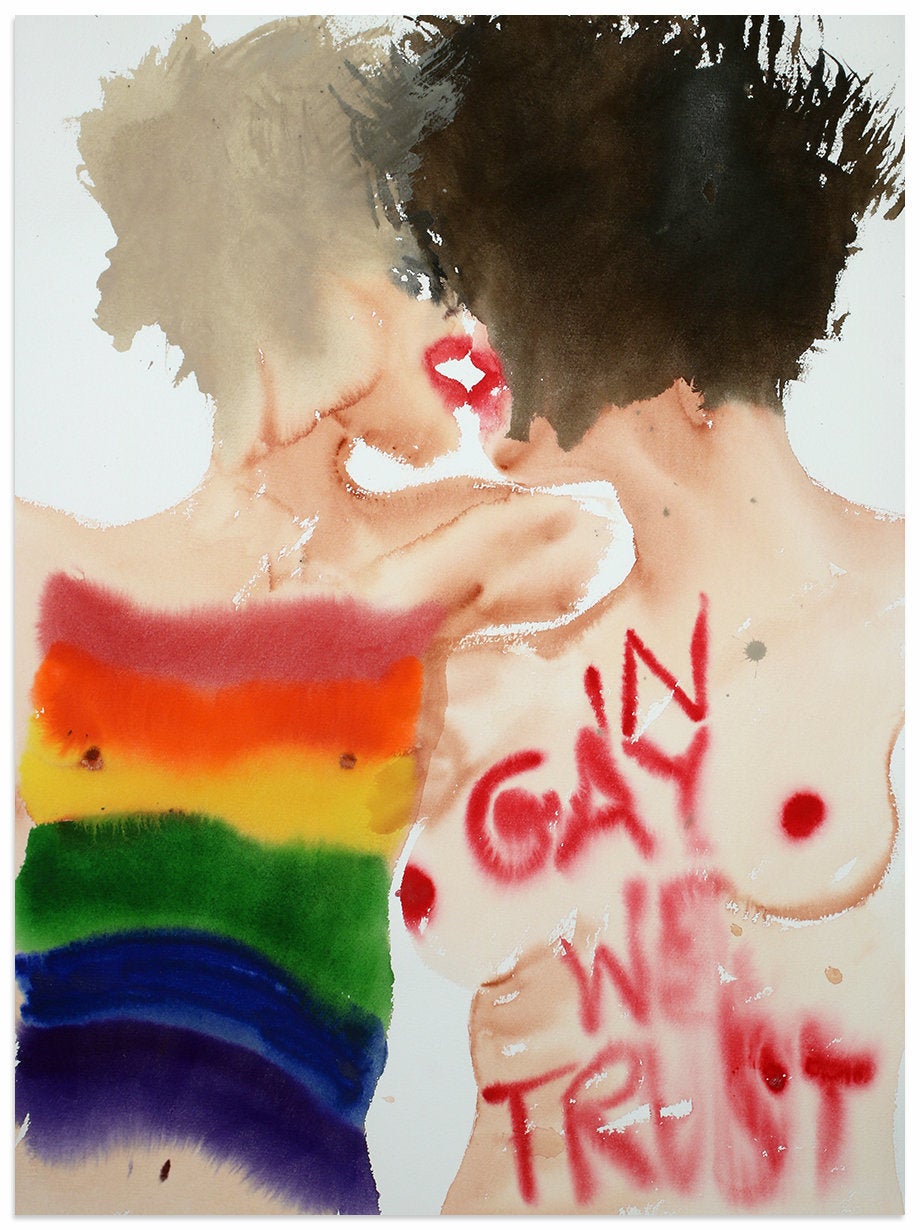 One painting depicts Tunisian filmmaker Nadia El Fani, who, in 2013, posted an image of herself on Facebook with a statement on her chest: "My body belongs to me and is not the source of anyone's honour." The photo was taken in support of Amina (Tyler) Sbouï, a Tunisian women's rights activist and former member of FEMEN who was detained as a result of her protests.
The caption of El Fani's photograph sums up the importance of the series: "If a person performs a subversive act, then that act becomes political and it must be analyzed as such! When someone self-immolates in public, we get the message ... It is time to stop considering women's nudity as exhibitionism, especially when they use their bodies for self-expression!"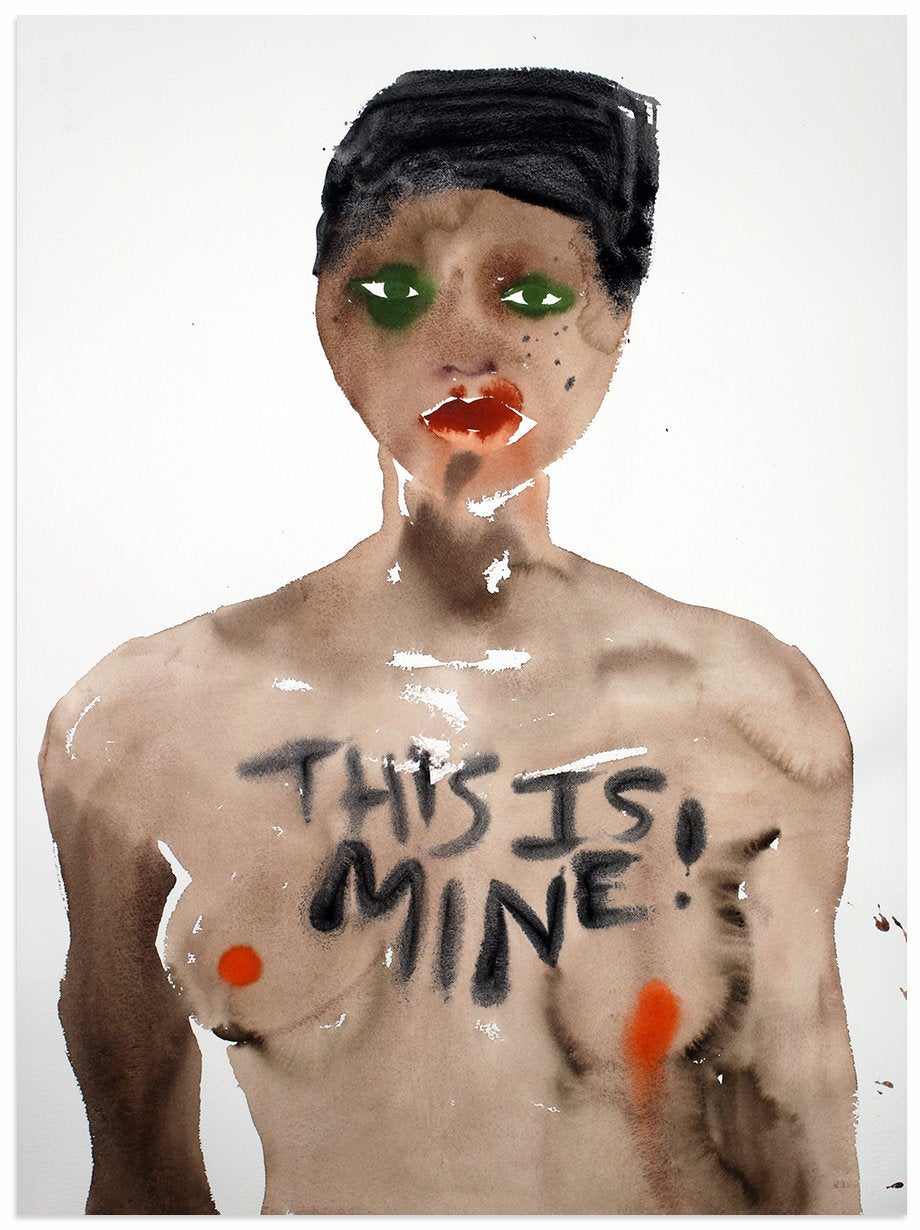 Faraj uses what her gallery describes as a "wet technique," which allows paints to seep and ooze into the paper. The resulting portraits seem to reject descriptions like "pretty" or "sexy," instead embodying an untamed energy that mimics their inner fire.
"I consider that my figures resist objectification by being so distorted," Faraj explained in an interview with ArtFile Magazine. "The grotesque blurring and blemishes that appear imbue them with a fearsome power ― some really are frightening. They aren't attractive like traditional nudes who are ready to seduce. They show their wild side as a display of their unpredictability. They're a little dangerous."
If you are feeling like these past few weeks have been a dark, depressing hole of misogynist garbage and rotting male fragility, may these playful and powerful watercolors of topless heroes give you life. 
Calling all HuffPost superfans!
Sign up for membership to become a founding member and help shape HuffPost's next chapter