In 1899, theatre critic Edwin Royle wrote, "Vaudeville may be a kind of lunch-counter art, but then art is so vague and lunch is so real."
Fast forward to 2013 where vaudeville is very much alive and well in Madonnalogues, a wickedly funny variety show at Silver Lake's Cavern Club starring Cher and Madonna courtesy of impressionist extraordinaire Nadya Ginsburg.
Ginsburg, whose alternative comedy roots began in the trenches of lower Manhattan with Amy Poehler and Sarah Silverman, and whose fans include Joan Rivers, Roseanne Barr, and Lily Tomlin, created Madonnalogues. She notes:
Doing characters and impressions have always been my stock and trade, and it's why I came to L.A. in 2000 to be in a TV sketch comedy show called Hype. Over the years I've developed these characters, and it evolved into Madonnalogues. This show is always changing, and it kind of couldn't exist anywhere but the Cavern Club.
In addition to her dead-on recreations of Cher and Madonna, Ginsburg has been known to channel Winona Ryder as well as an arsenal of original characters including Babka, a former prostitute/mail order bride/bikini waxer by day/singer by night, Belinda the Heavy Metal Vampire or Notch Ginsburg, the Susan Powter-esque exercise enthusiast.
Nadya Ginsburg in Madonna and Brahim at Brunch:
I first saw The Madonnalogues a few months ago, and have eagerly awaited its return. Mostly because of how Ginsburg lovingly, and so perfectly, skewers the pop culture legends. She comments:
I love Madonna. I am a longtime fan, and to me she was always very feminist. She rose to prominence in a patriarchy while still being a sexually liberated person. I still think she's an incredible performer, but when you become famous, you become The Elephant Man, and, lately, she has had a one way ticket to Bonkytown. When I'm doing Madonna I keep thinking about (goes into Madonna-voice) how hard I am trying to get everyone to respect me, and how I am smart - even though I will make an album with literally the song Happy Birthday, and lyrics like "I love New York, other cities make me feel like a dork." I need you to know that I know who Jean Luc Goddard is. (ends Madonna impression). Madonna doesn't allow herself to be vulnerable, and takes herself very seriously, and she's constantly trying to validate herself as a "serious artist." Thank God it's so entertaining right down to the 'art creates freedom' revolution that she tried to start on Instagram, because what is a revolution without a hashtag? Regardless, Madonna is a billionaire and has stayed relevant, and gets the last laugh, and so does Cher, but Cher has a vulnerability, and a realness. She doesn't take herself too seriously.
Nadya Ginsburg as both Madonna and Cher as they explore downtown L.A. in Tent Hopping:
For her upcoming performances, Ginsburg also welcomes a colorful array of guest stars including Cavern Club legend John Cantwell, America's Got Talent finalist Prince Poppycock, and Burlesque sensation Diamondback Annie.
Beyond her work on Madonnalogues, Ginsburg will soon be seen on HBO's Enjoy It with Brody Stevens, produced by Zach Galifianakis.
In the meantime, Ginsburg muses on her stage work:
We're all drag queens. Anyone who does any kind of theatre is a drag queen.
Check out Madonnalogues this Wednesday October 23 and Wednesday November 20. www.cavernclubtheater.com
Nadya Ginsburg (courtesy of Ms. Ginsburg):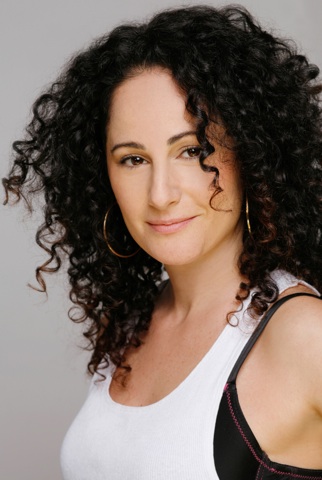 REAL LIFE. REAL NEWS. REAL VOICES.
Help us tell more of the stories that matter from voices that too often remain unheard.