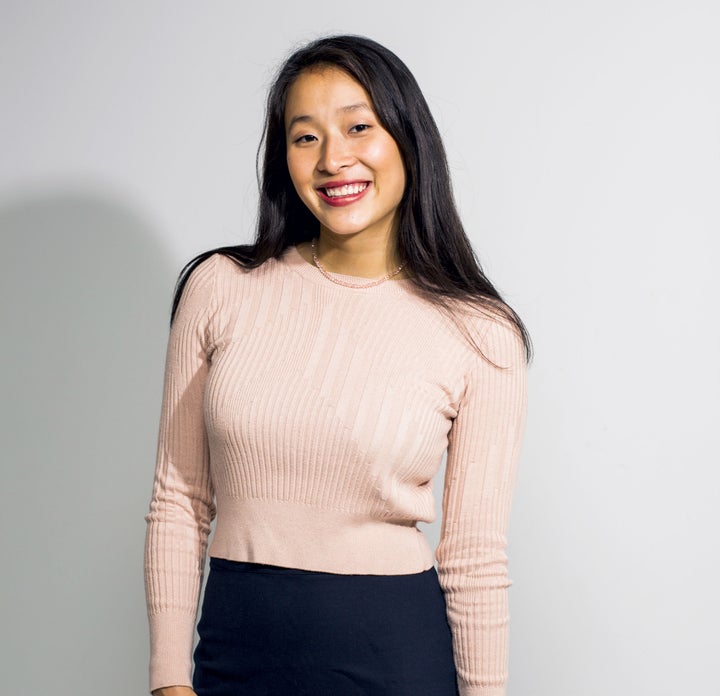 When Nadya Okamoto made the decision to take a leave of absence in the middle of her sophomore year at Harvard University to continue a global conversation about menstrual hygiene, she naturally wondered how her peers would react.
"There's a lot of fear of what people are going to think. Will people think I'm just slacking off?" she told HuffPost.
But if the 20-year-old's exceedingly impressive track record is any indication of what she'll accomplish while away from the prestigious school, she has nothing to worry about.
During her first year and a half at Harvard, Okamoto wrote an entire book ― over her winter break, no less ― and launched a campaign for local office, all while running a global nonprofit and appearing at speaking engagements across the country. Though she says leaving school is "nerve-wracking," she proudly notes that the announcement to do so is her "most-liked Instagram post ever."
Okamoto is the founding executive director of Period: The Menstrual Movement, a global, youth-run nonprofit that provides period products to people in need while working to raise awareness about the barriers people confront trying to access menstrual hygiene products. She founded the organization four years ago, when she was just 16.
"With Period, we're constantly trying to figure out ways to get people to think about periods differently, and we're constantly fighting for menstrual equity," Okamoto told HuffPost.
Practically, Period distributes menstrual products to those in need. Period also engages youth through campus chapters, of which there are currently 210 in the U.S. In the four years since its inception, Period has delivered over 310,000 menstrual products, such as tampons, pads and menstrual cups, to those who couldn't otherwise afford them, Okamoto says.
For Okamoto, access to menstrual hygiene products "comes from a deeply personal place," she said. Her family experienced living without a home of their own when she was a freshman and sophomore in high school in Oregon. During that time, she befriended homeless women and people who menstruate and witnessed the indignity and discomfort that accompanies lack of access to menstrual products.
"I became accidental friends with these homeless women who were in much worse living situations than I was at the time," she said. "I heard their stories of using toilet paper, socks, grocery bags, cardboard and paper to absorb their menstrual blood. I got very invested and became sort of obsessed with the issue."
"I got all this motivation and just wanted to do something more than research," Okamoto said. A few weeks after her family got back on their feet, she founded Period. The organization is now the largest youth-run nongovernmental organization focused on menstrual health in the world.
Okamoto is an advocate for the Gen Z era. A fearlessly transparent digital native, her willingness to share her own connection to menstrual hygiene has had practical benefits for Period's growth. It's part of her pitch, she says.
"People would ask me, 'Why should I care about periods? Why do you care?' And I think my personal answer really resonated with them," she said. "I could refine my pitch to, here's why I care about periods and why you should too, so it was naturally what I learned to do."
As her star rose and her openness was rewarded, Okamoto began to speak about her experiences with sexual assault, domestic abuse and mental health. She is often asked to give talks and says she uses those opportunities to process and heal from past trauma.
"The first time I ever said out loud that I was sexually assaulted, or said that I was raped, or suffered abuse, or that I was legally homeless ― the first times I ever said those things were on stage in front of a crowd," she said.
Okamoto compared public speaking to therapy, but said she's found herself "much more comfortable opening up about trauma on a stage than one on one."
"On stage, I'm being heard. People are there to listen," she explained. "I think the biggest fear that held me back and made me repress my trauma was a fear of being alone. But I'm not alone ― a lot of the things that I've been through ― they're so stigmatized, but they're so common."
Audience members frequently approach Okamoto after those incredibly personal talks to share that they have been through similar experiences.
"In that sense, I think public speaking has not only been healing for me in terms of teaching me to embrace my own story, but also by not feeling so alone," she said. "Immediately after, people come up to me and say, 'You're not alone. Thank you for making me feel less alone.'"
Investing so much of herself and her own story into her activism is Okamoto's way of thanking other women for doing the same, she said.
"What helped me [overcome hardship] was actually being on social media or watching TV and hearing stories of other women who went through the same thing and are strong as fuck," she said.
Radical transparency "wasn't the plan," Okamoto said. "But it's what I needed to keep going. It makes me feel like I'm living my purpose if I push myself to be vulnerable and share my story for the sake of giving that same support to other people."
This sense of purpose helped Okamoto make the decision to leave Harvard temporarily to pursue Period full time and promote her book, Period Power: A Manifesto for the Menstrual Movement. She includes details of her personal history throughout the book but says the focus is on informing readers about the causes and effects of period poverty, and how to ameliorate it.
Her family and friends have supported her leave of absence, some even encouraging her to leave school permanently to follow her passion. But Okamoto says she feels strongly about ultimately earning her degree, given her family background.
"My grandparents immigrated here from Taiwan and I grew up with that idea of, we're working our asses off and we gave up so much so you could go to really good schools. I think that's the typical Asian expectation and path to progress," she said. For now, she's enjoying "the environment of activism I'm currently in, working with all these badass feminists, many of whom haven't graduated college," she said.
Regardless of whether she returns to earn her degree, the break is a welcome reprieve for the scholarship student who worked six jobs her freshman year. One of those jobs was managing her own, unsuccessful campaign for a seat on the Cambridge City Council in early 2017, during which she experienced intense cyberbullying.
Asked if she might ride the "pink wave" of female candidates and pursue public office again in the future, Okamoto said she could be convinced by the right opportunity.
"Running for office was one of the most exhausting and terrifying experiences of my life," she said. "If I was in a place in my life where I could afford to do that or I have the connections to really fundraise well and have strong enough roots in the community that my loyalty wouldn't be questioned and I'd be offering something unique to the city, I would definitely do it again."
Popular in the Community