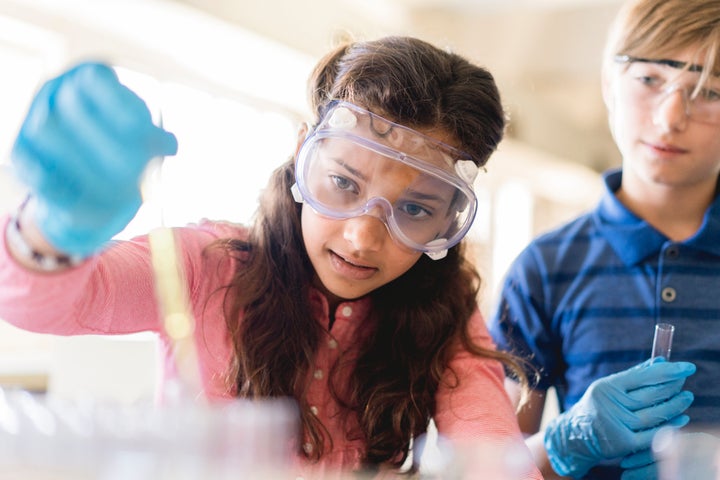 White men continue to dominate employment in the STEM workforce, but at the elementary school and middle school level, girls and students of color are starting to catch up in science achievement.
The results of the 2015 National Assessment of Educational Progress science exam ― released Thursday ― show that female students and students of color in fourth and eighth grade are gaining important ground, with fourth-grade girls performing on par with boys. Still, white, Asian and male students are outperforming their peers ― especially in the upper grades.
The NAEP exams, which cover subject areas like math, reading, science and writing, test a nationally representative group of students. The standardized tests ― sponsored by the U.S. Department of Education and administered by the National Center for Education Statistics ― are meant to measure how groups of students are performing against each other. The scores are not associated with individual school districts, so teachers do not specifically prepare students to take NAEP exams.
Leaders involved with NAEP touted the science scores as showing real improvement.
"The 2015 science report card data shows that all students are making significant progress, particularly in fourth and eighth grade. Achievement gaps are narrowing because all students are improving," Peggy Carr, acting NCES commissioner, said on a call with reporters. "Minority students and girls are making greater gains to narrow these gaps. This is exactly what we like to see: all students improving, but students at the bottom of the distribution making faster gains."
Before the latest round of exams, fourth and 12th-grade students were most recently tested in NAEP science in 2009. Average scores for fourth-grade students increased 4 points since that time. The average 12th-grade score remained the same.
"All students improving, but students at the bottom of the distribution making faster gains"
Eighth-grade students were last tested in 2011; since that time, average scores increased 2 points. The gap between black and white eighth-grade students and white and Hispanic eighth-grade students was slightly smaller last year than in 2009, but not significantly different from 2011.
But these average scores obscure the significant progress being made by sub-groups of students. Female fourth-grade students now have the same average score on the science test as their male counterparts, even though male students outperformed girls by one point in 2009. The score gap between black and white fourth-grade students decreased by 3 points, while the gap between white and Hispanic students decreased 5 points. Black students, on average, scored 33 points lower than white students, while Hispanic students performed 27 points lower.
For 12th-grade students, however, progress was not as obvious. On average, male students scored 5 points better than their female counterparts, a gap that is not statistically different from six years ago. The gaps in scores between white students and students of color remained largely the same.
On the bright side, more 12th-grade students reported taking a science class than in 2009.
Although most students who took the exam did not score at proficient or above, considering the difficulty of the test, American students are faring well, said Carr.
"It is a challenging assessment, I think when we look at our international rankings ... it kind of confirms that," Carr said.
U.S. Secretary of Education John King Jr. praised the scores on a call with reporters and notable leaders in science education, including Bill Nye.
"More students are prepared to become innovators, entrepreneurs, researchers and inventors. And more students are learning how to become the problem solvers who can tackle our most pressing challenges, making our society and our world a better place for generations to come, no matter what profession they choose," King said.
King highlighted investments the Obama administration has made to push STEM education. These investments are likely paying off for fourth and eighth-grade students, although they may not be affecting older students, who have already finished their formative years of schooling.
"Ultimately credit for the progress that's been made goes to students, teachers and families," King said. "And it's their hard work that's producing the gains in science performance."