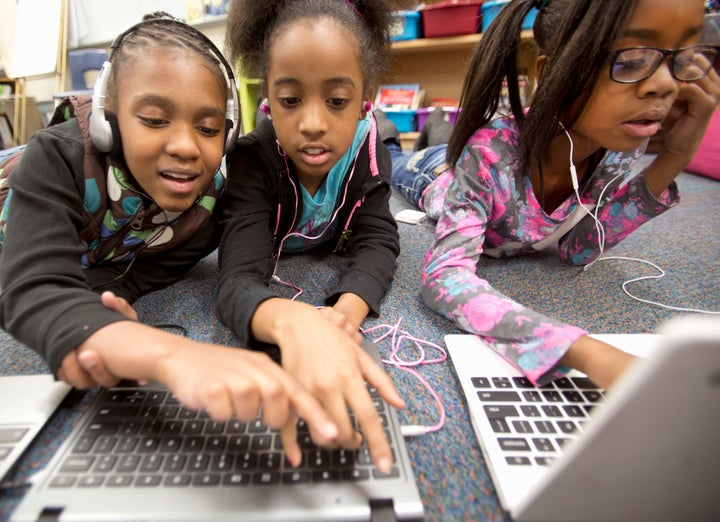 New results from the National Assessment for Educational Progress -- also known as the Nation's Report Card -- show that eighth-grade girls are, on the whole, outperforming boys in measures of technology and engineering literacy. The exam was administered in 2014 and represents the first time NAEP has tested students on these topics. 
Over 20,000 eighth-graders in private and public schools across the country used computers to take the test, which focused on three content areas: technology and society, design and systems, and information and communication technology. Students were asked to solve problems about real-world scenarios using an interactive, multimedia format. 
Overall, 43 percent of eighth-grade students are proficient in technology and engineering literacy, according to the NAEP results. But some groups are performing much better than others. The test revealed a number of gaps in student scores based on sex, where students are from, their racial backgrounds and their families' income levels.
Overall, 45 percent of girls proved proficient in technology and engineering literacy, compared to 42 percent of boys. This is particularly surprising, according to Peggy Carr, the acting commissioner of the National Center for Education Statistics. Girls do not typically outperform boys on measures of math and science -- two subjects that require skills also used in technology and engineering fields, Carr said. This gender gap was especially pronounced for white and black girls, while Hispanic and Asian-American girls performed on par with their male counterparts. 
"We did not expect this pattern, and the pattern does seem to be pretty clear from the data overall," Carr told reporters. "It looks like girls have the ability and critical thinking skills to succeed in fields of technology and engineering, and that is worth noting."
Girls have the ability and critical thinking skills to succeed in fields of technology and engineering.

Peggy Carr, National Center for Education Statistics
Carr hypothesized that these gaps might exist because parts of the test emphasized collaboration or communication, skills that could favor female students. Still, girls also performed well in other sections of the test.
More affluent students performed substantially better than their poorer counterparts, with only 25 percent of lower-income students scoring at or above the proficient level, compared to 59 percent of wealthier students. Only 18 percent of black students and 28 percent of Hispanic students achieved proficient scores or higher, compared to 56 percent of Asian-American and white students.
In a questionnaire associated with the exam, students indicated that they had gained a number of technology and engineering skills outside the classroom. Just over half of students said they took a class in school related to technology or engineering. Sixty-three percent of students said they picked up some of these skills from family members.
"The scores clearly show that when students have opportunities to engage with technology and engineering, they become fluent in the skills that prepare them for living and working in the modern world. But access to these opportunities from place to place is patchy," Tonya Matthews, president and CEO of the Michigan Science Center, said in a press release. 
Calling all HuffPost superfans!
Sign up for membership to become a founding member and help shape HuffPost's next chapter
BEFORE YOU GO
PHOTO GALLERY
Studies About Kids And Technology