Mark McLaren, Editor in Chief, March 15, 2016
Tonight, Kent Nagano and Orchestre symphonique de Montréal returned to New York's Carnegie Hall following a five-year absence in a compelling evening of Ravel, Stravinsky and Beethoven, their second stop on the orchestra's 2016 U.S. tour. In a rare appearance, the Portuguese pianist Maria João Pires, whose career has focused equally on pedagogy and concertizing, joined Nagano in a captivating performance that brought the Carnegie audience immediately to its feet and lead to a rare pre-intermission encore by Ms. Pires.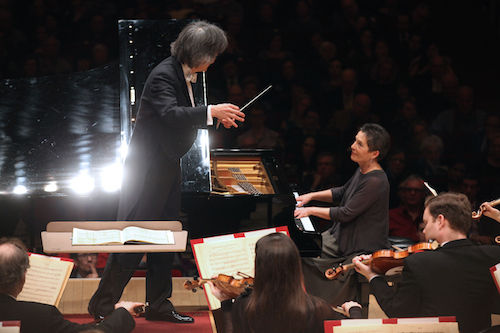 Kent Nagano, Maria João Pires, and Orchestre symphonique de Montréal at Carnegie Hall March 15, 2016 Photo: Steve J. Sherman
The seventy-one year old pianist is a sonic powerhouse - breath-taking technique supporting exciting, even audacious decisions. And tonight, both technique and point-of-view were flying through Stern Hall as Ms. Pires played a Beethoven's Piano Concerto No. 3 in C Minor, Op. 37 as exciting as the Late-Romantic and twentieth-century works that book-ended the performance. It is not a big sound, and the thrill in hearing Ms. Pires is how she has compensated for a slight lack of heft with an abundance of détaché articulation in her phrasing - a smart solution to small-ish hands. Runs and trills, no matter how fast, are crystal clear and pop from the piano. She can sit at the very front edge of a tempo without the slightest whiff of rushing - an eager, assured metronome. Every note of Ms. Pires' interpretation breathes intention, and her performance is endlessly exciting.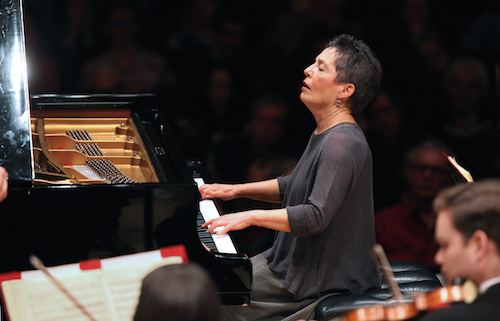 Pianist Maria João Pires with Orchestre symphonique de Montréal at Carnegie Hall March 15, 2016 Photo: Steve J. Sherman
In conductor Kent Nagano, Ms. Pires has a kindred spirit. A maturely confident musician, Nagano anchors a clear vision with a sure, if understated technique. And he follows his soloist with a deft synchronicity. The orchestra responds to Pires' Beethoven interpretation en masse, and follows Nagano through the Ravel and Stravinsky equally united.
Nagano is in his tenth year with Montréal, and a happy marriage between conductor and orchestra is evident. Early in his career, Nagano worked in Boston under Seji Ozawa, a leading interpreter of French Romantic rep, and tonight's reading of Ravel's 1920 La Valse is clean and dynamic. Tempos are sure, phrases are supple and insistent, and textures rich.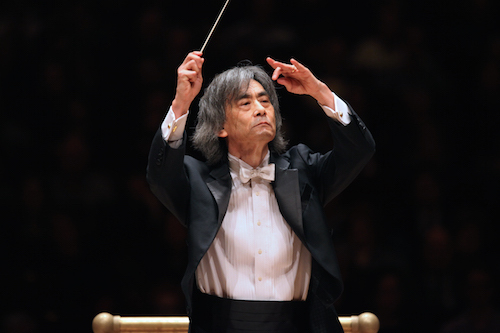 Conductor Kent Nagano with Orchestre symphonique de Montréal at Carnegie Hall March 15, 2016 Photo: Steve J. Sherman
Also on the program is Igor Stravinsky's The Rite of Spring, a thunder-stealing work in a solid performance that, within Mr. Nagano's clever programming and alongside Ms. Pires' spectacular performance, had its own thunder stolen just a tad.
The Orchestre symphonique de Montréal's rare New York appearance offers a glimpse at the artistic growth that this ensemble is experiencing under Nagano steady stewardship. Montréal comes to the U.S. with its own distinct sound palate. The balance among the fine (and young) musicians is spot on, but it is a balance in which the individual components maintain a bright presence. The strings are firm and emphatic, the brass proud and unafraid. This is a sound with tremendous polish but little varnish, and the result is visceral.
Orchestre symphonique de Montréal's U.S. tour continues with concerts in Boston, Ann Arbor, Chicago, San Diego, Palm Desert, Santa Barbara, Berkeley, and Rohnert Park. The orchestra plays Ravel's La Valse and Stravinsky's The Rite of Spring. Pianist Daniil Trifonov replaces Ms. Pires for the remainder of the tour playing Prokofiev's Piano Concerto No. 3.
Follow The Orchestra symphonique de Montréal United States tour here.
Follow ZEALnyc's reporting on Sondra Radvanovsky's exciting Three Tudor Queen engagements at The Metropolitan Opera here.
And click here for ZEALnyc's complete reporting on New York City and world arts & culture.
Calling all HuffPost superfans!
Sign up for membership to become a founding member and help shape HuffPost's next chapter