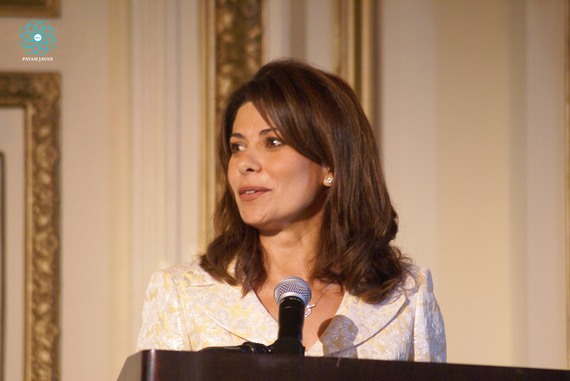 With the goal of harnessing the untapped potential of Iranian-Americans, and to build the capacity of the Iranian diaspora in effecting positive change in the U.S. and around the world, the West Asia Council has launched a series of interviews that explore the personal and professional backgrounds of prominent Iranian-Americans who have made seminal contributions to their fields of endeavor. Our latest interviewee is Nahal Iravani-Sani.
Nahal Iravani-Sani is a Deputy District Attorney in Santa Clara County, in the Silicon Valley /San Francisco Bay Area of California. She has served as a prosecutor for over two decades, having served as the sole lead trial attorney on a variety of felony cases, through all stages of the criminal justice system. She is currently assigned to the Sexual Assault Unit where she prosecutes rape, child molestation, and human trafficking cases, and sex offenders who have failed to register. She has been recognized by the San Francisco Minority Bar Coalition with a Unity Award and is the recipient of the 2016 Judge's Night Diversity Award by the Santa Clara County Bar Association for her commitment and leadership in promoting diversity in the legal profession. For a video of her acceptance speech, please see (here)
Dedicated to education and mentorship, Iravani-Sani has lectured on trial advocacy at the Stanford Law School and Santa Clara University School of Law. She has also coached the award-winning Willow Glen High School Mock Trial Team. Iravani-Sani enjoys mentoring the next generation of trial attorneys. She has served on the boards of the, the Iranian-American Bar Association, Pars Equality Center and the Public Affairs Alliance of Iranian-Americans. For more details, please click (here).
Tell our readers where you grew up and walk us through your background. How did your family and surroundings influence you in your formative years?
I was born in Tehran, Iran. My family and I moved to the United States in 1979 in the wake of the Islamic Revolution in Iran. My parents' primary incentive for moving to America was the quest for freedom, opportunity, and a better education for their daughters. Adapting to our new life in the United States presented numerous challenges, particularly during the hostage crises. My father had difficulty finding employment and experienced discrimination due to the tense political climate. My sister witnessed bullying at school with comments like "go back to your country." I was younger, but fitting in was challenging, when all of the friendships had already been formed by the sixth grade, and I was the new kid with the funny accent from Iran. Despite the adversities, we were deeply appreciative of our adopted country and aimed whole-heartedly to adapt to its customs.
A glimpse at my personal story may be viewed in this six-minute segment of the documentary "Irani-an-American Voices of Silicon Valley - Evolution of a Community," please click (here)
My immigrant background has fostered traits of perseverance and fair-mindedness. Early encounters with injustice and adversity have heightened my sensitivity and commitment to fairness and equality. In our legal system, in particular, I firmly believe in the notion that all who come to our courts must be treated with uncompromising fairness, respect, and dignity.
What ignited your legal career?
Before college, I loved drama and performing arts. As an immigrant at a young age, I was somewhat shy but school theater gave me an opportunity to be on stage and portray different roles. Then, in college, my mother encouraged me to take a speech class, which eventually led to being recruited on the speech and debate team.
The college speech and debate team was definitely formative. I was encouraged to pursue broadcast journalism, but I was not entirely sure about that route. I did an internship at CNN in Washington, D.C. during the summer before my senior year in college to try things out. CNN was pre-union at the time, so the interns had an opportunity to do a lot. From panning the camera during the live evening broadcasts, to attending White House briefings with our White House Correspondent, it was an incredible experience. My internship at CNN ran from 3:00 p.m. until 10:00 p.m., and in the mornings I studied for the LSAT, the law school admission test. I was conflicted as to which field I wanted to pursue. On one hand, as a product of my Persian parents, and their focus on higher education being ingrained in me, I thought I should pursue a career in law. On the other hand, I really enjoyed the investigative, community outreach, and public speaking aspects of broadcast journalism. So I decided to parallel play both options for a while and see what happened. After law school, I eventually secured employment at the District Attorney's Office. My interest in trial advocacy brought me here. My passion for public service and victim advocacy have kept me in this profession.
Could you please tell us about your relationship with victims of crime?
Victims of crime are the source of my commitment to this line of work. I need to emphasize that I do not directly represent victims; they are not my clients. My clients are "the People of the State of California" which comprise our entire community. When a crime is committed against one person, it is a crime against society--a violation of the rule of law and societal order. As a Deputy District Attorney, I represent the overall community's interest for public safety, but in that process, I mostly advocate on behalf of victims of crimes.
I take great pride in giving voice to the voiceless. This often involves building trust with the most trauma-stricken, fearful, and sometimes even uncooperative victims. I try my best to alleviate their fears and compassionately guide them through the criminal justice system. It takes patience, empathy, and reassurance to empower victims to retell their horrible tales. I am often inspired by their courage. I am particularly moved by the young victims on the Sexual Assault Unit. It takes great courage for them to take the stand and, in front of a jury, recount the unspeakable violations against them. I find it a privilege to serve as their advocate. This sense of purpose drives me every day.
What would you do if you were assigned a case you were morally opposed to? How would you reconcile the conflict between your personal beliefs and the case?
As a prosecutor, I am entrusted with being a truth seeker. My ultimate role is to serve justice. Most of the time, that means holding the perpetrator of the crime accountable and to right a wrong or bring closure for the victim. But my role also means not pursuing prosecution or dropping the charges entirely if I believe the suspect is innocent or there is insufficient evidence to prove him/her guilty beyond a reasonable doubt. If I am morally opposed to a case, because I do not believe the facts and evidence support a conviction, it is my ethical obligation to dismiss the case.
What are your thoughts about the American criminal justice system?
The American criminal justice system is lauded as being among the best in the world, but it is not perfect. Those of us who have a front row seat are probably most frustrated by delays in the proceedings and the slow wheels of justice. Court congestion and funding issues lead to inevitable continuances, thereby leaving cases on the court docket much longer than the parties and litigants wish them to be.
Another criticism of the criminal justice system is lack of rehabilitative programs in prison. While such programs exist for lower level offenders in county jail or on probation, our prison system is overcrowded and underfunded, sometimes leading to a revolving door of incarcerations with minimal restorative programs.
Criticizing is easy, but providing constructive and realistic solutions for reform are in much shorter supply. It is crucial to be objective in one's analysis, be open to dialogue and debate, and engage with justice system stakeholders to devise and implement workable solutions.
What ideas for reform, if any, have you brought to the criminal justice system?
While prosecuting sex offenders for failing to register pursuant to Penal Code Section 290/Megan's Law, I noticed a troubling pattern among certain sex offenders who were diagnosed with mental illness. Many offenders had multiple convictions for failing to register as sex offenders, with repeat incarcerations that served no apparent deterrent value. Repeat incarceration was clearly not the answer. But currently, there is no statutory authority to handle such offenders differently, which allows for considering their mental health issues.
Hearing the concerns of my colleagues on the defense bar and the local bench, I initiated a proactive approach. After receiving and reviewing documented mental health records, we transfer supervision of the defendant to our Mental Health Court, with supervision by the judge that presides over that court. I garnered the support of the Sheriff's Office to set up sex offender registrations at the courthouse that are aligned with the defendants' monthly reviews in front of the judge. This approach addresses public safety concerns of knowing where sex offenders reside, while eliminating repeated prosecutions and incarcerations of individuals who suffer from mental illness.I am proudest of this local reform because I collaborated with my colleagues across the criminal justice system to implement a new policy and to address a longstanding issue that had existed for years, but no one had taken the initiative to address in the past.
For somebody who reads this and is thinking about becoming a prosecutor, what advice would you have for them?
I would absolutely encourage them to pursue this line of work. You get to wear the "white hat" every day, be honorable, and do the right thing. The right thing--what does that mean? Your number one goal is to seek justice. You are entrusted with a great deal of responsibility and heavy discretion. With a stroke of a pen, you can change a person's life. With a recommendation to the judge or jury, you affect lives, not just of the suspect but also their families. Don't take this responsibility lightly, take it with humility. Approach your cases with an open mind, an acceptance of various perspectives, and compassionate understanding, in attempting to reach a just resolution. Be transparent about your decisions. Reveal all. Your legal strategy may be your personal work product, but the evidence you rely on should be fully disclosed. Hold the wrongdoers accountable, bring justice to the victims. But also be mindful that doing "the right thing" sometimes means not filing charges, reducing charges, or even dismissing charges.
Why are there so few Iranian-Americans who serve as prosecutors and judges, even though many thousands of Iranian-American lawyers are working with distinction?
I do not know the exact numbers, but it appears that the number of Iranian-American prosecutors are disproportionately small in relation to the number of attorneys in our community. Hiring is extremely competitive, but there surely are qualified candidates with the right credentials, work ethic, and trial advocacy skills. I do not know why there are so few of us. Other than extremely competitive hiring, one reason may be that most choose the private sector over the public sector for financial reasons. Joining a large law firm is certainly more lucrative. People often say "with your trial experience, you can get 'snatched up' by a large firm making a lot more money." But you have to be a public servant at your core. The personal satisfaction that comes from having impact is priceless. With respect to Iranian-American judges, yes there are a few of whom I know. Again, a disproportionately small number, for reasons that are unclear to me.
You have been actively involved in many of the organizations in the Iranian-American community including the Iranian American Bar Association (IABA), the Public Affairs Alliance of Iranian Americans (PAAIA), and Pars Equality Center. Why are you passionate about this community and what do you believe the future holds?
Even though I came to the United States at a young age, my heritage and culture are deeply ingrained in me. Yet I am as patriotic as it gets toward our adopted country. That is what drives me to unite my two worlds. As I have grown older, I have felt a sense of obligation to serve as an informal ambassador of our community. Growing up at a time when the hostage crisis was the backdrop, and then raising my own children in the post 9/11 era with rhetoric about the "axis of evil," and now practicing my career amid rhetoric of closing our borders to immigrants, all accentuate the need to portray an accurate positive image of who we are. We are educated, we are good-doers, and in one way or another, we are contributing meaningfully to the fabric of America. I firmly believe that it is incumbent upon each of us to participate in American civic affairs. It is only through our active participation that we put an accurate positive face on who we are. It is only through intermingling and engagement that we break down stereotypes and can build meaningful bridges. As I witness more participation at various levels by members of our community--particularly our next generation--I believe that our differences are shrinking, and that our diversity is being celebrated. The story of this country is ultimately one of inclusion and tolerance, and that in the long run, I am convinced that we will help build a more perfect union.
Popular in the Community