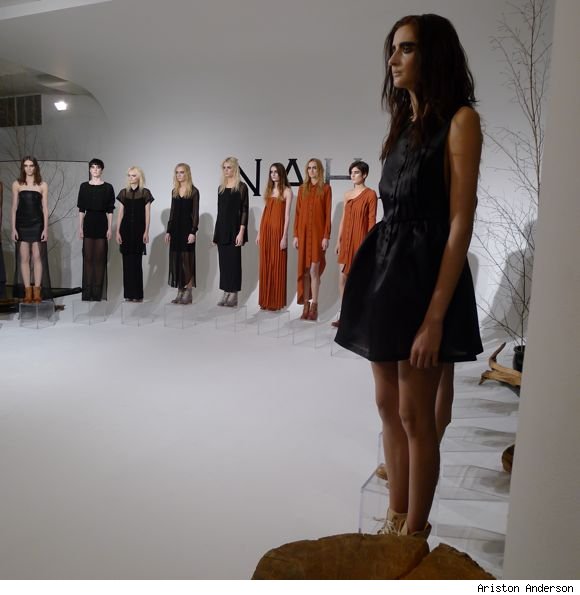 One of this year's most anticipated collection NAHM comes from an unlikely duo: Alexandria Hilfiger, of fashion royalty; and Nary Mavivong, who after living homeless as a teenager, pursued his lifelong dream of working in the fashion industry (a story that is told in the new documentary Dressed). The two have proven their worth as a young power duo with enthusiasm and love of the craft that shows vividly in their Fall 2011 collection.
"The Raven by Edgar Allen Poe, as well as what the Raven represents, the black void," served as their inspiration for the show, Hilfiger tells us. "It traps energy to it and then puts it back out into the universe in different forms and shapes, which is what we did with the shirtdress. It's inspired by men's shirting details, the fabrics, the cuts, and the lengths."
A semi-circle of models on pedestals diplayed the new season's looks at Milk Studios, with fabrics rich in amber, red clay and navy. The colors complemented the makeup and hair, all reminiscent of Poe's looming Raven and the undying devotion of the designers. Each piece is singular in the way it deconstructs the shirtdress, taking the versatile piece a step further, exploring how it can be worn well into the night. A leather corset dress hangs with a sheer half-skirt, an instant classic for statement-making New York ladies. A long burnt umber dress with black detailing takes us back into Poe's time, but is updated into a fall essential for both the downtown artist or the uptown socialite. NAHM's one-piece dressing is a fall must for any modern woman.
Did Ms. Hilfiger always know she wanted to be a designer? "Yes and no. Yes, deep down inside," she tells us. It wasn't until she started styling for Nary Manivong's last two shows that she realized that this was where she wanted to be. "I experimented with different forms of the business, including acting, producing movies, painting, styling, and I wanted to see where I fit in, where I felt most comfortable," she says. "And it just so happens that I do fit in with being a designer."
Her father, telling us how much he adored the collection, couldn't agree more. "I'm very proud. I'm proud because she's worked so hard," says fashion icon Tommy Hilfiger. But he does have a bit of advice for her as she continues to rise up in the fashion ranks. "Stay focused. And pay attention to not only the creativity, but also to the business." Words of wisdom for any young designer.