Whenever I sit down for a manicure, I never stop to think whether my fingernails are long enough for nail art. Maybe that's because I tend to sport an almond or stiletto shape that is just a few inches shy of Florence Griffith-Joyner's famous six-inch nails. But when Michelle, associate editor at HuffPost Home, recently asked me for some advice on how to dress up her tiny fingertips, I drew a blank.
My sudden loss for words set me on a quest to find manicure designs that would fit my small-fingered friend. After spending all of about five minutes scrolling through my Tumblr feed (of course I have a "nail art" tag tracker set), I came across the Little Nails blog. A college graduate named Rosie, who admittedly had a lot more time on her hands and a terrible nail biting habit, created the site back in 2011.
"I always keep my nails short and even when they're 'long,' they're still shorter than a lot of bloggers' nails," she said. "I read a lot of nail blogs, but never saw any featuring smaller nails. I figured that I wasn't the only one who liked their nails a bit shorter, so I decided that I'd start a blog that featured little nails."
The nail polish enthusiast's small idea has gained her a huge following in the DIY nail art world. But what I love most about Rosie's blog is that she isn't afraid to make (and show off) her mistakes -- often engaging in honest conversations about a concept gone awry. Yet, she's still got me fooled with her ability to paint on half moons, flowers and numbers like a pro. Her secret: She uses dots and stripes as the building blocks for almost all of her manicures.
Her final words of advice on at-home manicures: "Nail art is fun, and should never be stressful! If I want I do something elaborate on my nails, I'll make sure I have plenty of time to do it. Rushing and nail art do not mix well!"
Click through the slideshow below for 13 nail art ideas from the Little Nails blog, and be sure to vote for your favorite design.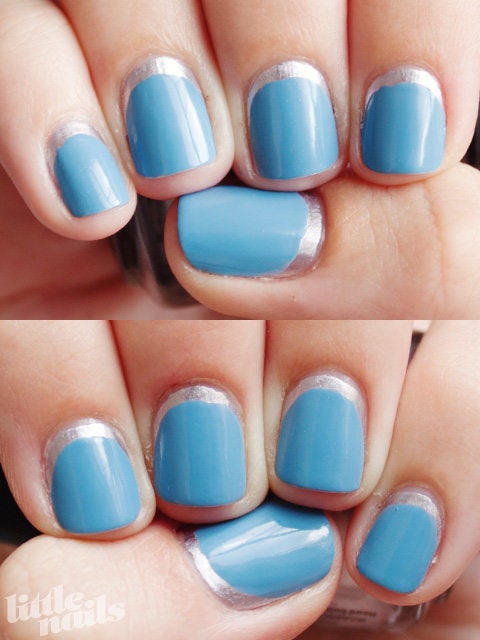 Nail Art Ideas For Teeny Tiny Fingertips