A 52-year-old man in northeast Wisconsin narrowly escaped death after he accidentally shot himself in the heart with a high-powered nail gun.
Doug Bergeson told Green Bay's WBAY-TV the accident happened seven weeks ago, when he was framing in a fireplace at home he's building in Peshtigo.
"I was just bringing the nail gun forward, and I was on my tip-toes," Bergeson said. "I just didn't quite have enough room, and it fired before I was really ready for it, and then it dropped down and fired again."
The second nail ricocheted off a piece of wood and hit Bergeson in the chest. He told The Associated Press he initially though it nicked him.
"I looked down [and] I couldn't see anything," he said.
It was not until Bergeson lifted his shirt that he saw the 3.5-inch nail was embedded in his chest. Roughly an inch of the nail was left sticking out.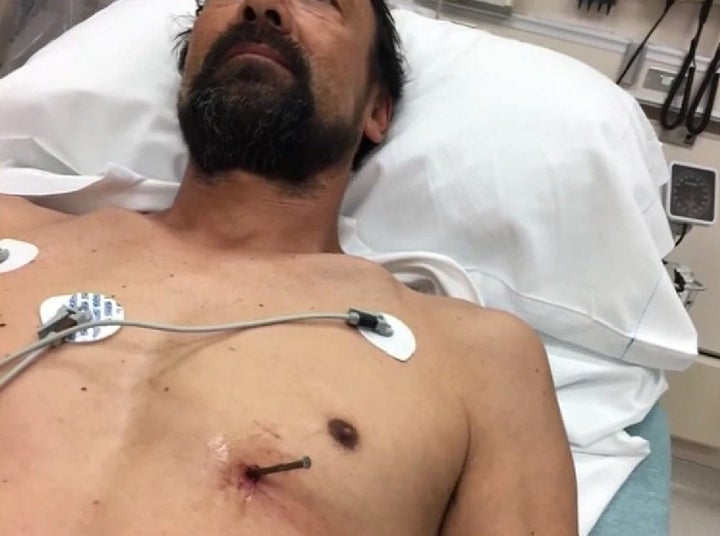 "I could see the nail moving with my heartbeat," he told the AP. "It was kind of twitching with every heartbeat."
Bergeson drove himself to a nearby medical center. Doctors there had him rushed to Aurora BayCare Medical Center in Green Bay, where he underwent open-heart surgery.
Dr. Alexander Roitstein, the cardiothoracic surgeon who performed Bergeson's surgery, said the nail was within an eighth of an inch from a major artery.
"Had he been leaning just so or had his heart been in a different part of the beating cycle we could've had a very different situation on our hands," Roitstein told The Daily Mail.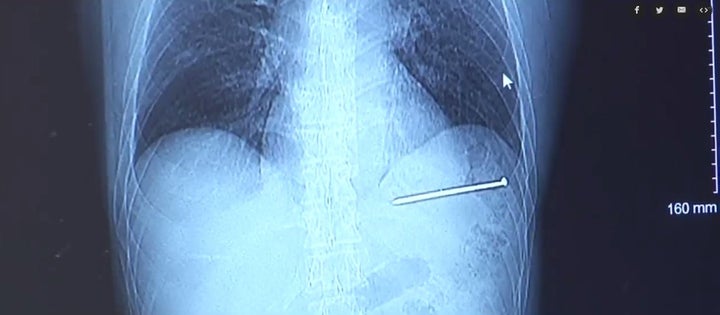 In an interview with WBAY-TV, the doctor said Bergeson had told him he didn't attempt to remove the nail because of what happened to Steve Irwin.
Irwin, an Australian zookeeper and television personality nicknamed "The Crocodile Hunter," died in 2006 following a freak accident in which he pulled a stingray's stinger out of his heart.
"That's what played through his head," Roitstein said.
Bergeson spent just two days in the hospital before he was released. He said he has no serious lasting effects and has been cleared to return to his job at Village of Lena waterworks plant.
"I feel pretty good," he said, according to the AP. "I'm back to doing things carefully. It was a pretty awakening experience."
Calling all HuffPost superfans!
Sign up for membership to become a founding member and help shape HuffPost's next chapter
BEFORE YOU GO