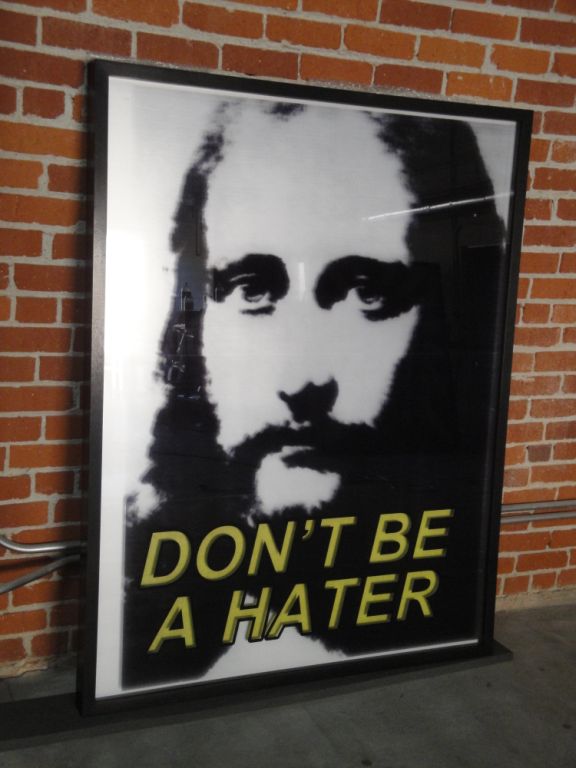 On a recent visit to Paul Rusconi's massive downtown Los Angeles gallery and workspace, I soaked in his blend of high art and pop culture. With his unpretentious Southern California style, Rusconi showed me around his impressive gallery space with high ceilings and exposed brick. He unveiled a new series of controversial paintings of Jesus, emblazoned with provocative slogans that belie the serious nature of their subject. The dealer turned artist uses an unorthodox method to create his paintings; he employs a digital screening technique combined with monochromatic photography, paint and nail polish. Rusconi's works have been shown at numerous public art institutions, galleries, and private collections, including The Frederick R. Weisman Art Foundation, the Interface Foundation, The Castilla Foundation, The Batonga Foundation, the Carnegie Art Museum, Gagosian Gallery, Stellan Holm Gallery, and 20th Century Fox.
Emily Waldorf: You started out as a Post-War and contemporary art dealer and then became an influential artist. What inspired you to make the switch from the dealing side to the creative side?
Paul Rusconi: I had an idea to make art. I called Robert Rauschenberg and thought it may be something he'd be interested in doing. He said 'no way' ... (and) was not interested in it whatsoever. He told me that I should do it and that 'it would keep me busy for the rest of my life.' Even before I spoke to him I thought about making paintings in this way myself. During my conversation with him that notion was totally solidified. When Robert Rauschenberg encouraged me to make art - I listened. He had been in my mind the Godfather of contemporary art - I valued and respected his opinion. I made three paintings and after I got them back from the framer - I knew my life was about to change in a way that I had never imagined before. Within three months, I dissolved my corporation and business as an art dealer and began making art. I was compelled in a way that I had never experienced. Some people say that it was a bold and brave move to begin a life as an artist - but for me, bravery had nothing to do with it - I felt I had no other choice. I'm so thankful and grateful that this is my path - I've never been happier.
EW: In addition to Rauschenberg, who else turns you on as an artist?
PR: DaVinci, Cy Twombly, Chuck Close, Warhol, Sol Le Witt, Patrick Lee, Chris Cornell, Jeff Buckley, Freddie Mercury, Cary Grant, Shakespeare, Plato, Kierkegaard, my mom and my grandfather.
EW: Your work is saturated with images of celebrities such as Kate Moss, Tom Cruise, Katie Holmes, Tyra Banks, and most recently a monumental portrait of Adam Lambert. What are your thoughts on our society's obsession with celebrities?
PR: My work revolves around those that make up and influence Pop Culture - politicians, musicians, actors, authors, designers, artists, as well as people in the public eye. I find the recycled images of these people fascinating. I like to re-present images that we as a culture are inundated with. Who knows - perhaps the most mundane image can become iconic through art.
EW: There seems to be a dialogue between high art images and fashion, both high-end and street, in your work. Is this intentional?
PR: I think fashion is art. The dialogue I am concerned with as an artist has more to do with the art and artists that I've been influenced by. I can't help but be affected by all the art that I've seen. Some paintings and sculptures have had long lasting retinal impressions forever etched in my mind. Warhol's White Mona Lisa paintings, his 'Blue Jackie' series, Sol Le Witt's 'Variations of a Cube' from the 60's... Some references sneak in to my work unconsciously and others are much more direct. I photographed a white Sol Le Witt sculpture from 1967. I was interested in the multitude of whites the sculpture emanated from its lightest areas to its shadows and used many variations of those whites to make the background colors for a series of 'White Kates (Moss)'. I think it's interesting when people call the work 'vapid' and 'empty'. Knowing what is under the surface - both literally and figuratively, I'm comfortable and confident that my job as the author of this work is thought out and complete. I've also used the color of Britney's Spears nail polish and lipstick in the work - so, there you have it...
EW: So you are something of a nail polish aficionado. Any other favorite colors or brands of nail polish?
PR: The brand depends on the color... I've used everything from Chanel to Revlon. I like the newness of nail polish. Oil has been around for hundreds of years. There is something very modern about nail polish as a medium. I love the temporary quality that a particular color provides. It's seasonal. Sometimes I find a color that will only be on the shelves for a week or two. When I find something I like - I buy as much as I can because it could be gone the next day.
EW: Tell me about your digital screening process and the use of monochromatic photography in your work. Have you always worked with this process or has it evolved?
PR: This process was the idea that I took to Bob (Rauschenberg). I never had any intention nor interest in being an artist, but when I made work I realized that this was my language. What I had to say needed to be said in this way. I always loved taking photographs - but never considered myself a photographer. I have tremendous respect for photographers. I do use a camera and a photo as a basis for a lot of my work, but I use it as a means to attain an image to work from. The actual photography in my work is a monochromatic photograph. I'll photograph something and extract a color that will then be the background for a painting. I'll either leave it alone or paint on it - usually with nail polish.
The digital screening process allows me to create images in a very specific way. The Plexiglas is magnetized and the inks are electrically charged. Because of this I can break images apart and place great or minute amounts of ink on surfaces. I love working with new technologies and industrial materials to create work.
EW: Your paintings are not paintings in the strict art historical sense, i.e. they are not oil on canvas, but they read as paintings. How do you define painting?
PR: Some people don't think that what I do is art - but for me art exists by definition. The beautiful and most liberating thing about being an artist is the ability to say that what I make is art. Art exists because the author says so. People have an easier time referring to my works as paintings that contain nail polish or other enamels. I also use extreme high temperature engine enamels. Normally used to paint high-performance car engines - I like the way the paint sits on surfaces and I really like the sheen.
EW: Currently in your studio you have a series of Jesus paintings that incorporate the use of language with slogans such as "Don't Hate Me Because I'm Beautiful," and "There's More to Life Than NYC." The Jesus image is somewhat of a departure from your celebrity driven work. What inspired the series and use of language? Has your work been influenced by other artists who incorporate language into their work?
PR: I think Jesus is a huge celebrity - no? Perhaps more so with the Anita Bryant set in the 1970's. I like text in art - Barbara Kruger, Ed Ruscha and Franz Erhard Walther. I love the power of the word - especially when it's charged with this image of Jesus. I grew up seeing bumper stickers that said 'Honk If You Love Jesus'. So I wanted to make a painting with his likeness that read 'Honk If You Love Me'. There was something ironic and poetic about it. I'm surprised that some people have been so offended by this body of work.
EW: You seem thoroughly Californian, having been born, raised and now living and working here. Do the unique sub-cultures of California, and more specifically, Los Angeles, influence your work in any way?
PR: I never really thought so until I was asked this question. I am working on a series of paintings now that are very much the product of my living here and experiencing life in Los Angeles...
EW: Where do you hang out in Los Angeles?
PR:
1) Anywhere that my two girls are because I love them more than I knew was possible.
2) Church and State because it's close to my studio and they have the most amazing Croque Madame on the planet.
3) The canyon behind my house because it's beautiful and filled with deer and coyotes.
4) The Mann Chinese Theater because people boo when a movie is bad.
5) Westward Beach because I can swim and see dolphins and whales and when I'm there I'm reminded of exactly who I am.
For more information about Paul Rusconi's work, please contact paul@rusconi.us.

Related
Popular in the Community