This article was written by Leah Chernikoff and originally appeared on The Inside Source.
For some folks, it's all about the shoes. For others, it's the bag. But for more and more fashion followers, nails are the hottest place to show off the latest fashion trends. From color-blocking to military to metallics, almost any runway trend can be (and has been applied) as a varnish on fingers and toes. Nail polish devotees can rattle off the quirky names of their favorite hues from Essie, OPI, Chanel and Deborah Lippman like they were their best friends. The most popular colors and finishes (think crackle and glitter) become highly coveted items just like any hard-to-find, status-conferring It-bag. And when they sell out, they wind up... You guessed it... on eBay -- for double, even triple, the original price. (Currently, there are a few bottles of Clarins Multi-Eclat Nail Colour 230 on sale for about $150 each and a few sets of Chanel's limited edition denim-colored trio, designed exclusively for Fashion's Night Out, available for over $200 each.)
On a quest to find out about the latest in nail polish trends, why people have become such freaks about all things nails, and how to score those hard-to-find shades on eBay, Leah Chernikoff, a regular contributor to The Inside Source, eBay's digital style magazine, approached the well-manicured Michelle Mismas. Mismas is the editor and founder of All Lacquered Up, a site that bills itself as "A Nail Polish Fanatic's Resource." Launched in 2007, All Lacquered Up was the first beauty site to focus solely on the nail (many more have followed in its wake), and since then its become the go-to source. Here's what she had to say:
Visit The Inside Source to for an eBay cheat sheet to the hardest-to-find colors out there and check out part of Leah's interview with All Lacquered Up's Michelle Mismas below.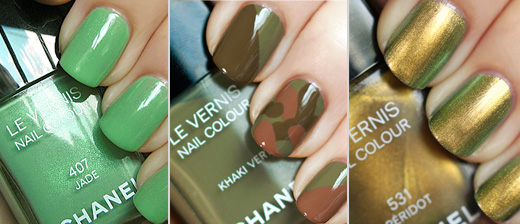 Chanel Jade, Camomani, Peridot Natural (images courtesy of All Lacquered Up)
The Inside Source: Your site, All Lacquered Up, is the first site devoted solely to nails. How did it come about?
Michelle Mismas: I had been collecting nail polishes for about 10 years and found myself with over 400 bottles by the time beauty blogs were starting to emerge. I would scour the internet for information on the newest nail polish collections and hottest colors, but found there was a lack of attention being paid to nails in the beauty blogosphere. So I took it upon myself to fill that void.
TIS: Where did your love for all things nails come from?
MM: As a child I always painted my toenails, but I had a terrible fingernail biting habit that I couldn't seem to cure. Then I went to college, and my sorority sisters gave me a hard time about my scraggly nubs when it was time for rush. I ended up getting acrylics and when I took them off, my nails were extremely damaged. To camouflage the damage, I started wearing polish on my fingers and I found that it cured my habit. OPI I'm Not Really A Waitress was the gateway polish to my obsession. It's a gorgeous red and I love the name. Polishing my nails with fun, unique shades became a creative outlet.
TIS: Why are people so obsessed with nail polish?
MM: There are many reasons, but two stand out to me. One is economical. Nail polish is an inexpensive luxury and an affordable way to inject fashion's hottest colors into your wardrobe. A Chanel handbag is out of my budget, but I can splurge on a Chanel nail polish and bring those interlocking C's home with me. A pair of color-block heels is too trendy for me to invest a lot of money in, but I can color block my nails for a fraction of the cost. Outside of its affordability, applying nail polish is therapeutic. It's a weekly ritual for a lot of women that allows them to express their love of color. Nails are an accessory. You might not wear a bright turquoise pair of pants, but a turquoise pedicure really pops with a LBD.
TIS: What makes a nail polish color obsession-worthy?
MM: That's the question we face every season. What will be the next Chanel Jade or OPI You Don't Know Jacques? Part of what contributes to a shade's popularity is availability. The more limited the release, the more coveted it becomes. Chanel is the perfect example of this. Over the past few years they have been dictating the hot color with their limited edition launches like Jade and Les Khakis de Chanel. Also, any polish that contains a hard-to-find pigment or a type of pigment not being used much anymore causes a frenzy. For example, holographic nail polishes are becoming extinct due to the cost of the pigment, so when a truly prismatic holo emerges, it becomes a must-have.
TIS: What are the most coveted nail polishes?
MM: Anything Chanel releases in limited quantity is pretty much a lock. Especially if it was only sold in one country or continent. The Chanel Holographic nail polish is one I've been longing for. Clarins 230 has a really unique finish and won't be reproduced so it's on a lot of wish lists. There are a lot of older OPI and Essie limited edition shades that people search for. There is always a lot of interest in obtaining nail polishes from other countries. Brands we can't get here in the U.S. I've been ordering from South Korea lately on eBay. They seem to be more obsessed with glitter than we are, so it's a great place to look for interesting glitter polishes.
TIS: So eBay's a good place to find those sold out limited-run polishes?
MM: It's really the only place to find discontinued or hard-to-find nail polishes. Though in some ways, that's unfortunate for the nail polish collectors. eBay sellers are wise to our ways. They do their homework to find out which nail polishes are the most sought out. That causes the prices to escalate to insane amounts.
TIS: What's hot in the nail world right now?
MM: Sapphire is big for fall as are military greens -- think olive and hunter. The nail art party isn't ending any time soon and with all the DIY nail art products out there, it's even easier for at-home manicurists to replicate intricate designs. Nail art stickers, like the ones from Sally Hansen, nail gems, stamping kits, like Konad, and magnetic nail polish are all simple solutions for the nail art impaired.
Photos courtesy of All Lacquered Up
Related