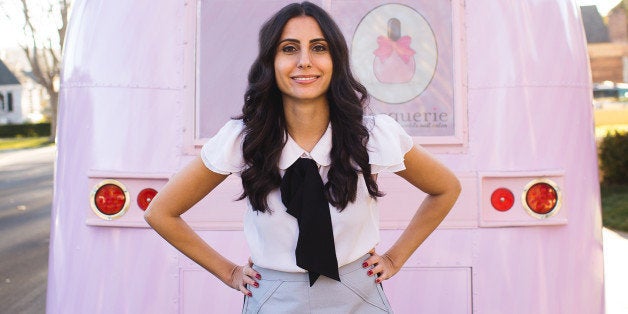 Long days crunching numbers as an investment banker in Los Angeles left Susan Aflak with no time for a salon appointment, let alone a sit-down lunch. While working "crazy Wall Street hours," she'd duck out for a quick bite to eat at one of the many food trucks parked outside of her office. That's when it hit her: "If we only had something convenient like this for beauty errands…"
Just like that, a business plan was born.
Within a year, Aflak opened up La Lacquerie, a mobile nail salon, catering to the exact demographic she had once been a part of: over-worked, time-strapped female professionals who need to squeeze in a manicure or pedicure. The salon, located in a 1960s airstream trailer that travels around the San Francisco area, has been open since January, and it's already a hit among the staffers at Google, YouTube, Facebook and Gap, four companies that offer its employees weekly pampering from La Lacquerie.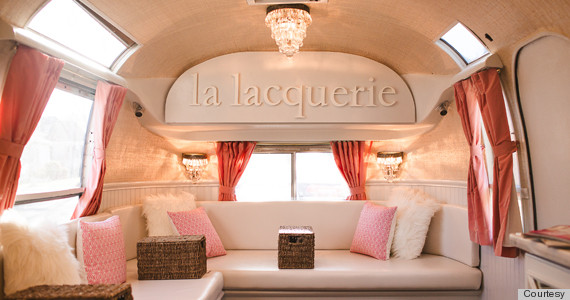 The inside of La Lacquerie's mobile nail salon
After quitting her job in finance back in 2012, Aflak put aside her MBA and enrolled in beauty school to get her manicurist license and learn the nail biz from the inside out. Since the business is fairly new and she's just starting to grow her staff, she often performs manicures and pedicures herself.
"I'm definitely rolling up my sleeves and getting in there," she told The Huffington Post.
Between finding and fixing up the airstream trailer (she purchased it on Craigslist), figuring out how to get power and running water and making sure that everything was up to code in accordance with the California Board of Barbering and Cosmetology's rules, Aflak had a lot to learn before opening up a fully-functioning nail salon on wheels. Things haven't really simplified for her yet, either -- she's in the trailer at least five days a week and has to fill up on both gas and water each morning, as well as spend an hour or two setting up every time she moves locations.
"We're not a food truck model, where we can just pop up anywhere and sell a few burgers or tacos and move on," she said. "We definitely planned to go after the businesses and market through them."
And it's that small detail that separates La Lacquerie from many other schtick-inspired salons. Aflak doesn't cater to pedestrian traffic and only works with businesses to schedule full days on a single site. Employees can book appointments in advance on her web site or just pop in -- after all, it's just outside their office doors. Landing Google as her first major corporate partner was a big coup for Aflak, and she said her roster grew quickly afterwards when people saw her unmistakable pink trailer cruising around town.
"When I wrapped the trailer in pink, I was definitely targeting the women," she said. "We have had a decent number of men come through, though. Usually, their girlfriend took them and they liked it."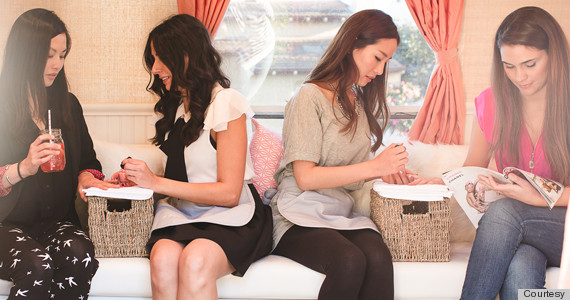 Susan Aflak (second from left) performing a manicure inside her mobile nail salon
While launching a business has come with its own set of challenges and similarly "crazy Wall Street hours," Aflak is constantly inspired by La Lacquerie and happy to put in the time to make it the company she dreamed of while slaving away in finance.
"I'm kind of obsessed and I think it's just in me to work a lot," she said. "It's my baby. I spend every waking second thinking about how I can make it better and what else we can do. I was always that little girl who was painting my nails, so it makes sense that I'm in this field now."
The way Aflak dove head first into the beauty industry as a complete novice could certainly inspire many people unhappily working desk jobs -- it's easy to ignore those bright ideas and "aha!" moments, whether or not they come while scarfing down truck food in the middle of a hectic work day. Plus, it's daunting to risk an already-successful career and throw your savings into becoming a salon entrepreneur.
But hey, sometimes you just have to listen to that voice in your head, even if it's telling you to leave your cushy finance job and paint nails out of a trailer for a living. At least, that was the brighter professional trajectory for Aflak.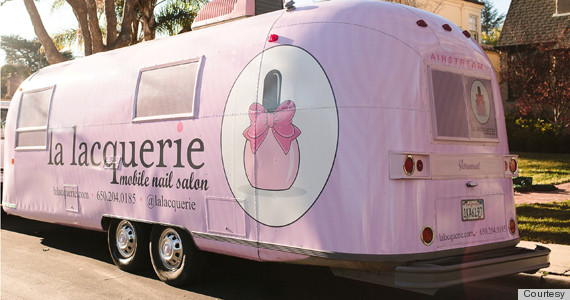 La Lacquerie's airstream trailer
Before You Go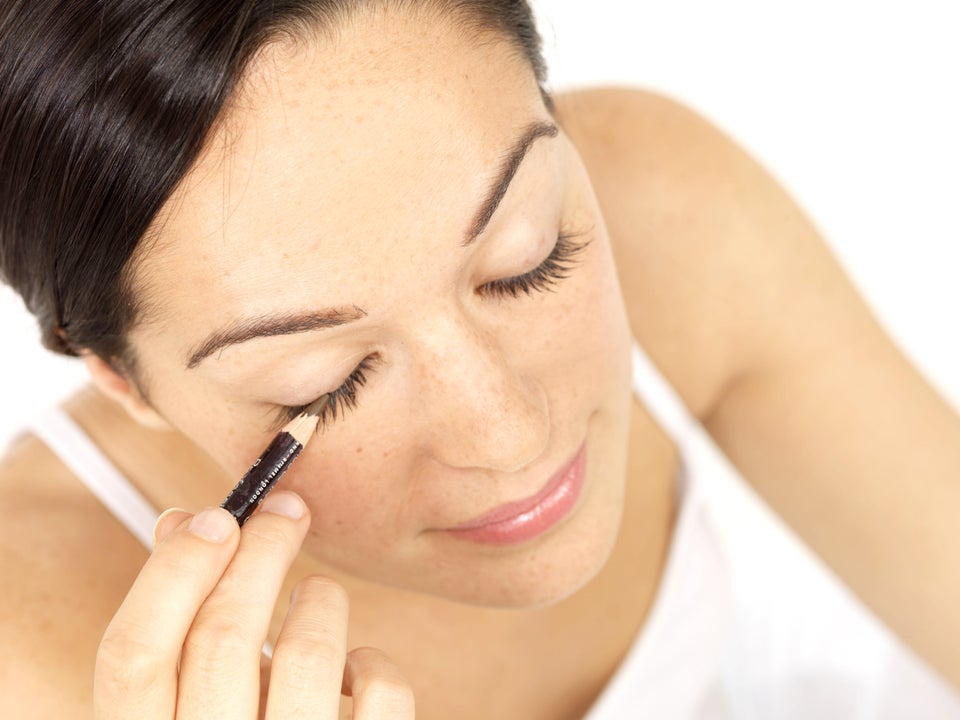 50 Beauty Tips
Popular in the Community