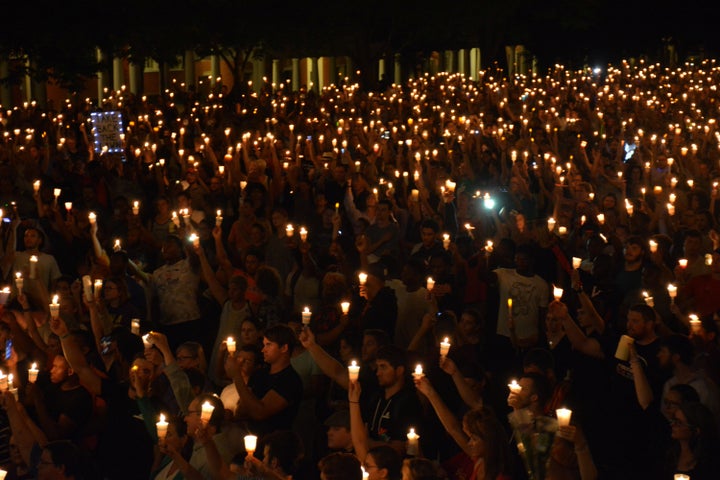 I voted in my first national election in 2008, for the eventual winner, President Barack Obama. As a freshman in college, I cannot describe how that election night felt. Coming of age in the age of "Hope and Change," and "Yes We Can," was formative in so many ways ― indeed, I'm certain I'll never completely understand how that campaign, that rhetoric, and that eventual victory shaped me.
Despite my longtime (honestly, well-deserved) reputation as a cynic, the election of Barack Obama felt exhilarating, like we were standing on a precipice, about to leap into the sky. In a certain way, it felt like the entire process of starting college: You knew the possibility existed, but now that it was here, it was hard to grapple with the enormity of the reality in front of you.
Like many white people from majority white, rural towns, I was taught about racism as if it were a historical phenomenon.
What I didn't consider that heady night was how the seedy racist underbelly of this country would react to the monumental achievement of electing the first black president in this nation built on the backs of stolen and enslaved Africans.
It would be easy to blame this oversight on youth, but that's a cop out in a society where black and brown children can be gunned down in the street before they even hit puberty, and where their murderers almost never see a day in jail. My ignorance wasn't about age ― it was about whiteness.
Like many white people from majority white, rural towns, I was taught about racism as if it were a historical phenomenon. It ended after the Civil War, with lingering remnants snuffed out with the Civil Rights Act, or through the sheer force of Martin Luther King's will. How, exactly? Well, if the details were a little fuzzy, that was okay, because America is the Shining City on a Hill, or something.
And it's still going on. The only halfway coherent way to explain the Trump agenda is that it's a desperate, dogged attempt to erase the legacy of America's first black president.
Richard Wolf expanded on this process for USA Today:
In the space of 12 days recently, the Justice Department said civil rights laws do not protect gays and lesbians from workplace discrimination and voting rights laws do not prevent states from cleansing registration rolls of non-voters. In between, it indicated it may fight, rather than defend, affirmative action policies at colleges and universities.
Even as his administration attempts a wholesale demolition of President Obama's achievements, the very fact that a man like Donald Trump can assume this nation's highest office is especially sickening when it is understood as part of the enormous racist backlash to Obama's presidency.
Plenty of white people have been part of the organized resistance to this president and his racist (and misogynistic, and transphobic, and ableist, and homophobic, and, and, and...) agenda since November 9, 2016. But there's been a certain reluctance to name and shame the racism of those who have continued to stand with him - in no small part because many of us have friends or family members among them.
Most importantly, it is time to look in the mirror. Do you lock your doors when you drive through black neighborhoods? Have you implied that a black student was only admitted to your school because of their race? When video surfaces of the latest black victim of police brutality, do you try to justify it?
And even if you do none of those things, do you stay silent when they happen in your presence?
It was inexcusable to give those people a pass before, and it's inexcusable now. It is past time to speak up, to have uncomfortable confrontations.
It is not your fault if you were never taught the horrifying depth of the racist history of this country in school when you were a child. But as an adult, it is your responsibility to seek information to fill those egregious gaps in your knowledge.
It is not the job of people of color to educate us on their historic or current oppression. The information is out there. It's out there in countless books, articles, and documentaries, and a huge percentage of those resources are available for free.
If I had more fully understood the deep, festering wound of racism in this country back in 2008, I wouldn't have been taken by surprise at the immediate and brutal backlash that followed the election of President Barack Obama.
We can no longer be shocked when that wound rears its ugly head. We can no longer react in the face of racism, but must be proactive in our denunciation - and most importantly, put our money where our mouth is, both figuratively and literally.
The work of dismantling white supremacy has too long fallen at the feet of its victims, as its beneficiaries either participate or stand idly by. Do not let your outrage fade into the background. The fight will be long, and hard, and probably thankless - but we need to take responsibility at long last.
Calling all HuffPost superfans!
Sign up for membership to become a founding member and help shape HuffPost's next chapter