"I think we're going to leave. My friend fainted."
That was the very first comment The Observer overheard as we headed into the entertainment portion of our program at the Los Angeles Museum of Contemporary Art's annual gala on Saturday night.
Cocktail hour at the gala had been relatively tame--everyone milling about, chatting each other up and giving each other the up-and-down--outfits are important at this event. Dita Von Teese was resplendent in Gaultier haute couture, while Minnie Driver went contemporary in a Douglas Hannant Andy Warhol camouflage number with Pomellato jewelry - yet she was just as va-va-voom as the diminutive burlesque star. Art patron Mandy Einstein cut a lithe figure in black Thierry Mugler and artist Rosson Crow looked like a happy cake topper in light peach vintage Don Loper. Gwen Stefani--sans husband Gavin--was a standout, and perhaps the centerpiece of this precursor to the evening's big event... which is to say: dinner. To which, at that moment, we were summoned...
MOCA is by now famous for having artists 'curate' or rather 'direct' the annual gala; in previous years, the likes of multi-media artist Doug Aitken and artist/satirist Francesco Vezzoli spearheaded everything from the napkins to the entertainment. Saturday night, it was performance artist extraordinaire Marina Abramovic's turn. At this point in her career, the artist is used to hearing the word 'controversy' when her work is a topic of discussion. Just 24 hours before her directorial debut of "An Artist's Life Manifesto," the MOCA gala piece, she was lambasted by legendary dancer Yvonne Rainer for what Ms. Rainer called 'grotesque' and 'verging on economic exploitation' for Ms. Abramovic's use of 85 actors--for two days of services, each participant was to be paid $150 and would also receive a one-year membership to the museum.
Upon entrance to the main event, all those gorgeous gowns seen at cocktails were covered up, as all attendees were required to put on white lab coats (which we got to keep by the way, which brought to mind the image of 750 well-heeled people going home and playing doctor). "I like the idea of total transition," Abramovic said later in her presentation of the evening's fashion aesthetic, "You're not just here as a guest of another gala. You're an experimenter in a strange lab." Many a lovely lady decked out in couture, however, was not thrilled. Grimaces were rampant as there were undoubtedly hours of preparation going into the outfits for the evening. Jaime King quipped, "Why did I even bother to wear a dress?" (An exception to this rule was Tilda Swinton, who didn't need to put on her coat—she was already bedecked in white from head to toe.) But once inside, the sea-of-white uniformity became somewhat calming, almost transcendental.
As the crowd moved in to find their seats--among them artists like Shepard Fairey, John Baldessari, Ed Moses, Ed Ruscha; arts supporters Maria Bell, Dasha Zhukova; actresses Rosanna Arquette and Kirsten Dunst; and dealers like Honor Fraser (co-chair Larry Gagosian didn't make it, having already left for an art fair in Abu Dhabi)--we found ourselves face to face, or in some cases, face to crotch, with Ms. Abramovic's centerpieces, aka the aforementioned supposedly economically exploited actors. Yes, Ms. Abramovic continued on her performance art trajectory of 2010 and caused us all a bit of initial shock. Here's how it went: At each of the round tables, a nude woman was stretched out, draped with a skeleton. As in Ms. Abramovic's own performance with a skeleton, these women were instructed to show no emotion and remain immobile. At the rectangular tables, things were a little different--heads popped out of the middle of each rectangular table, and rotating slowly, the actors seated, below the table,on lazy Susans. Since the event was 3 hours plus, and these centerpieces were not allowed to leave their respective posts, they were all wearing Depends, a source told The Observer, on condition on anonymity. We thought we knew the head at our table but, respecting the dictate of 'no touching, feeding, or communication (other than the non-verbal kind) we were unable to say, "Don't I know you?"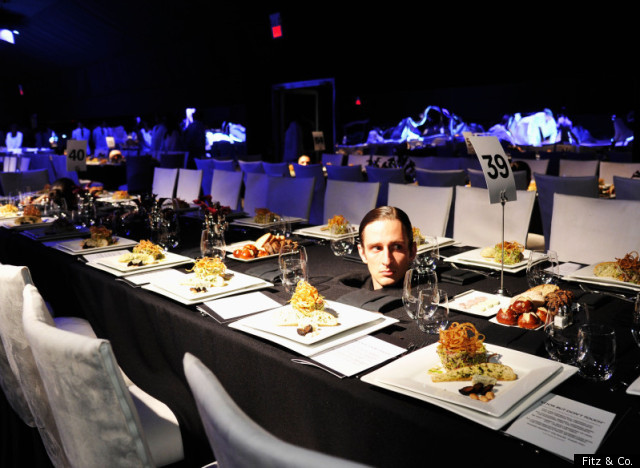 Event producer Carleen Cappelletti, of Bounce, worked hand in hand with Ms. Abramovic on the evening. "The first thing Marina said was, 'I want centerpieces and I want this to feel as though we're observing and being observed. That we are an experiment.' She looks at things in a different perspective and the audience is very much a participant and doesn't see anyone as separate from the process."
Jodi Siegel Wing (wife of Andy) loved the concept. "How often do you get to lock eyes with your centerpiece," said the author. "And why aren't I sitting at a round table with a skeleton?"
Most people looked like they had the giggles in church and avoided eye contact with the head of the table. The Observer locked gazes with ours in between conversations with tablemates; over the course of just two minutes, we went from completely uncomfortable to nervous to serene.
Before the main course ("De Kooning Power Mix") was brought out, Ms. Abramovic took to the stage and led a group of lab-coated actors in chanting her Manifesto. Post manifesto, the artist sent out a heartfelt thank you to her performers but also noted of the round, naked person/skeleton tables, that "MOCA said no nude men, so if you want to complain there's no men at the tables, complain to them."
Halfway through dinner, a group of shirtless men straight out of a Calvin Klein ad emerged into the dining room toting a white-sheet-draped body on a platter. Once onstage, the sheet was removed to reveal singer Debbie Harry decked out in a red cocktail number (much better than the one she opted for at the recent AMFAR event a few weeks back). Ms. Harry vamped her way up and down the runway-like stage, and many a lab coat was flung off to dance to hits like "One Way Or Another" and "Heart of Glass".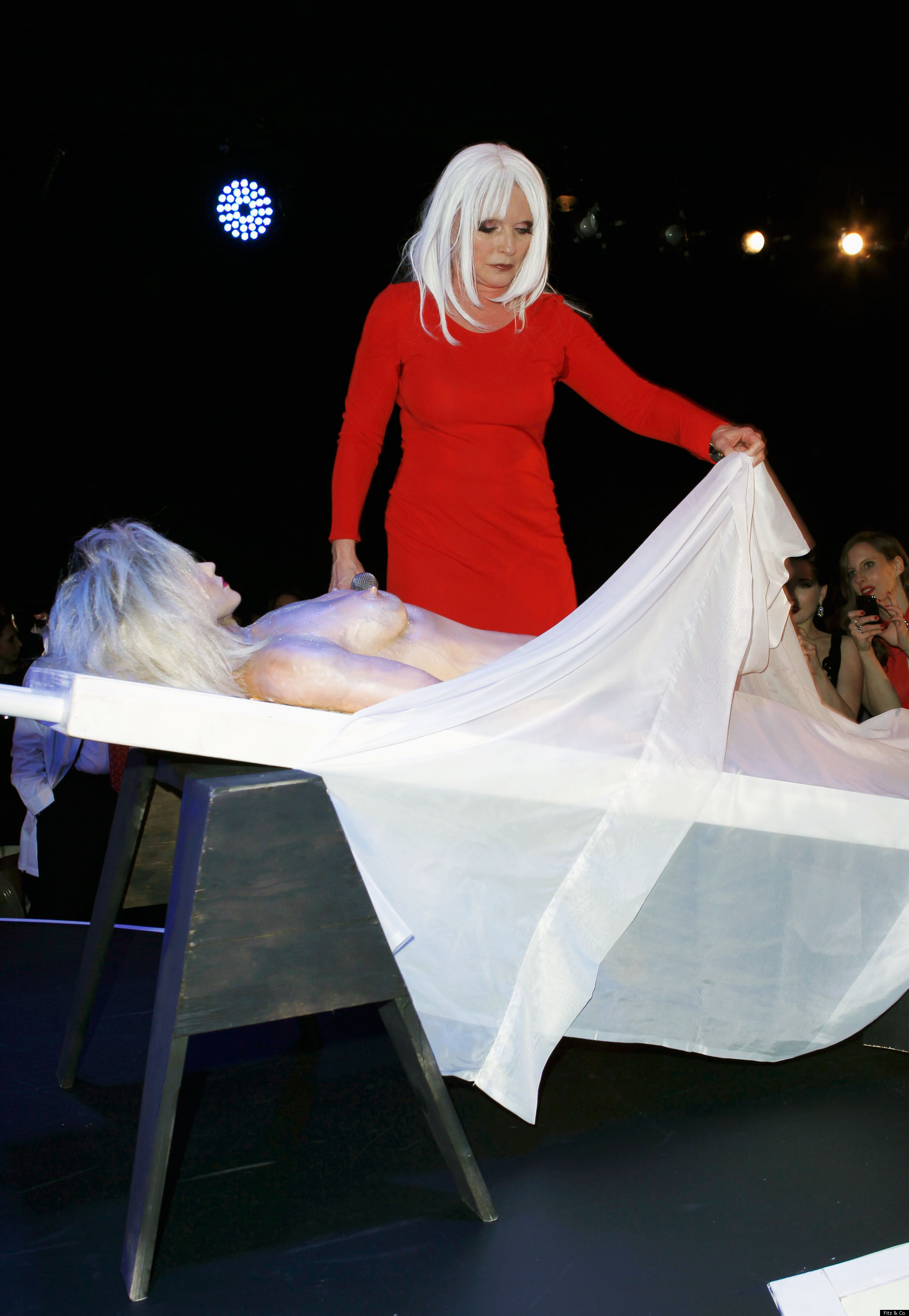 Dinner was over, but where was dessert? It appeared in the form of life-size nude cake renditions of Ms. Abramovic and Ms. Harry. Looking like a lost scene from Peter Greenaway's The Cook The Thief His Wife and Her Lover, Ms. Harry was handed a large knife, which she raised over her head and plunged into her very own likeness. Which, appropriately, was a red velvet cake. Cheers erupted all around--but at some point in the room, those cheers were stifled by the chants of "Violence Against Women! Violence Against Women!" By the time we got up to find the dissenting voices, they had apparently been ushered out. Dinner was over, cake body parts were being circulated by what was now droves of those shirtless men, and MOCA director Jeffrey Deitch appeared beyond pleased. "We wanted an event and we got one," he said.
But the question still remained--was this event exploitative? Our tablemate, who preferred not to be named, blurted out, without missing a beat, "Isn't it supposed to be?"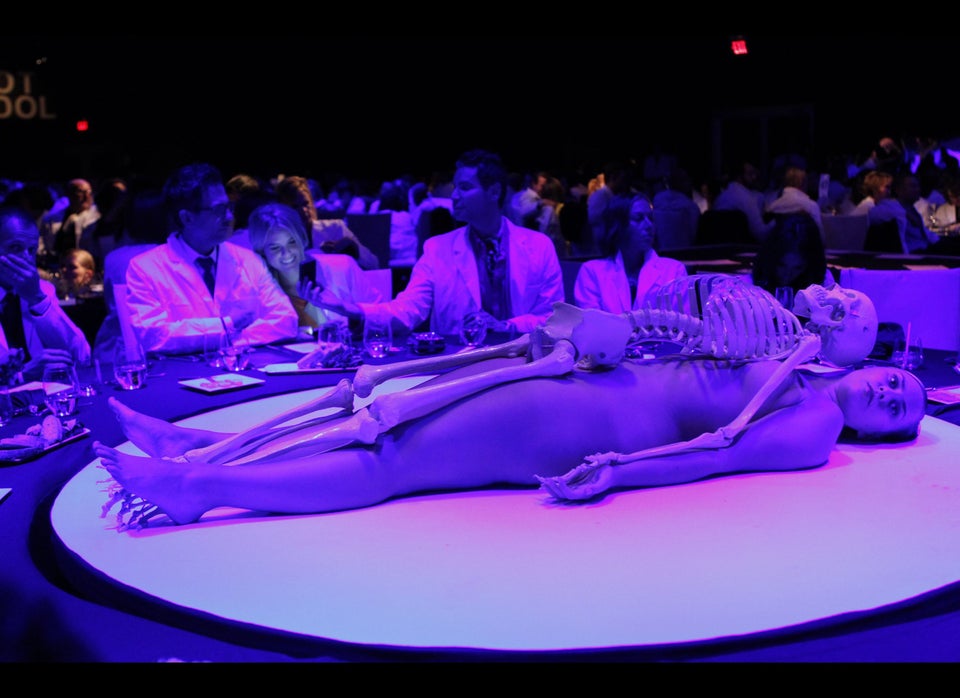 All images courtesy of Wireimage .
Related
Popular in the Community