An unexpected, mid-September thundershower didn't dampen spirits at the New York premiere of " Naked As We Came," Richard LeMay's stunning new film about love, loss and the delicacy of family ties.
Though "Naked" has already nabbed a number of awards at film festivals in San Francisco, Palm Springs and Atlanta, the movie's starring foursome -- Ryan Vigilant, Karmine Alers, Lué McWilliams and Benjamin Weaver -- appeared particularly jubilant to present the film before an eager audience of Manhattanites on Sept. 12. (Check out the film's trailer above)
"This is the premiere I've been waiting for, because we all met in New York," said Vigilant, whose acting résumé includes stints on "Gossip Girl" and Lenox Avenue," among other roles. Noting that his "Naked" role was his first lead in a feature film, he added, "It was a true test of my endurance. The movie was kind of born here, so it feels like a cap in a way."
"Naked" focuses on Laura (Alers) and Elliot (Vigilant), two siblings who return to their childhood home to re-connect with their ailing mother (McWilliams), who is in the final stages of terminal cancer. The pair is surprised to find that not only has Mom taken up smoking marijuana in addition to arts and crafts, she's also acquired a dashingly handsome new housekeeper, Ted (Weaver). Elliot quickly discovers that Ted's domestic talents aren't limited to the kitchen as the two men begin a smoldering affair, but his mysterious new beau has a hidden agenda of his own.
Check out photos from the premiere of "Naked As We Came," then scroll down to keep reading: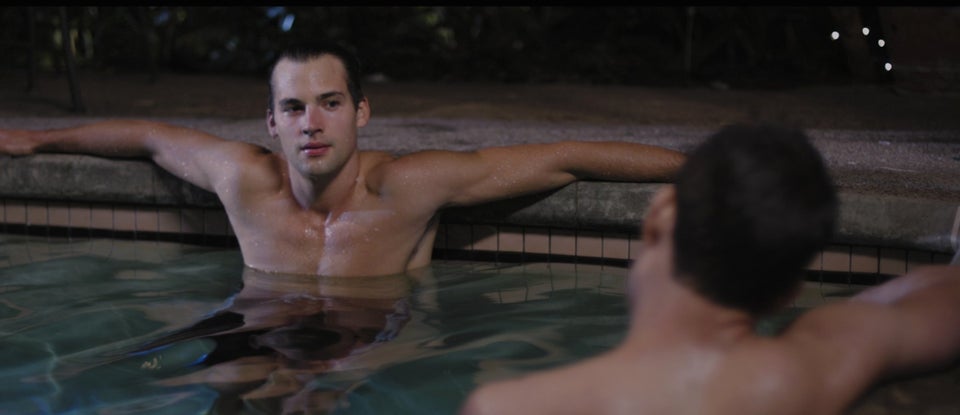 "Naked As We Came" Premieres In NYC
Though the movie has received most of its acclaim on the lesbian, gay, bisexual and transgender (LGBT) festival circuit, "Naked As We Came" has cinematic aims that go well beyond the sexuality of its principal characters, and refreshingly so. The film ultimately serves as a complex portrait of a tormented family finding strength and courage in what is unquestionably a tumultuous circumstance. The tension of the plot is juxtaposed against the backdrop of a pastoral New England estate, but each member of the ensemble cast turns in an equally solid performance, highlighting the subtle nuggets of humor in LeMay's script.
The film was a very personal one for writer-director LeMay, who said he was inspired by several close friends who lost parents over the course of a year.
"I started thinking about what I would do if I knew one of parents was going to die," he said. "It's a pretty dysfunctional family, but I think dysfunction can also be funny, if you stand back and let it be."
Noting this his aim was to "make a movie that wasn't focused entirely on gay themes or gay issues," LeMay added, "I don't think that [being gay] is the issue in this case; the issue is really just that they're human."
Weaver echoed those sentiments, noting, "I think the message is about identifying what your real dream is, and having the courage to go after that, but also knowing that it's not always so easy to articulate that, and it might take some false starts before you figure it all out."
After its week-long theatrical run, "Naked As We Came" will be released on DVD in October. For more information, click here.
Popular in the Community