A naked man wielding a stick allegedly smashed windows and tried to steal three cars before he was hogtied by his angry victims on an Australian highway.
Facebook user Frankie Ferraro, a witness to the chaos on Brookton Highway in Western Australia Friday, posted this (nsfw) photo of the 26-year-old suspect after he was taken down. The man allegedly started his crime spree by walking onto the highway --fully clothed at the time -- and smashing the windshield of a moving truck with a stick, the New York Daily News reports. That driver lost control and flipped on its side.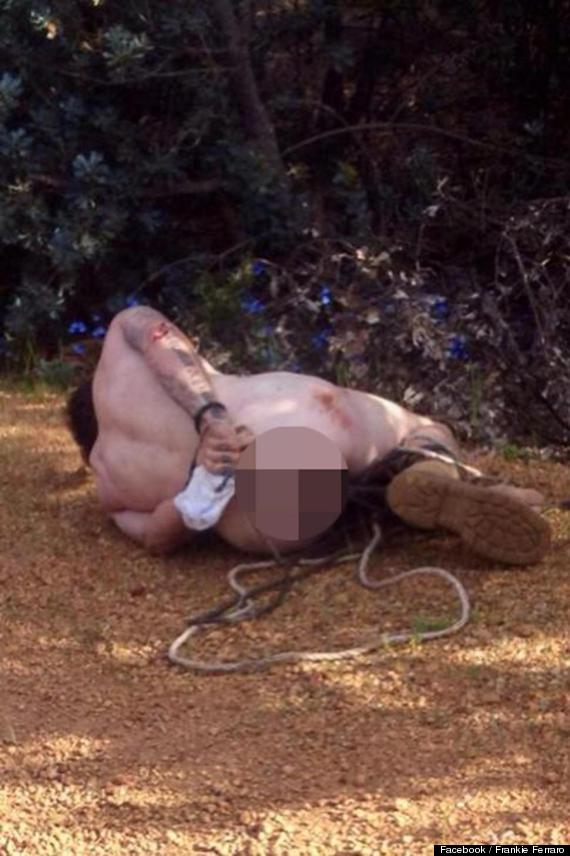 Another driver who stopped to help was attacked by the unnamed suspect, who then tried to carjack another woman who pulled up to the scene.
That's when the man took off his clothes and allegedly tried to steal more cars. Ferraro's father, Phil, told 9News that the suspect was "going crazy" before the victims got fed up.
"He tried to drag the girl out of her car and carjack her, ripping at her clothes and hair," Phil Ferraro said.
Witnesses grabbed a rope and tackled the suspect.
"[Someone] hit him and tied the naked guy's arms and legs behind his head and left him in the dirt for the police and ambulance," Frankie Ferraro said on her Facebook page.
The bloodied and bruised man was taken to Armadale Hospital for treatment. He was later charged with endangering a life, and he has a scheduled court date later this month.
REAL LIFE. REAL NEWS. REAL VOICES.
Help us tell more of the stories that matter from voices that too often remain unheard.