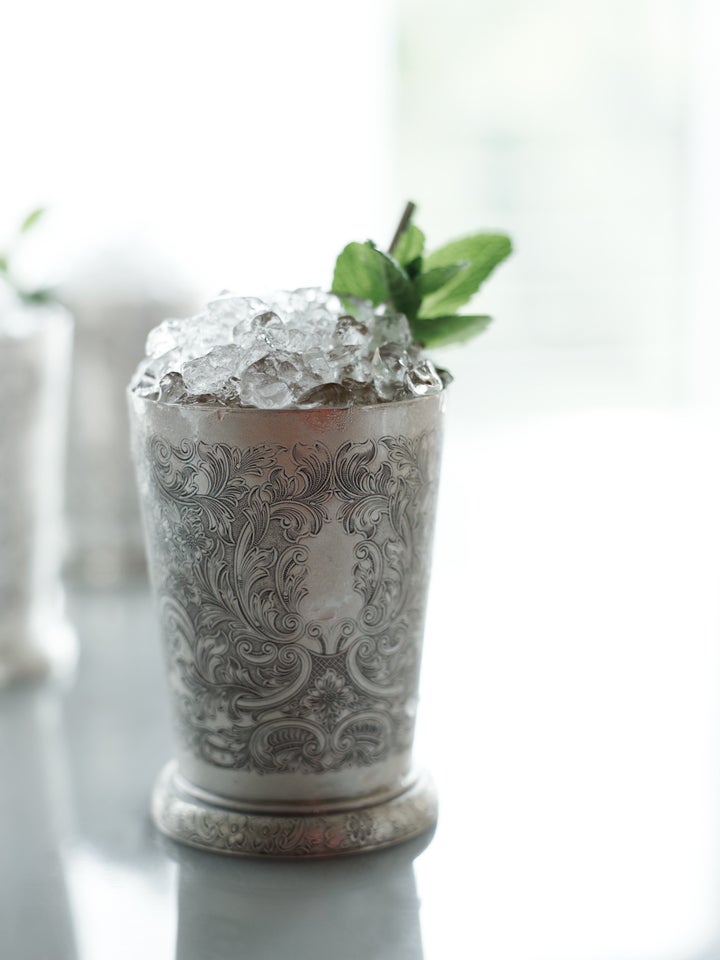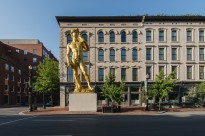 Photo Courtesy 21c
Louisville, Ky. -- It's not every day you can wander into a toney downtown hotel, sidle over to the Gent's room and relieve yourself in a contemporary art cubicle. Or contrariwise, mosey down the hall and count how many pairs of shoes (with feet in them) there are inside the personal relief quarters. 24/7. And in this place on Main Street Louisville, you can also sip your self-selected Bourbon Flight (about which more later) while appreciating wall tall photographs of a naked, tattooed Japanese gangster and a remarkably hunky champion jockey whose tight abs have been mangled by a thoroughbred.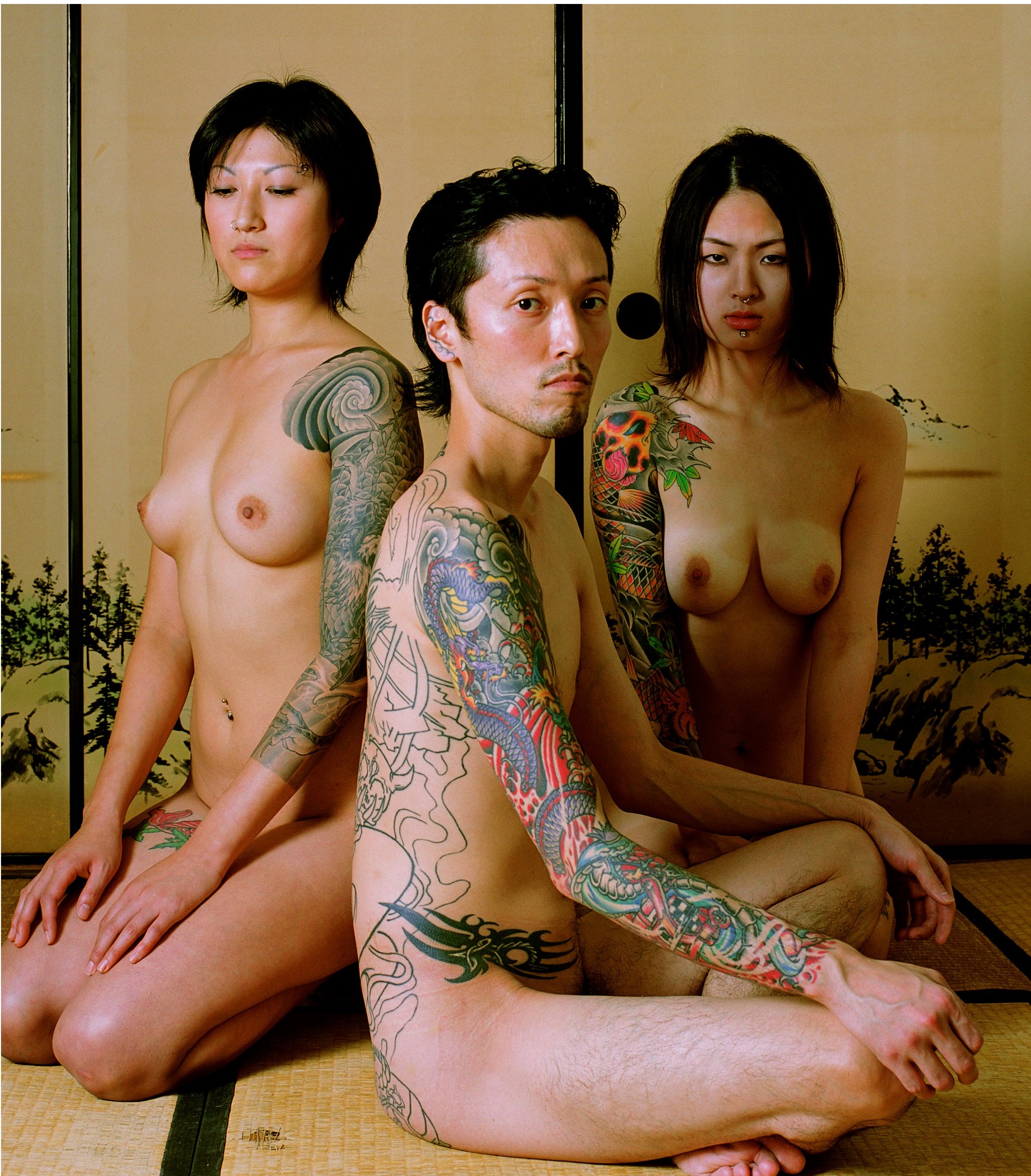 --Photo Courtesy 21c
We're at the flagship operation of the 21c group, a set of hotels intended to renovate tired old city centers in Louisville, Lexington, Cincinnati and Bentonville, Arkansas. In itself, that's not a new idea. What is new is how Kentucky's mega-millionaire Brown family are going about it. The Browns claim to hold the biggest and best collection of contemporary art in North America and they're scattering it -- along with temporary traveling pieces -- in the bars, lounges, restrooms and elevators of their hotel group, which they're marketing as "museum hotels."
It all began a half dozen years ago when liquor heiress Laura Lee Brown and her somewhat new husband Steve Wilson realized their collection of out there edgy art had grown too large for their modest 18th century country estate. It had to go somewhere. (Estate planners just might have played a role as well, but that's another story.) Louisville's crusty old art museum, the Speed, entertained a proposal to open a contemporary wing, but then backed off, and that led Brown and Wilson to sniff around a set of empty 19th century warehouses on the city's east end. They could have opened their own museum behind the dusty facades, but why not make a more adventurous bid that would also promote the hometown and create a high end -- though more or less reasonable -- hotel that could make even Parisians and New Yorkers gasp?
For the grand opening back in 2006 Brown and Wilson flew in a singer from Dublin, engaged an Austrian sculptor to mount an outdoor chandelier that exuded the sounds of heavy breathing and installed an art student in one of the street windows for a week exemplifying art as life. The current spring show includes Cuban-Brooklyn photographer Anthony Goicolea who portrays himself with staged digital dynamics as a multi-faced child, adult, hunter, shopper, and party lad.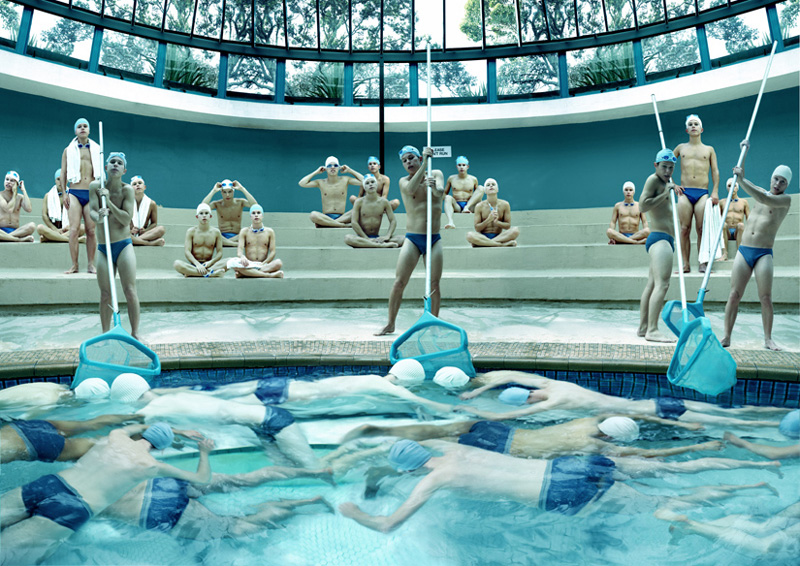 Photo courtesy 21c
The work is all about identity: who invents it, who owns it, how is it formed, where are is its edges. Sometimes he's a blond, sometimes tawny dark. Sometimes there are two of him, sometimes ten or a gang. Sometimes he's old and gaunt, other times a child or children. "How much of your own personal identity do you give up to assimilate into a group or an environment, and how much do you struggle to maintain your own personal or cultural identity?" he asks in his own self-made video that runs with the show. That, along with the mutilated body images in the bar and an enormous raw aluminum cornucopia that seems to float down from the girders in the main exhibit room, surrounded by Goicolea's images, is on the inside.
Outside, just in time for this spring's annual Derby Day, parties stands David. This David, however, came not from Florence, where his inspiration still stands in the Uffizi, but by ship from Turkey where artist Serkan Ozkaya crafted him in fiberglass and burnished him in gold. Ozkaya's first version of the gilded 30-foot David was for Istanbul's 2005 Bienniel and it wasn't exactly a copy of Michelangelo's original, which Ozkaya said he had never seen with his own eyes. Instead Ozkaya used a digital 3-D model created by Stanford University artist Marc Levoy.
In its first iteration, David collapsed just after his installation and had to be quickly restored. Then Ozkaya cast two additional fiberglass versions, including the one that now stands on West Main Street outside the hotel. For curator Alice Gray Stites, the monumentality of Ozkaya's David is at once a reference to the classical image seen by every school child and to the cheap plastic copies used universally to sell everything from underwear to tailored suits "and in so doing," she says, it "addresses the issue of value, both ecnomic and artistic. How do we assess the value of an artwork (or its double), in the marketplace, in the art-historical cannon, in our own subjective experiences?"
In two other works -- not in Louisville -- Ozkaya constructed a chair formed of fifteen pieces of spaghetti and created a so-called "walking museum" called Atlas in which a large fabricated stone is strapped to the back of a curator who walks daily through the streets of Manhattan.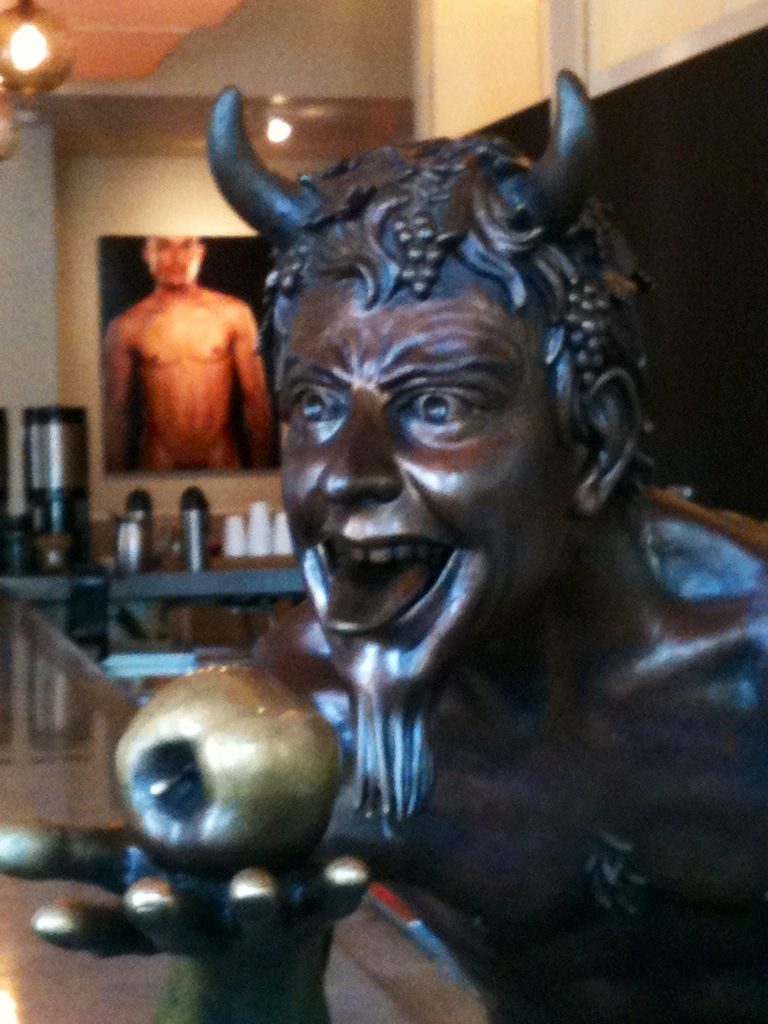 --Photo by Frank Browning
Equally original -- and to many locals radical -- forms of contemporary and conceptual art are on the docket for the museum hotel in Cincinnati, where now Zaha Hadid's Contemporary Art Center continues to startle and sometimes enrage the residents of the Queen City. Coming later in Lexington is the conversion of what was once the only "skyscraper" in the Bluegrass, the 15-story former First National Bank. It will be the first real art museum for this horse and basketball addicted town, where the edgiest art so far was the display of several dozen painted fiberglass equines installed a decade ago on downtown streets -- a reference to the painted lions in Zurich and the colored cows of New York.
Just how many of these museum hotels will emerge remains uncertain. With Bentonville, whose current art magnate guru Alice Walton sought out Brown and Wilson, there will be four by 2014 scattered across what we used to call Dixie, which is a part of the point. Mountains of wealth have been steadily piling up across the South, and very little of it has made it way to contemporary artists. The Brown money of Louisville seems to want to change that story -- and if along the way they manage to shelter the gold from the tax man in their growing string of hostelries, there'll be all the more for artists.
REAL LIFE. REAL NEWS. REAL VOICES.
Help us tell more of the stories that matter from voices that too often remain unheard.