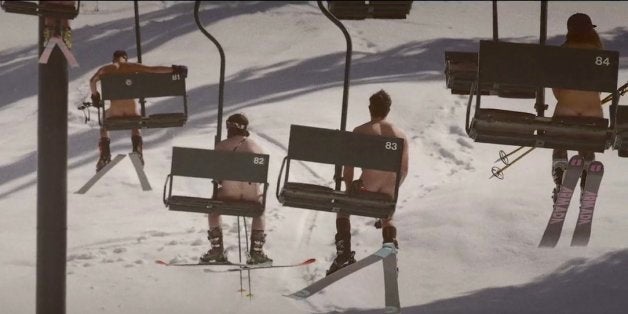 Being naked seems to have one of two effects on people: It's either liberating, or it's terrifying. Every once in a while, as in this naked segment from the new ski movie "Valhalla," it's both.
The flick, which centers around one man's quest to rediscover the freedom of his youth through his love for skiing, includes a cast of (usually clothed) adventurers who take viewers on an escapist exploration of the relationship between skiing and soul. But for 150 seconds of the film's 63 minutes, clothes are cast aside, and the skiers let it all hang out. Deep powder, inverted jumps, cliffs and -- in one wince-inducing scene -- tree branches. None are enough to slow down the naked skiers.
SCROLL DOWN TO WATCH THE SCENE. WARNING: NSFW
The Huffington Post caught up with the film's co-director, Nick Waggoner, and sought out the cold, hard, abrasive truth about the inception and production of this nude scene -- in which the actors don "nothing more than socks and a smile," along with a bit of necessary ski gear -- and the movie in general.
Where'd you come up with the idea for a naked skiing scene? And how cold was it?
Nick Waggoner: I think a lot of the inspirations for "Valhalla" were these '60s and '70s films and photos. It was really an era where people were questioning a lot of the boundaries around them, looking to form their own opinion about good and bad, based on their own individual experience. If you watch the "Woodstock" documentary, there are these incredible scenes of people swimming naked together, and it's pretty far from sexual, it's just about fun and freedom. I think that kind of flavor was woven into the fabric of the film from really early on.
Realistically, I also have to credit my co-director, Ben Sturgulewski, who really spearheaded the filming and mapped out the blueprint for what this segment was going to be. He came back from a gray day, with mediocre snow, and instead of coming home early, he turned lemons into lemonade, and got incredible footage of people skiing naked on a day that [had] otherwise unworthy filming conditions. I think the fun that everyone saw in that footage was contagious, and before long we just had to cue the Zeppelin and people's clothes started to come off. It was amazing.
It was February when we filmed a lot of the actual skiing. Temperatures [were] probably around 25-28 degrees Fahrenheit. It's cold, there's no doubt. The chairlift shots we got in April, when the temps were a bit more mild, probably upper 40's, strong sun. Still cold though.
Any insights you'd like to share on the best or worst ways to fall while skiing naked?
NW: Falling on snow while naked is a pretty unimaginable. The snow, the cold, it's actually really abrasive, like an arctic road rash. You really try to avoid it. But people obviously weren't holding back -- they were dropping cliffs and flipping upside down, and, honestly, I don't know that many places on earth where you'd be able to convince people to do these sorts of things. I think the location -- Nelson, British Columbia, and [the area's] Whitewater Ski Resort -- provided an environment where everything is possible.

Our producer-cum-athlete, Mike Brown, who has his fair share of cameos in the segment and might go down in the Guinness Book for "Tallest Naked Skier," had a pretty uncomfortable go one day. After skiing down, he opted out of putting his pants back on, just wearing his down jacket like a large dress. He was boot-packing up a well-beaten path, but the minute he stepped off the track, he sunk in to his chest, jacket coming up over his head. He was completely naked, in a big bath of snow. I think even he was able to laugh at himself in the moment.
Please tell me you filed down the edges of your skis to dull nubs. Any injuries result from this scene?
NW: No injuries. I think the worst wreck was the one where Karine, a Swedish woman who moonlights as a carpenter back in Stockholm when she's not skiing naked for the camera, fell and took a branch across her breasts. But when you're doing something as ridiculous as skiing naked in the dead of winter, you're pretty prepared for ridiculous things to happen.
Anything else you want people to know?
NW: One of my favorite memories was a time when Ben and I were filming a group of guys skiing a line right above a prominent catwalk at Whitewater Ski Resort. It was a fairly busy day, and as soon as all these locals and a couple tourists saw our expensive pair of RED EPIC cameras, they started to gather, expecting some type of circus trick or Seth Morrison double backflip they were accustomed to seeing in the movies. A British man stood with his Handycam glued to his eye, not wanting to miss a second of the action. Of course, we were the only ones who knew what was coming, and as our naked skiers approached the distant ridge, a Swedish woman said, "Look, there they are. It looks like they're all wearing the beige suits." And two minutes later, as naked men came barreling by them, snowboarding and skiing through deep powder, there was quite a silence in the air. We gave them an experience they never expected.
This interview has been edited and condensed for clarity.
WARNING: The clip below features nudity and is NSFW.
WATCH: The full trailer for "Valhalla."