The way he runs with jacked intensity, that single wisp of un-gelled hair bobbing to and fro in the breeze? That foolhardy smile that says, "Sorry, boss, my way or the highway," with a combination of youthful naïvety and the cocksureness of a born winner? His compact, buff as hell little body that defies age and time? The way his movies are feverishly erected around him like cardboard boxes that, in his presence, morph into rocket ships? 
Well, if so, enjoy this naked sculpture of the man, the legend, the Cruise, courtesy of celeb-crazed artist Daniel Edwards.

The sculpture, a nude shroud of Cruise himself, serves as a tribute to the actor's 25th year with the Church of Scientology -- what could be his last. Sculptor Edwards and gallery Cory Allen Contemporary Art organized a "pop-up Church of Scientology" in honor of the anniversary, to be assembled near the authentic Church's Clearwater headquarters in Florida.
Taking a hint from the Shroud of Turin, the Shroud of Scientology is a 14-foot rectangular beast, depicting a fully groomed Cruise clutching the Scientology cross on his chest. 
"Radiocarbon dating will never rule out the Shroud of Scientology's authenticity,"  Edwards explained in a statement. "It exists as a document of Tom Cruise's faith in Scientology -- a photo negative of the radiance of his soul. It gives evidence for future generations that Tom Cruise not only belonged to Scientology, but saved it from obscurity."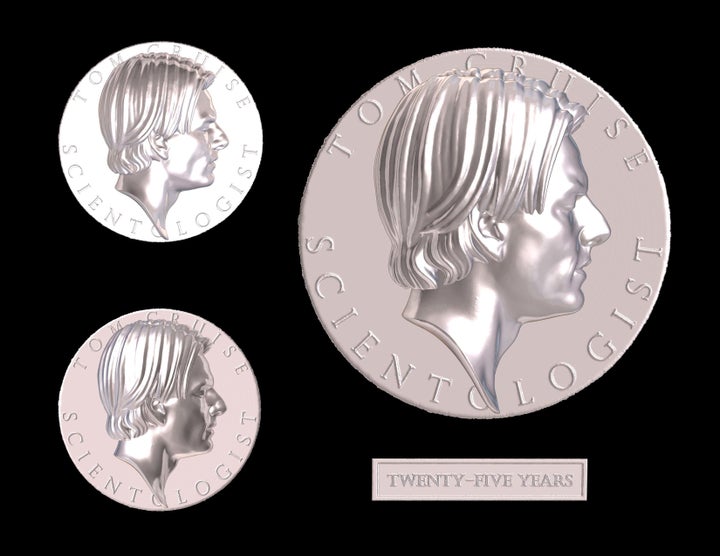 Also on display is a Church of Scientology Silver Anniversary Medal for Tom Cruise. 
The 'Pop-up Church of Scientology' featuring the "Shroud of Scientology" will open to the public at Cory Allen Contemporary Art's The Showroom, located in the Warehouse Arts District in St. Petersburg, FL, on August 8, 2015. 
Calling all HuffPost superfans!
Sign up for membership to become a founding member and help shape HuffPost's next chapter