 "The Innocence of Muslims," the film that is believed to have instigated deadly riots in Egypt and Libya, was made by two Southern California Christians with dark records. Now the Southland is on alert to guard against any potential backlash.
The filmmaker, Nakoula Basseley Nakoula, 55, made the movie under the guise of Sam Bacile and said he was an Israeli Jewish real estate developer. In reality, he is an Egyptian Coptic Christian who has gone by at least six other false names and has served time for creating fake bank accounts with stolen Social Security numbers, the Associated Press reports.
Police were sent to Nakoula's home in Cerritos, Calif. Thursday to protect him, his wife and his two children, the Los Angeles Times reports. There were two vehicles parked in the middle of the street in front of the house Thursday, including one with bags of groceries in the back.
More is known about an advisor to the film, Steve Klein, of Hemet in Southern California's Riverside County. He is part of the Church of Kaweah, which is located at a compound near Sequoia National Park and has been labeled a hate group by the Southern Poverty Law Center (SPLC). Klein claims to be preparing for war against Islam, according to the SPLC.
Klein has also said that he believes that California is riddled with Muslim Brotherhood sleeper cells "who are awaiting the trigger date and will begin randomly killing as many of us as they can," the SPLC reports. He described Islam as a "penis-driven religion" whose followers have "no choice but to hunt Jews and Christians down, torture us and murder us."
He told the Daily Mail Wednesday that he regrets that four Americans died, "but it's not our fault. We didn't want anybody to get killed but on the other hand the truth had to come out. … We told the truth and these people reacted the way that Muhammed wanted to them to react – by killing people."
Klein currently heads the Concerned Citizens for the First Amendment, which recently distributed leaflets at California high schools depicting Muhammad as a sex-crazed pedophile.
Nakoula's film, with Klein's help, was shot in Los Angeles County in August of 2011 under the original title "Desert Warriors," Neon Tommy reports. It portrays Muhammed, the Prophet of Islam, as a womanizer, murderer and child molester.
Some time in the summer, a small dive theater in Hollywood called the Vine Theater screened the amateur, cartoonish film but hardly anyone came. The screening was set up by a customer known as "Sam," a theater staff person told the Orange County Register.
The 79 other cast and crew members said they were "grossly misled" about the film's message, KTLA reports.
"It's just turned into a nightmare," Cindy, a Bakersfield actress who stars in the film, told CBS. After Cindy saw the YouTube clip of the film, which she originally thought was about Egyptian life 2,000 years ago, she immediately called the director.
"I said, 'Why did you do this to us, Sam?' I said, 'You put us out there,' and he said, 'No.' He says, 'This isn't your fault.' He said, 'You tell the world that I did this, that I wrote the script.' He goes, 'I'm tired of radical Muslims killing people,'" Cindy recalled to CBS.
Many Egyptian Christians have fled religious discrimination in their majority Muslim country to come to the US, with large communities in California, New Jersey, the Midwest and Florida.
In Jan. 2011, after a Muslim bombing of a Coptic church in Egypt, the 28 Coptic Christian churches in Southern California, hired security or asked police to patrol their properties.
Now, because of Nakoula's connection to the anti-Islam film, Southern Californian Coptic Christians are again worried about their security and at least one church has been visited by police, who advised them to keep their church locked, the AP reports.
However, church officials have been quick to denounce the film. The Rev. Joseph Boules, a priest at St. Mary and St. Verena Church in Anaheim, Calif., told the AP that no one in the Coptic community knows the filmmaker and the church had nothing to do with the movie.
Before You Go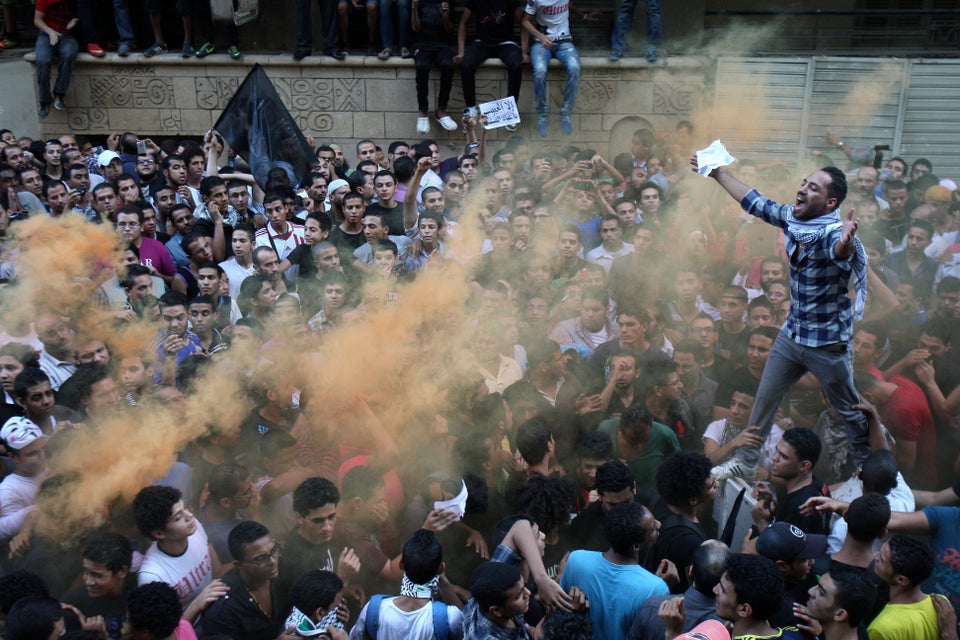 U.S. Embassy In Cairo Attacked
Popular in the Community