The death rate from drug overdoses in the U.S. more than doubled from 1999 to 2015 and increased for every age group, according to a February report from the U.S. Centers for Disease Control and Prevention.
Drug Overdose Death Rates By Age Group, 1999–2015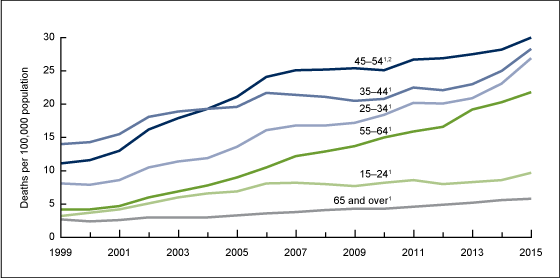 The new CDC report also revealed overdose trends by state. It identified three clusters of states with statistically higher-than-average overdose death rates: Appalachia, New England and the Southwest.
Age-Adjusted Drug Overdose Death Rates By State, 2015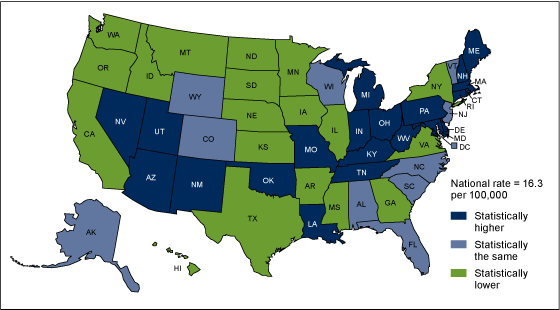 Those kinds of numbers demand that we ask again: How does America fix this problem before thousands more die?
Overprescribing painkillers fueled the epidemic
The current opioid epidemic has its roots in the 1990s' push to treat chronic pain. By the early 21st century, pharmaceutical representatives were aggressively marketing opioids to doctors as safe and non-addictive, and doctors were overprescribing those medications to patients. When the government finally cracked down on "pill mills" and restricted opioid prescriptions, many opioid-addicted patients turned to heroin, which is cheaper and doesn't require a prescription.
"Once someone is hooked, you've created an addict," said Daniel Rees, an economics professor at the University of Colorado Denver. "We're still feeling the effects of decisions, of behavior, from a decade ago."
Rees is the author of a National Bureau of Economic Research working paper, released in February, that examined the effectiveness of two public policies aimed at combating the opioid crisis: naloxone access laws and Good Samaritan laws. (The paper has not yet been peer reviewed or published in a journal.)
In the long term, Rees thinks getting doctors to prescribe fewer opioids is the key to solving the crisis. In the short term, however, such laws may be more useful.
A shift to fewer opioid prescriptions "can't just immediately put the genie back in the bottle," he said. "We're going to have to deal with the current epidemic."
What dealing with the opioid epidemic looks like
As of last year, naloxone access laws and Good Samaritan laws were on the books across the country. Forty-five states allow laypeople to administer naloxone, a lifesaving overdose reversal drug. Thirty-four states shield citizens seeking emergency medical help for others from prosecution for drug possession.
Critics of wider naloxone access argue that it creates a safety net that enables people to keep misusing opioids. Certainly, there are individuals who have been revived multiple times from near-fatal overdoses. Public health and harm reduction advocates, on the other hand, say that naloxone makes it possible for people with substance-use disorder to live long enough to get into treatment.
Claiming naloxone encourages riskier drug use is akin to claiming seat belts encourage riskier driving, Dr. Alexander Walley, an addiction medicine specialist at Boston Medical Center, told The New York Times in July. "A person with an opioid use disorder is by definition using despite harmful consequences," Walley said.
Rees' paper puts numbers behind the theory that increasing access to naloxone reduces deaths from opioid overdoses. Between 1999 and 2014, the adoption of naloxone access laws was associated with a 9 to 11 percent reduction in opioid deaths, the paper says. That's the equivalent of about 3,300 lives saved. (Rees did not find a statistically significant effect for Good Samaritan laws, but won't rule out the possibility that they are effective until he has more data.)
Of the people saved by naloxone access, Rees said, "It's good news in the sense that that number [of deaths] would be even higher had states not passed these laws. But it's bad news that despite the fact that almost every state has passed these laws, we're still at 33,000, which is just astounding."
Still, Rees' data doesn't include any results from the 18 states that passed naloxone access laws after 2014, when his study period ended.
"It takes time for these laws to take effect," he said. Rees speculated that two or three more years of data could translate into bigger estimated decreases in opioid overdose deaths. "My prediction could be wrong," he cautioned. "But that's my guess."
In the absence of federal naloxone access or Good Samaritan mandates, strengthening the laws in states with weaker requirements might be another way to improve outcomes.
"If passing a basic law like this works," Rees said, "surely there are other ways of making naloxone more available."
Clarification: Language has been amended to better describe the rise of overdose deaths related to synthetic opioids.