WASHINGTON -- Amid the heroin epidemic, there is little disagreement over the effectiveness of naloxone, the medication that can revive opioid addicts from an overdose. It has come to be seen as an essential tool to combat the skyrocketing number of overdoses.
It's easy to see why. The medication, used in the form of a spray or a shot, is simple to administer. Because it can send a person into immediate withdrawal and doesn't produce a high, naloxone, also known by its brand name, Narcan, has no street value if diverted to the black market.
But even after states such as Ohio and Pennsylvania passed laws expanding access to the naloxone for first responders and protecting them from potential liability, some law enforcement agencies resist carrying the lifesaving medicine.
In Lehigh County, Pennsylvania, District Attorney James Martin set up a program to offer police departments free naloxone kits. But the Allentown Police Department so far has refused the offer. Martin told The Huffington Post that the excuse he was given was that it would be too complicated to move naloxone kits from one vehicle to another during shift changes.
"It's not very complicated," Martin said. "They just don't want to do it. Every other police department in the country is doing it without any logistical problems that I'm aware of."
Lehigh County Coroner Scott M. Grim said the county has had 91 drug-related deaths in 2015. More than half have been from opioids -- deaths that might have been prevented with naloxone. Allentown's police chief, Joel Fitzgerald, did not return calls seeking comment.
About 30 miles west, Northern Berks Regional Police Chief Scott Eaken isn't rushing to get naloxone for his officers, though he told HuffPost that he hasn't rejected the idea. Eaken said his department responds to a handful of opioid overdoses each year, and paramedics equipped with naloxone often are first on the scene. He said his reluctance is unlikely to be swayed by a hypothetical situation in which the medication could save a life.
"Is that going to justify me having to take naloxone in and out of the police car every shift, every day, flip it back and forth between the cars for something that maybe I can envision?" Eaken asked. "Where does it stop for police? We're carrying everything under the sun, now we're going to be medical people. At what point does it stop?"
The Columbus, Ohio, police department, which covers a city of more than 800,000, has refused to allow officers to carry naloxone. Sgt. Rich Weiner explained to HuffPost that there were potential issues with storing the drug and expiration dates. But the department's officers do carry pepper spray, which also has an expiration date.
"We have close to 900 patrol officers," Weiner said. "Where are we going to store [the naloxone]? … It's easier for the medics to carry it."
Weiner added that law enforcement and city officials met on the issue and decided that fire department personnel should carry the naloxone, but not police officers. The response time from paramedics is "very good," Weiner said. Still, he acknowledged there were instances when police arrived on a scene before the paramedics.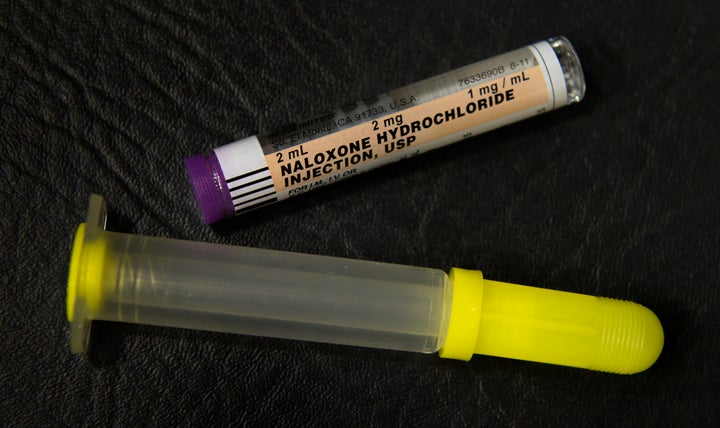 In Northern Kentucky, a local hospital chain provided $20,000 worth of naloxone kits to first responders, and community advocates offered training for medical personnel on how to administer the medication. If they completed the training, the officers received free needle-stick resistant gloves, and a container for needles.
Kristie Blanchet, chairperson for the region's People Advocating Recovery nonprofit, which conducted the trainings, said the response from police has been inconsistent. Some departments embraced it while others won't take her calls.
Brian Steffen, assistant chief for the Covington Police Department in Northern Kentucky, said officers don't carry naloxone although they should. "I don't think there's a question if we have it, it's only going to help our citizens even more," he said.
Just five years ago, police in Quincy, Massachusetts, became one of the first U.S. departments to require officers to carry naloxone. The program has since become a model for other police agencies.
The U.S. Department of Justice a year ago released a naloxone tool kit that contained sample policies and training materials to encourage local law enforcement to equip officers with the drug. President Barack Obama's 2016 budget provides funding specifically for law enforcement to buy naloxone.
"Because police are often the first on the scene of an overdose, the Obama Administration has strongly encouraged local law enforcement agencies to train and equip their personnel with naloxone," Mario Moreno Zepeda, spokesman for the Office of National Drug Control Policy, explained to HuffPost via email. "In the past year, we have witnessed an exponential expansion in the number of police departments that are training and equipping their police officers with naloxone. They now number in the hundreds, and they are saving lives."
As naloxone spreads, so do stories about police officers using it to reverse overdoses that likely would have been fatal.
With growing acceptance of naloxone has come a change in law enforcement rhetoric toward addiction and addicts themselves, said Corey Davis, deputy director for the Network for Public Health Law's southeastern region.
"There's been this cultural shift, where it doesn't seem like police, particularly the chiefs and people speaking on behalf of the department, it seems like they don't feel that they can say the sorts of things that get to the idea that some people are not worth saving," Davis said. "I think that's new."
But it's clear that in some jurisdictions, the decision of whether police should carry naloxone is still influenced by old attitudes.
"This isn't some kid trying a joint. This isn't some kid snorting a line of coke. These are people who are sticking needles in their bodies," Eaken said. "Sometimes a dirty needle. If there's anybody that needs help or needs to be required to get help if we save their ass, it's them. ... I'm all for saving them, but then what responsibility is there on their part?"
Davis said he understands that basic frustration. But he also hears stigma in that sort of statement. It's stigma of the disease of addiction, he said, that would lead someone to place stipulations on the possibility of saving a life.
"If this was something else that was killing people, we'd be putting naloxone into milk cartons," Davis said. "We wouldn't even be talking about it."
Support HuffPost
The Stakes Have Never Been Higher
Popular in the Community