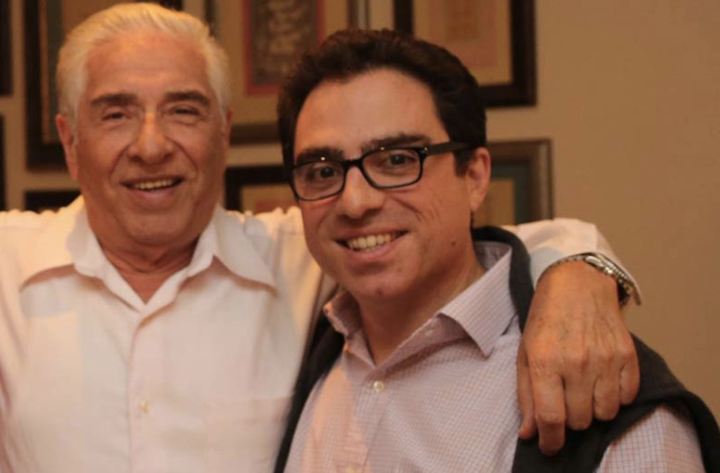 WASHINGTON ― A United Nations human rights group called on the Iranian government to release U.S. citizens Siamak and Baquer Namazi, describing their imprisonment as a violation of international law.
The U.N. Working Group on Arbitrary Detention delivered its 11-page opinion to the Iranian government and the Namazis' lawyer earlier this month. Jared Genser, a lawyer who is representing the Namazis, released it on Monday, ahead of the annual gathering of world leaders at the U.N. General Assembly this week.
The working group, established in 1991, is an independent body with members appointed by the U.N. Human Rights Council. While it has little ability to compel countries to comply with its recommendations, the body's findings on the Namazis' case puts additional pressure on the Iranian government to negotiate the release of Siamak, 46, and his 80-year-old father.
Siamak, who worked at an oil and gas company in Dubai, was arrested in October 2015 when he came to Iran to visit family. Baquer, a former UNICEF official, was arrested the following February when he came to the country after being promised he would be allowed to see his son in Evin prison. They have each been sentenced to 10 years in prison on charges of colluding with an enemy state ― a reference to the United States. Neither Siamak nor Baquer had meaningful access to lawyers or the right to defend themselves in court, the working group wrote in its opinion.
The working group wrote that "there is nothing to indicate that they ever acted against the national interests of the Islamic Republic of Iran," calling for the Namazis' immediate release and a right to reparations.
Genser first appealed to the U.N. working group in April, arguing that Tehran is arbitrarily depriving Siamak and Baquer of their freedom and imprisoning them in conditions that amount to torture. The U.N. working group largely agreed with Genser's allegations, concluding that the Iranian government denied the father and son due process. Their detention, the group wrote in its opinion, appeared to be part of the Iranian government's "emerging practice" of locking up dual Iranian-American citizens. The working group expressed "grave concern" about the deteriorating health of both men.
The timing of the release of the working group's opinion is deliberate. World leaders, including Iranian President Hassan Rouhani and President Donald Trump, will gather in New York this week for the U.N. General Assembly.
Genser and Babak Namazi, Siamak's brother and Baquer's son, will be in New York to advocate on behalf of Siamak and Baquer. Genser is hoping Trump will call for their release during his speech and Babak has requested meetings with high-level U.S. officials while he is in New York. 
Babak said he felt gratified by the U.N. opinion. "This shows unequivocally what we have known all along: that they have done nothing wrong," he said in a statement. "I urge the Government of Iran to release them immediately on humanitarian grounds."
Members of Iran's Islamic Revolutionary Guards Corps, which runs Evin prison, have beaten and tased Siamak, forcing him to watch government propaganda featuring images of him and his father, Genser told the U.N. group. Siamak has lost 26 pounds during a hunger strike in prison and his family worries he may be suicidal.
Baquer has also been held in harsh conditions, including solitary confinement, Genser said. The 80-year-old man has a heart condition that required him to undergo triple bypass surgery. Since being imprisoned, he has been hospitalized at least twice, but he has been denied access to his own doctor who treated his heart condition in the past.
The Obama administration tried and ultimately failed to include Siamak as part of a January 2016 prisoner swap with Iran. Baquer was arrested the following month. Since then, the Namazis' advocates have been noticeably more outspoken about Siamak and Baquer's plight, applying continuous public pressure on the Trump administration to prioritize their case.
The Trump administration has been sporadically vocal about its efforts to free the Namazis and other Americans imprisoned in Iran. When Iran announced a 10-year sentence for Chinese-born U.S. citizen Xiyue Wang in July, the White House responded with a public statement about a "redoubling" of efforts to bring home U.S. citizens. In its statement, the White House specifically mentioned Wang, the Namazis and Robert Levinson, a CIA consultant who has been missing in Iran since 2007.
The White House did not mention Karan Vafadari, an American citizen who was arrested last year, or Robin Shahini, an American who was released on bail earlier this year but still faces charges in Iran. Iran is also imprisoning at least two green-card holders: Nizar Zakka and Afarin Niasari, Vafadari's wife.
On Thursday, the State Department sent reporters a fact sheet about Wang, the Namazis and Levinson, an unusual move that an official there described as part of an effort to give journalists current information ahead of the U.N. General Assembly.
The White House did not respond to a request for comment on whether Trump would use his first speech at the U.N. to press for the release of the Americans held in Iran.
Calling all HuffPost superfans!
Sign up for membership to become a founding member and help shape HuffPost's next chapter