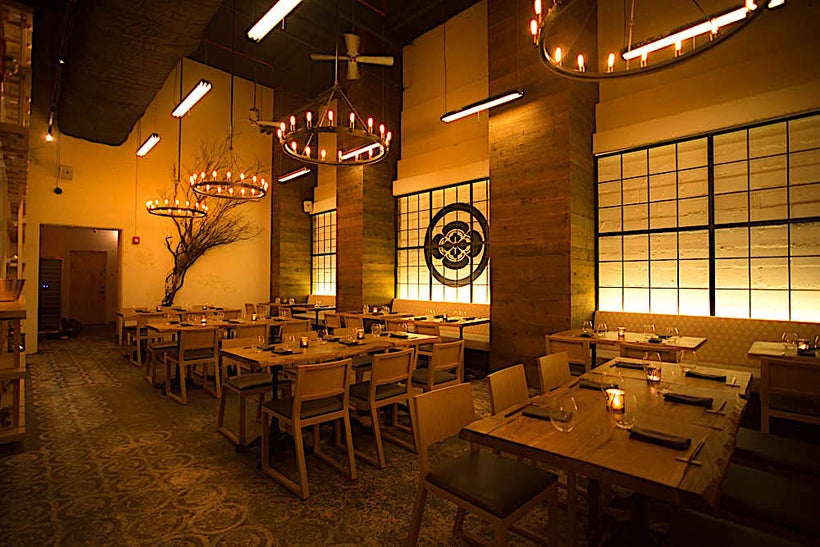 It wouldn't be the first time a restaurant was named after a celebrity—there's a Sinatra and a Picasso in Las Vegas, Michael Jordan steakhouses in Chicago and NYC, and a Piaf in Puerto Vallarta. So why not a restaurant named after Japan's favorite action hero, Toshiro Mifune (below), star of such classic samurai movies as Seven Samurai, Yojimbo and Rasho-Mon?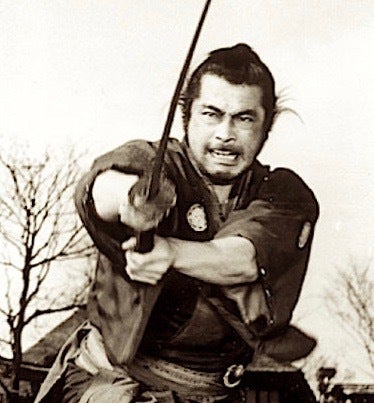 You might expect in such a venue some kind of flamboyant décor in homage to the actor, but in fact there's only a photo of him. Otherwise, the restaurant, designed by Katsunori Takeuchi, consists of a well-lighted, simple 11-seat counter that leads to a large, high-ceilinged main room done in traditional natural wood, with three large shoji style panels on the far wall accented with the Mifune family crest. There also is separate dining room with an eight-person omakase counter with a different chef.
Mifune is an offshoot of the well-known Paris restaurant Sola led by chef-owner Hiroki Yoshitake, who features traditional washoku cuisine, a style that adheres to rigorous attention to the seasonal bounty; at Mifune French culinary techniques and ingredients are added in. The chef de cuisine in NYC is Yuu Shimano, who formerly worked at Guy Savoy in Paris, assisted at Mifune by Tomohiro Urata, who had cooked at La Maison Troisgros in Roanne. The result is a menu full of unique dishes that never stray far from either Japanese or French traditions.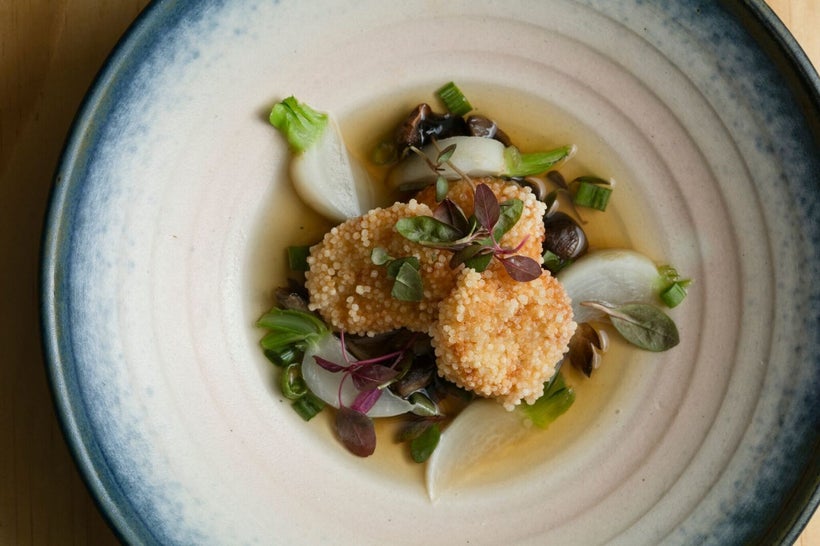 A sensible way to see what Mifune is all about is to order the reasonable five- or eight-course tasting menus ($80 and $120), based on the morning's market. My meal began with truffled egg custard accompanied by uni sushi, the latter mild enough not to overwhelm the intended blandness of the custard. Next came a lustrous sashimi platter, certainly the most traditional item I sampled, with all the fish of outstanding flavor and at the right temperature.
A crispy scallop, battered with crunched up arare crackers (above), was excellent with a bonito dashi cooking broth that really stimulated the appetite. Red shrimp was quickly seared and topped with what was called "ossetra" caviar, but I don't know where it came from. Its mild flavor went nicely with the shrimp's own. Gindara is a species of Asian black cod, here cuddled in a delightful Parmesan foam with tempura-fried squash blossom (left) that shows the global reach at Mifune.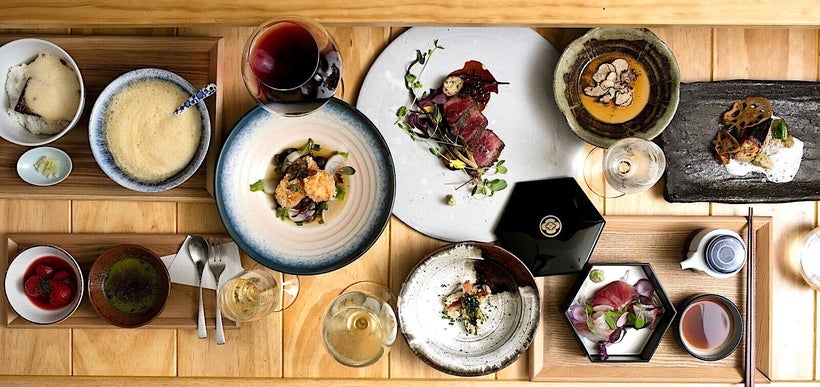 I was happy that the now ubiquitous wagyu-style beef was not served; instead, first-rate and well-aged, lightly smoked Angus beef added a good fatty component at that point in the meal, followed by another enrichment—foie gras with egg mixed into rice with a lush sabayon sauce, whose late summer truffles added little. Better to wait for the fall truffles.
Two desserts ended the meal the way Japanese desserts usually do, not with a bang but with a soothing ending: French blancmange was scented with soba tea and served with caramel ice cream; matcha (ground green tea) mousse with azuki beans, fruit compote and kinako (soy bean flour) ice cream wasn't very interesting, proving that French desserts are almost always going to trump a course Japan has only recently adapted.
There are, of course, several sakes listed, and the wine list encourages you to get away from the usual beer order. There are also plenty of novel cocktails with aching names like the Drunken Angel and the Seven Samurai.
Mifune is one of many Asian restaurants near the U.N., thereby drawing the kind of clientele steeped in good Japanese cuisine. And with its grand design and devotion to a Japanese movie star, it happily deviates form the usual ultra-minimalist style of so many others. I suspect you might visit Mifune ten times and rarely get the same exact dishes twice.
Mifune is open for lunch: Mon-Fri; 11:30 a.m.-2:30 p.m. (last order 2 p.m.), Dinner: Mon-Sat. MIFUNE 245 East 44th Street (near Third Avenue) 212-986-2800
REAL LIFE. REAL NEWS. REAL VOICES.
Help us tell more of the stories that matter from voices that too often remain unheard.
This post was published on the now-closed HuffPost Contributor platform. Contributors control their own work and posted freely to our site. If you need to flag this entry as abusive,
send us an email
.