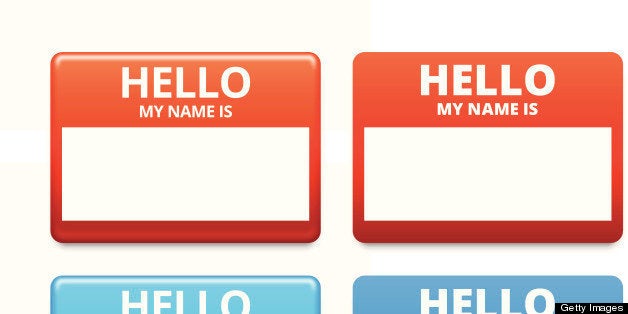 It's coming on June 1, and I can't wait.
We've been talking for the past month to everybody who will listen about Nametag Day (and it's been on CBS New York, Channel 12 News, and Gothamist.) Every time I discuss it, I remember our test run in February.
Watching the video of that test run is the best way to envision what June 1 is going to look like. A smile. Making eye contact. Saying hi to someone and their cute dog as you pass them on the street. A bus ride spent getting to know the fascinating person next to you instead of on your cell phone killing time.
What's it going to look like?
We'll dispatch teams of four to six volunteers to busy parks and intersections all around the city. We'll be holding a sign and handing out nametags, saying "It's nametag day, would you like a free nametag?" If you don't want one, we won't push. We'll announce the exact locations a few days before the event -- the more people who sign up, the more locations we'll have.
People, all over the city from all walks of life, will take nametags! Of course not everyone will. Some won't notice us or will think the idea is stupid -- we hope they still take a minute to at least think about how we interact with each other. But the scores of thousands who do will be rewarded with an incredible experience. If you take a nametag from us, you'll walk off and have a day like you were going to otherwise, but a little bit different. Maybe you'll get in a conversation, maybe a dozen -- about someone's awesome shoes or nice haircut, or a topic in the news. Maybe you will meet a neighbor. Or maybe you'll just go through your day looking at our city of eight million people a little bit differently.
We'll be throwing a giant after-party for volunteers on Saturday night. Come by and meet tons of new friends, all wearing nametags. We'll announce details soon.
I'd like us to make a documentary about this day. Take a camera or cell phone and capture video or photographs: friends, interviews with strangers. When a connection with someone affects you, tell everyone else about it. Then post it to YouTube or Instagram and send us a tweet at @NametagDay. We'll put it up on our site.If you're taking high-quality video footage, your can upload it in full resolution through a link on our site. Together, we'll crowd-edit the footage. Mostly, I'm excited to see what happens, because none of us know what will. We know it's going to be big, we know it's going to be fun, and we know it's going to make a big difference in everybody's day. But beyond that? It's our story to tell.
To volunteer go to nametagday.com. It only takes 30 seconds to sign up -- we promise.
Related
Popular in the Community