Ten years ago, Susan* was admitted to a public hospital in Namibia for an emergency surgery. She was 20 years old and was unaware that she was pregnant. When she woke up from surgery, she was told by a nurse that they had "taken her womb because [she] had HIV." She has no children and now it is unlikely she ever will.
Susan's story is far from unique.
The International Community of Women Living with HIV/AIDS in Namibia (ICW-Namibia) and the Windhoek-based Legal Assistance Centre (LAC) have documented the stories of dozens of HIV-positive women who were sterilized against their will in public hospitals. Fifteen of these women are suing the Namibian government. They argue that the medical personnel violated their right under the Namibian constitution to be free from discrimination and inhuman and degrading treatment; their right to dignity; and their right to found a family. The 15 cases have been consolidated and are expected to go to trial in early 2010.
Like Susan, none of these 15 women gave their informed consent prior to being sterilized.
In some cases, medical personnel obtained the women's consent under duress: these women were asked to sign consent forms while they were in labor or on their way to the operating room. In other cases, the women had to agree to be sterilized if they wanted other medical procedures such as an abortion or caesarean section. And in yet another type of coercion, medical staff included sterilization consent forms in a pile of "routine" forms women were told to sign prior to giving birth; no explanation was provided on the nature of the forms. Shockingly, some women did not realize they had been sterilized until several months later.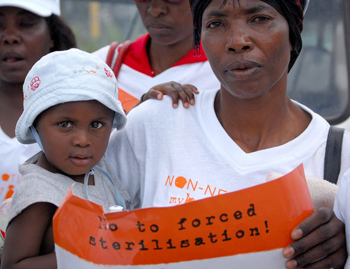 The impact on the women has been devastating. In a society that prizes motherhood, having that ability stripped from them makes it even harder for women to negotiate already treacherous personal relationships. Some of the women have lost their husbands or partners because of the sterilizations. Others have opted not to inform their partners for fear of retaliation.
Susan told us she has had many offers of marriage, but the men all leave after she tells them that she is unable to have children. At age 30, she fears she will never find a husband.
Unfortunately, coerced sterilization is but one of the many abuses that women living with HIV experience while trying to access reproductive and other medical services. HIV-positive women who become pregnant endure blatant discrimination and verbal abuse at health centers. In an interview by ICW, a Namibian doctor justified ill-treatment of HIV-positive women by claiming they were "dirty." Given the stigma and discrimination they face at health centers, many pregnant women will stay away from hospitals--putting themselves and their children at risk.
Up to now, even with the initiation of the 15 legal cases, the government has refused to categorically end the practice of coerced sterilization. Health officials refuse to investigate women's claims and have taken no action to enforce and promote policies to prohibit sterilization without informed consent.
As its first step, the government should provide justice to women who have been coercively sterilized. When possible, the sterilizations should be reversed. The government must take disciplinary action against any medical personnel involved in coerced and forced sterilizations to send a clear message that such abusive and discriminatory treatment will not be tolerated.
Like many others, Susan will be closely following the outcome of the sterilization trials in Namibia. She hopes to one day find a doctor who can reverse her sterilization. Without the ability to have children, she feels she will never be whole again.
*Name has been changed to protect her privacy, and prevent further discrimination.
PHOTO CREDIT: Mark Nonkes
Related
Popular in the Community