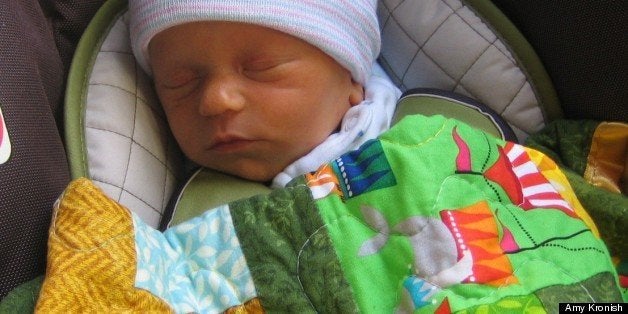 I was blessed with the opportunity to be present at the circumcision (brit milah) and naming ceremony of my first grandson last week in New York. I was at the ceremony with my wife, daughter and son-in-law (parents of the baby boy), and with many other family members (including family members in Jerusalem who were watching the ceremony on "face time" on their computer) and also many friends. For this wonderful milestone in the life of our family, I was particularly honored to be invited by my daughter to be the "M.C." for the ceremony as well as to actually name the baby, which means that I read the traditional blessing during which the baby officially was named, thereby announcing his name to the world.
In the past, I had been involved with planning and implementing five Simchot Bat (a celebration of the birth of a girl) for my three daughters, and three granddaughters (one set of twins, so we only had one combined ceremony for them). So this was something new: a baby boy! Wow! "What will we do for this guy?" I thought to myself.
Naturally, my daughter the rabbi came up with a good idea. We weren't going to simply let the circumcision ceremony for a boy be cut and dry (pardon the pun). We needed to be creative, as we have always been. So I was commissioned to come up with some ideas.
My first call was to my friend and colleague, Rabbi Levi Weiman-Kelman, spiritual leader of Congregation Kol Haneshama in Jerusalem, who told me "I have just the book for you!" One of his former congregants, who is a now a rabbi herself in London, Rabbi Laura Janner-Klausner, and a good friend of mine too, edited a book of naming ceremonies. The book, which is called Neshama Hadasha ("A New Life"), came out about 15 years ago, and has since become a precious resource for people who want to make a circumcision or naming ceremony more meaningful in contemporary Jewish life.
While this book was of much help to me since it gave me many good ideas, the best part of the ceremony took place when my daughter and her husband, explained to us, in their own special way, why they chose the name Ro'ei Yehuda, for their son. Listening to them talk was a highly spiritual and meaningful moment for all of those who were lucky to be part of this wonderful occasion.
My son-in-law, Joshua, explained why he and my daughter decided to name the boy in memory of his mother, who passed away suddenly 10 years ago:
Ro'ei -- Naming you in my mother's memory and honor is our testament to her that indeed we must navigate the pain toward the future -- Grandma's legacy is a part of who you are and hopefully will be.

In the Ashkenazi Jewish tradition, it is customary to name a child after a deceased relative. So this was very much in keeping with Jewish custom. (In some Sephardic Jewish traditions, however, one names the child after a living relative.)
My daughter Dahlia also had some inspirational words to say. She spoke about the name of the baby, based on the biblical verses from the end of the book of Genesis (48:15): The God whom my Fathers -- Abraham and Isaac -- walked before. The God who has been Ro'ei, my shepherd, from my birth until this very day.
She also talked about the nature of faith in personal and poignant ways:
Today in addition to being welcomed into the Jewish community, you are joining our family and in doing so, you are joining the Kronish clan.

I am very fortunate to be a member of that clan, for without it, I would not have had the faith in God needed to shepherd me to get here today to meet you -- Ro'ei Yehuda.

My grandfather Rabbi Leon Kronish taught me about faith through the power of song. Even when he could not speak, Grandpa could communicate his faith, his love of people, humanity and God through song.

Grandma Lil taught me about faith through her ability to face each day even as she suffered one loss after another. Grandma Lil believed in the words that her husband preached -- Forward Forward to the future -- always look ahead.

My father -- your grandpa -- will teach you as he has taught me that faith means seeing the world through the eyes of an optimist. He will teach you about the true definition of what it means to embody Hope.

And finally your grandma who, similar to your father, lost her mother at a very young age -- will teach you that faith is about how you put each foot in front of the other and always march forward.
My daughter captured the moment with these inspirational words, as she always does at family celebrations. She has a unique ability to give deep meaning to family occasions which might otherwise be routine.
In the book of naming ceremonies, I found a reading in the form of a blessing for the new boy, which contained in it special messages for him and his life, that are inherent to the Jewish Tradition, but often neglected in baby-naming ceremonies. This reading, which calls to mind great teachers in our Jewish Tradition, was dedicated to my daughter, who is a wonderful Jewish teacher of the great values of our Tradition through teaching the classical Jewish texts of the Bible and the Talmud in her own creative way.
Members of our extended family joined me in blessing the little boy with these thoughts:
May He who blessed Moses, Aaron and Miriam, and gave them leadership and responsibility, the pursuance of peace and humility, give Ro'ei Yehuda a pleasant nature and the ability for self-sacrifice.

May She who blessed our prophets with a pursuit of justice, a powerful vision, give Ro'ei Yehuda spirit and adherence to principles, the pursuit of peace and the searching out of justice.

May He who blessed Rabbi Akiva and Bruria with curiosity and passion for study, may He bless Ro'ei Yehuda with a love of books and with wisdom.

May He who blessed the People of Israel with keeping traditions and the hope of better days, give Ro'ei Yehuda optimism and a lightness of laughter.
Naming a child in any religious tradition is a momentous occasion. In recent decades, in the Jewish tradition, one can combine traditional Jewish ceremonies and contemporary Jewish customs in a personal, familial and communal way which perpetuate the values and ideals which we cherish.
I was privileged to be part of this meaningful milestone in the Jewish life cycle of a new member of my family. It was such a momentous occasion in my spiritual life that I wanted to share it with readers all over the world. May you too enjoy such poignant memories in your own personal, family and communal lives.
REAL LIFE. REAL NEWS. REAL VOICES.
Help us tell more of the stories that matter from voices that too often remain unheard.