Since she was a teenager in the 1960s, Nan Goldin has been perpetually shocking the art world with her raw visions of lust, desire, addiction, abuse and other things that go bump in the night. Her spontaneous and visceral shots capture a level of reality so close it's hard to properly digest.
Over fifty years later, Goldin has managed to surprise us once again with one of her most unexpected artistic moves yet -- compiling a book of children's photographs. Entitled "Eden and After," Goldin's series captures moments of youth from pregnancy to the first years of life, reflecting on the many moments of loneliness, confusion, joy and love. Photographing her close friends' children, Goldin's lens is as intimate as it is honest, sparing no detail even when dealing with a younger set.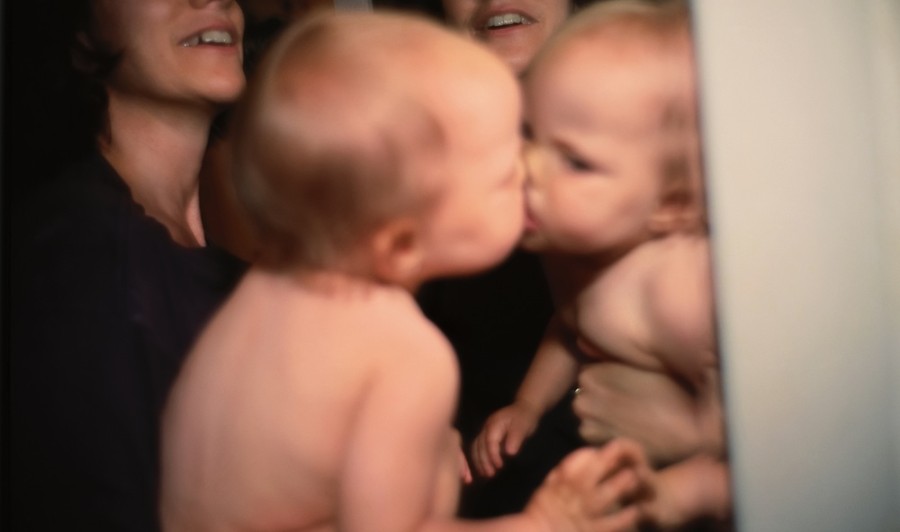 Lily kissing herself
Of course, since it's Nan Goldin we're dealing with, the photo series is stripped of all the faux sentimentality prominent in so many childhood photo projects. Expect no radiant glow, artificial rosy cheeks or moments of perfect harmony. Instead Goldin delivers a complex portrait of childhood in a manner few have managed before, investigating the way these not yet fully-formed humans interact with their families, their friends and themselves. Never before have we had the urge to call children's photos respectful, but here the adjective seems to fit.
The photos are far from calendar sweet, and they capture real moments of explosive bliss and love so powerful you may just tear up. You can see the early seeds of companionship, loneliness and excitement building in their brains, images that cut so close you may feel as if you recognize one of photographic moments from a half-forgotten memory of your own.
Calling all HuffPost superfans!
Sign up for membership to become a founding member and help shape HuffPost's next chapter