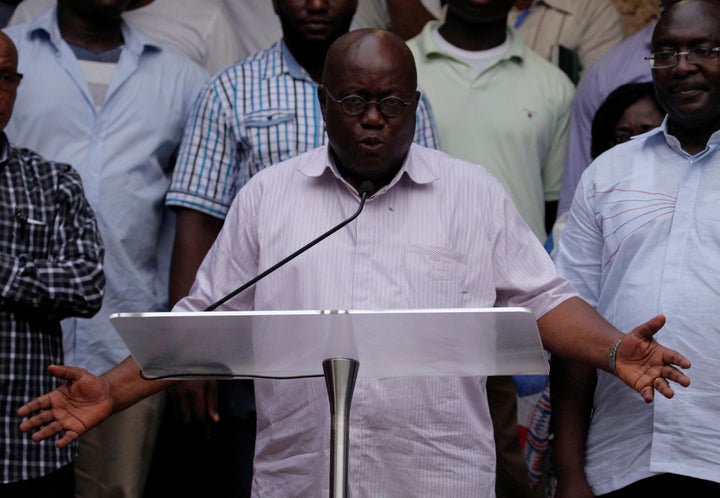 ACCRA (Reuters) - Ghana's main opposition leader, Nana Akufo-Addo, has won the country's presidential election with an absolute majority over President John Mahama, the private radio stations Joy FM and Citi FM said on Friday.
The two respected news stations based their projections on results from Wednesday's election announced at the constituency level. The electoral commission is set to begin releasing results on Friday.
Joy FM's website showed Akufo-Addo winning with 53 percent of the vote with Mahama on 45.15 percent, based on a count of 217 constituencies out of 275 in total. Citi FM gave Akufo-Addo 54.8 percent based on 190 constituencies.
Akufo-Addo, 72, served as attorney general and then as foreign minister in the New Patriotic Party government, which held power for eight years starting in 2001. It is his third time running for president on the party ticket.
Mahama fought the election against the backdrop of an economy that has slowed since he took power in 2013, in part because of lower global prices for the West African country's exports of gold, oil and cocoa.
Ghana's two strong parties regularly hold peaceful and highly competitive elections. Twice since 2000, the government of the day has been overturned.
(Reporting by Kwasi Kpodo; Writing by Matthew Mpoke Bigg; Editing by Larry King)
Related
Popular in the Community