Let's be honest here. You kind of feel bad for Nana whenever you watch Disney's Peter Pan.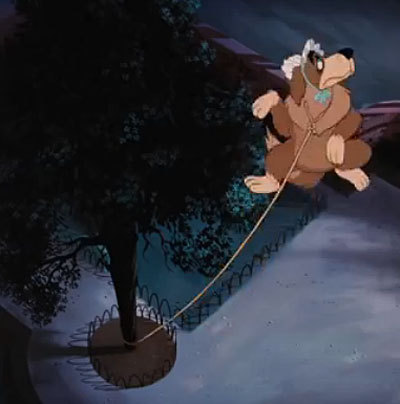 After all, everyone else gets to fly off to Never Land in this 1953 animated feature. But because Mr. Darling had tied this canine caretaker up in the backyard before he and Mrs. Darling then went out for the evening, even though Michael actually sprinkles Nana with pixie dust, she just winds up levitating at the end of her leash.
Mind you, this wasn't what Walt had originally wanted to do with the Darlings' dog. As you can see from these storyboard drawings from the version of Peter Pan that Walt Disney Animation Studios was going to produce in the late 1930s / early 1940s, Nana was not only supposed to join Wendy, Michael, John, Peter Pan & Tinker Bell on their journey to the second star on the right, but once they finally arrived in Never Land ...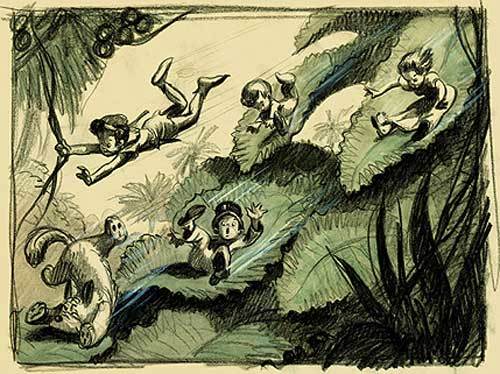 ... Nana was then going to be right in the thick of this motion picture's action. Even finding herself tied up with two of Peter's Lost Boys as Tiger Lily's father threatens to burn these characters at the stake.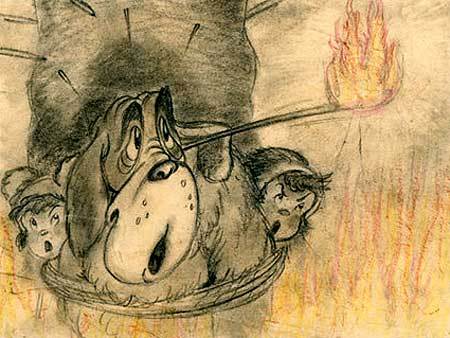 But for both budgetary & story reasons, when Disney's full-length animated version of J.M. Barrie's classic play finally went into production in the early 1950s, Nana was left behind in London. Forlornly dangling at the end of that rope in the Darlings' backyard as Wendy, Michael and John got to fly off and go fight pirates.
Well, as they say, every dog has its day. And for Nana, her day finally arrives on October 26. Where -- as part of Battle for the Book!, a Jake and the Never Land Pirates primetime special that will air on the Disney Channel this Sunday night starting at 6 p.m. ET / PT and 5 p.m. Central -- this babysitting bow-wow finally gets to do what Walt wanted her to do 60+ years ago. Which was join the Darling children on their journey to Never Land.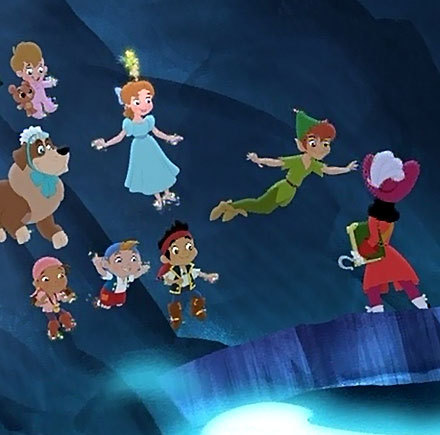 "For us, it was kind of a no-brainer to do this," explained Mark Seidenberg -- the producer / story editor of this Annie Award-winning series. "I mean, on one side, we had Wendy, Michael, John and their dog Nana. While on the other side, we had Jake, Izzy, Cubby and their parrot Skully. So to our way of thinking, it brought a nice balance to the project to have each set of three kids bring an animal friend along on this adventure."
But at the same time, the Jake and the Never Land Pirates team wanted to make sure -- especially for this primetime special -- that there was plenty of connective tissues between Disney's 1953 full-length animated feature and this Disney Junior animated series.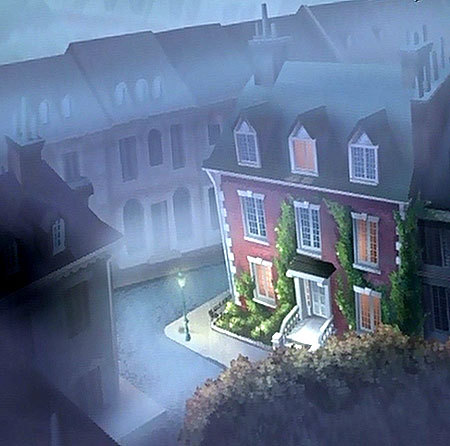 "So one of the first things we did when we first started working Battle for the Book! was go over to the ARL. Which is Disney's Animation Research Library. And once we were there, we then looked at a lot of the layouts and backgrounds that were actually used in the production of Disney's original Peter Pan. And so we based a lot of our interpretation of what London and the Darlings house & nursery looked like on that original production material from the 1950s," Seidenberg continued.
"That was a real challenge," Rob LaDuca -- the executive producer of this animated series -- admitted. "We're almost always in the jungle here on Jake and the Never Land Pirates. We don't do a lot of architecture on this show. But at the same time, everyone who works on this Disney Junior show was so excited that our characters were finally going to London and meeting the Darlings. So our layout guys and our background painters, they were determined to recreate the style of that 1953 Disney film and then meld it with the style & the textures that we use on this animated series. And if you look at the finished product, I think you'll agree that they really succeeded."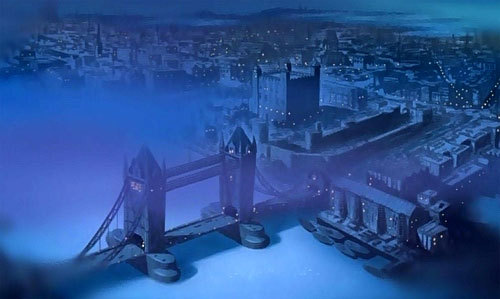 But it wasn't just that Mary Blair-inspired look which Seidenberg & LaDuca were determined to carry over from the full-length Peter Pan animated feature to this preschool animated series. They wanted to find other ways to directly connect these two projects.
"Take -- for example -- sound. The chimes that are used in this primetime special to make Tinker Bell twinkle are the exact same ones that were used back in the 1950s," Mark enthused.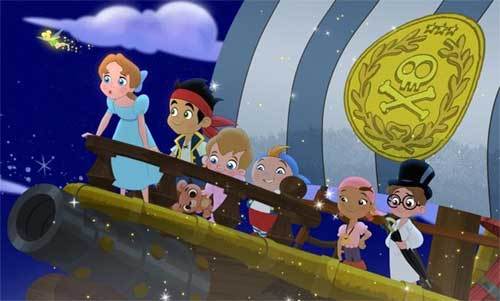 "Yeah, the Imagineers had them stored away somewhere. And we got them to dig these chimes out and let us use them whenever we're recording any new scenes with Tinker Bell for Jake and the Never Land Pirates, " Rob continued. "Getting back to Battle for the Book! now, the animators who work on our show were clamoring for scenes where they'd first get to animate Tinker Bell and then do Wendy. Given that they'd all grown up watching Disney's Peter Pan, it was quite a thrill for them to finally get a chance to animate these heritage characters."
"Once production of this primetime special was completed, we actually screened Battle for the Book! for our crew over in the theater at Disneytoon Studios and I have to say that it really looked fantastic," Mark stated. "We were like 'Wow. This looks great up on a big screen.' Especially those scenes when the characters are flying over London."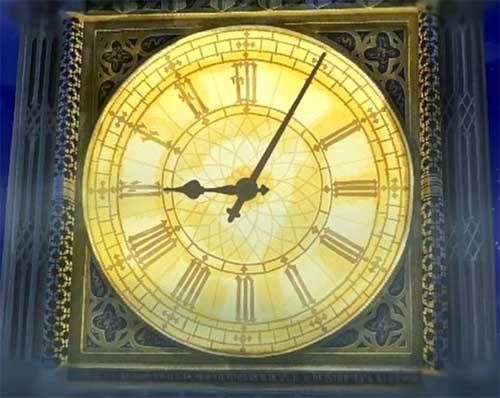 "In the end, what we really wanted to do this primetime special was bridge the past and the present. Create a version of London and Wendy, Michael & John that fans of Disney's original Peter Pan would recognize that -- at the same time -- would also fit with the version of Never Land and characters that we'd created for Jake and the Never Land Pirates, Rob concluded. "And the fact that -- while we were doing all that -- we also managed to finally get Nana to Never Land ... Well, that was cool too."
By the way, just so you know, this may not be the last time that Wendy, Michael, John and Nana return to Never Land. Though LaDuca and Seidenberg were rather tight-lipped when it came to talking about what the future may hold for Jake, Izzy and Cubby (who are now in their third season on Disney Junior), they did indicate that there are further adventures in the works.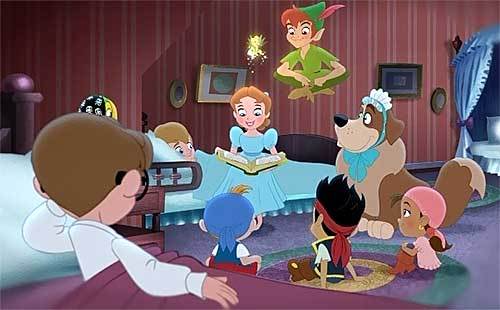 "Let's just say that we have a few surprises coming up, " Mark smiled.
But that's all off in the not-so-distant future. If you want to watch something other than your standard dog & pony show this Sunday night, be sure and catch Jake and the Never Land Pirates: Book for the Book! on the Disney Channel. That way, you can then see Rob LaDuca & Mark Seidenberg accomplish something that Walt Disney always wanted to do. Which was send Nana to Never Land.