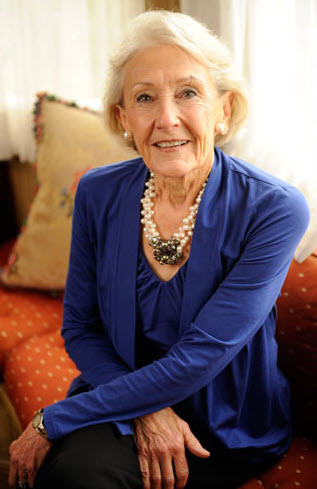 "I like staying busy. I may as well stay busy doing something good."
These are the words of the profoundly inspiring, Nancy Donahue. She is a woman who has spent her entire life giving, first to her family, including her husband and eleven children, and then to the community around her. Nancy Donahue spearheaded the effort to start the Merrimack Repertory Theater, a regional theater in Lowell, Massachusetts that has become nationally recognized. She has been involved with the United Way of Merrimack Valley for three decades, filling various roles including volunteer, board member, and president. She has played a pivotal role in revitalizing Lowell, a city that one time powered the industrial revolution with its massive mills lining the waterways and canals.
Nancy played a key role in establishing the New England Quilt Museum, The Revolving Museum, the Canal Cleanwaters, the Adult Retarded Rehabilitative Association (RARA), the Women Working Wonders Fund and also serves on the Boards of the Whistler House Museum of Art, the New England Quilt Museum, and is a Emerita Board Member of the Enterprise Bank and Trust, after having served on their board for 25 years. Nancy serves on the Advisory Boards of the American Textile History Museum, Adolescent Consultative Services (which works with the juvenile court system), the United Teen Equality Center of Lowell, and the Angkor Dance Company. As well, she continues her longtime role as chair of the Merrimack Repertory Theater. When I say that this woman has dedicated her life to giving, I mean that she has literally dedicated every waking hour of the past 60 plus years to giving to her family, the community, and to local organizations that are creating positive change in the world. She also runs the Nancy L. Donahue Fund at the Greater Lowell Community Foundation, which provides funds to help the non-profit organizations which her and her late husband, Richard, have spent a lifetime supporting.
I recently sat down with Nancy to find out how regular, everyday people, living in a busy world, can give more. From a woman who spent a lifetime serving others, here are Nancy Donahue's simple life lessons on giving more:
Fringe Benefits: Nancy says that she grew up in a family that thought nothing of giving back regularly through volunteering in community groups. She noticed growing up that while her dad worked, her mom developed close friendships by immersing herself in charitable and civic organizations. Hence, when Nancy married Richard and moved to Lowell, Massachusetts, she realized that the easiest way to get to know other people in town was to volunteer. Nancy says that one of the greatest benefits to giving your time through volunteer opportunities is that you surround yourself with good people. Nancy says that through volunteering, she has formed close friendships with people who have a similar moral compass. Nancy admits that these friendships have resulted in her learning about other great organizations to support. As well, seeing others who are constantly selflessly dedicating their time to others, causes you to want to selflessly dedicate more of your time. It's a circle of positive inspiration where everyone is dedicated to making the world a better place.
Listen To Your Heart: Nancy says that one of her greatest life lessons happened forty-six years ago when her son, Philip, was born. Philip was born with Down Syndrome. Upon his birth, the doctors told Nancy and her husband that Philip would need to be institutionalized because handling a Down Syndrome child along with the rest of her children would be impossible. Nancy said that she remembers vividly looking at her beautiful little newborn, Philip, unable to understand how she'd ever be able to send him away. Nancy says that she chose to ignore the advice of doctors, and to instead just listen to her heart, which told her to take Philip home and just love him like she loved all the other kids. Nancy says that Philip is the pride, joy, and glue of the entire family. He was always treated like the rest of the kids and he went on to go through elementary, middle, and high school. Nancy says that Philip has taught her a lifetime of lessons, but the greatest one of all is to listen to your heart. Nancy says that the world is full of people with opinions on what you should do, but at the end of the day, the only opinion that really matters is the one in your own heart.
Just Jump: I asked Nancy how she managed to launch Lowell's Merrimack Repertory Theater, a world class theater which attracts famous shows and artists from around the world. "I just kind of figured it out as I went," explained Nancy. In other words, she didn't have the background nor the means to launch it at the time, but she put one foot in front of the other, asked lots of questions, and took action. She said that first she put together a Board of Directors, then pooled the human capital (the network) of the board, in order to put together a grassroots effort to start the theater. Nancy says that back then, her and other volunteers would take the train to Boston to pass out flyers about upcoming shows, to draw people in from the city. The theater opened 37 years ago and today is the cornerstone of art and theater in the Merrimack Valley. Nancy says that if you want to accomplish something big and bold, sometimes you just need to jump in feet first, then follow the road in front of you. She says that the path will become clear as you continue moving forward.
Nancy Donahue is a wife, mom, pioneer, world changer, and giver extraordinaire. To her, giving is more than a milestone in one's life, it is a lifestyle. Giving is the fabric of being. Giving more is the thread to an unforgettable legacy.