I was at a sleepover and up past midnight, itself a transgression, when my friend ― a whole year older than me and thus infinitely wiser ― pulled a book off the highest shelf: My Secret Garden: Women's Sexual Fantasies by Nancy Friday.
She flipped to her favorite passage and read aloud in a manic whisper, parroting a woman called Wanda describing her sexual fantasy of accidentally stumbling upon a farmhouse orgy and being penetrated by a donkey as punishment. Her description was detailed and, to my elementary school ears, absolutely stupefying. I felt a lump in my stomach and a tug somewhere else.
"Did you read a book about sex last night?" my mom asked the following evening, surely, I realize now, more amused than distressed. I, terrified, denied the deed and promptly buried the visual of the donkey tryst where I hoped I would never find it. Until recently, that is, when I learned of the death of the woman who brought that particular fantasy to print.
Nancy Friday died on November 5, at 84 years old, due to complications from Alzheimer's disease. She leaves behind a contemporary world somewhat removed from the one she inhabited in 1973, when My Secret Garden was first released and the notion of women possessing sexual fantasies was, to most men, unfathomable.
"How could it be, you might ask, that women today, at the turn of the century, would still think they were the only Bad Girls with erotic thoughts?" Friday wrote in her book's introduction. "What kind of prison is this that women impose on themselves?"
Convinced that sexual agency was crucial to the fight for gender equality, Friday set out to pierce the veil of silence shrouding women's sexual imaginations, put in place, in part, by men who were threatened by them. She compiled an anonymous compendium of women's fantasies, from the tepid to the obscene to the delightfully bizarre. Doctor-patient fantasies, puppy play, lengthy cucumbers and big, faceless men factor into some of the more salacious scenarios, submitted to Friday via letters, in-person conversations and recorded voice calls.
Friday became interested in female fantasies after she revealed one (involving a well endowed stranger at a football game) to a lover in bed, who promptly put on his pants and exited the premises in response. The baffling encounter revealed to Friday just how great a threat women's unsatisfied sexual potential posed to some men.
"I can see that I was only too happily enacting his indirectly stated Pygmalion-D. H. Lawrence fantasies," she wrote. "But mine? He didn't want to hear about them. I was not to coauthor this fascinating script on How To Be Nancy, even if it was my life. I was not to act, but to be acted upon."
My Secret Garden is an early manifestation of confessional writing, and reads almost like a proto-Tumblr or Reddit thread, with contributors sharing intimate secrets under a cloak of anonymity. Some fantasies incorporate well-trodden taboos like incest and rape, while others veer further into the surreal ― like a woman who yearns to be tantalized by an octopus from a Salvador Dali drawing.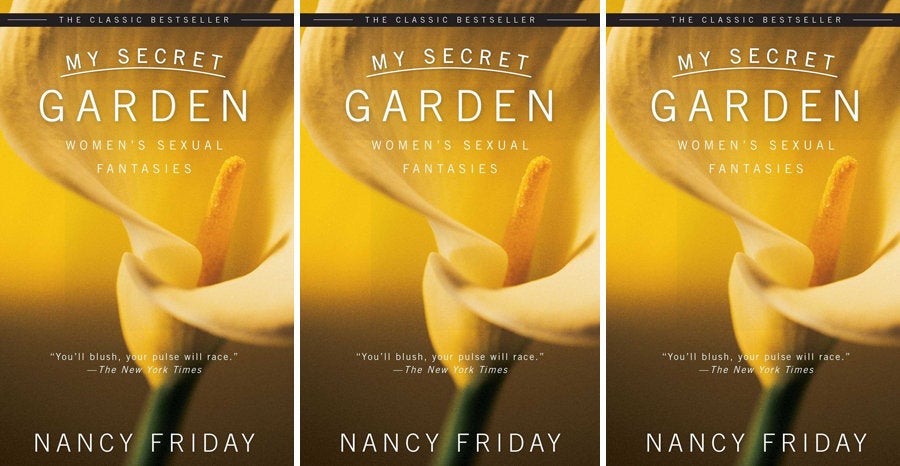 Friday was born in 1933 in Pittsburgh, Pennsylvania, and attended an all-women's prep school before graduating from Wellesley College. She worked as a travel reporter, editor and public relations representative soon after. My Secret Garden was her first book and became an instant best-seller, rebuffing the myth that women were somehow less sexually curious, inventive or deviant than men. Two years after its debut, Friday published a sequel titled Forbidden Flowers: More Women's Sexual Fantasies, and went on to publish six more books focusing on the relationship between women, identity and sexuality.
My Secret Garden, which was adapted into a play in 2009 and inspired sex writer Emily Dubberley to repeat the project 40 years later with the book Garden of Desires: The Evolution of Women's Sexual Fantasies, remains Friday's most well-known book. In one of my favorite passages, a woman called Esther expresses not a particular fantasy but a more general way of being alone, transforming mundane reality into a playground of sexual potential.
I daydream a lot, which probably accounts for the fact that I enjoy sex so often. I do my housework in the tops of baby-doll pajamas, stay in a half-hot mood most of the time, what with touching myself, or rubbing against various objects. The nozzle of the vacuum cleaner hose, for instance, played lightly over the pubic area is terrific and will bring on an orgasm if desired. Sometimes I wear a dildo inserted while doing housework. I imagine it to be my boxer dog's prick.
Many of the submissions are book-ended by disclaimers and apologies ― "I've never told anyone" and "Please excuse me," verbal tics that illuminate the culture of silence and shame that Friday hoped to retire. "We're as hidden as our clitorises," she wrote. "By the time we've found them, hidden away up there, we're guilty at having located them."
Through the act of digging up and fleshing out, documenting and sharing, Friday's contributors begin to realize that the desires are not the problem, the culture that condemns them is. I had a similar realization, years after initially encountering Friday's book in a dimly lit living room, when I, a student, submitted a proposal to write the weekly sex column for University of California, Berkeley's newspaper.
For my trial piece I revisited my earliest sexual fantasy, which involved the big, bad wolf from the fable of "Three Little Pigs." It felt electric to uncover a memory I once hoped would never reach the light of day and share it with strangers, without apology. I could perfectly recall the illustration of the wolf that first sparked the strange feeling and the random, soft objects in my bedroom I used to stoke it.
With that story, I got the gig and immediately felt a surge of regret and fear. Writing cheekily about my hot and heavy childhood memories was one thing, but writing about my current desires and exploits was another entirely. The fact that my grandparents promised to read every newspaper issue added an additional layer of dread. I managed to go the entire semester without once divulging anything personal. Instead, I used generous friends' anecdotes and observations. When summer finally came, I was as relieved as I was disappointed in myself.
I didn't realize how hard it would be to write openly about sex until I signed up ― and then failed ― to do it. I couldn't predict how much I cared about keeping, as Friday calls it, my "Nice Girl, Good Daughter self" intact. Discussing sex was "extreme" to my family and far worse to the Berkeley students whose nasty comments flooded the articles online, calling me an attention whore, among other expletive-laden insults.
Which is to say, what women are allowed to feel, think, say and write about sex has changed since Friday's book was published in 1973, but not entirely. There's still a long way to go until female masturbation is viewed as a routine, auspicious element of coming-of-age narratives, and women's fantasies are a source of power and camaraderie rather than secrecy and guilt.
"I do think a lot of women are likely to begin fantasizing after reading this book," Friday said in 1973. "Or rather, become aware that they have been fantasizing all along, and that these sudden odd ideas or notions they have up to now forgotten, or repressed, are indeed fantasies."
I pray this article has a whisper of the effect. Reader, what is your fantasy?
Popular in the Community