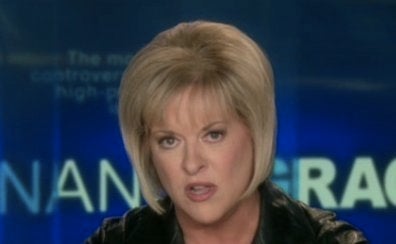 Nancy Grace issued a typically blunt verdict on Amanda Knox during a Monday interview.
"I was very disturbed, because I think it is a huge miscarriage of justice," Grace said. "I believe that while Amanda Knox did not wield the knife herself, I think that she was there, with her boyfriend, and that he did the deed, and that she egged him on. That's what I think happened."
In Knox's final plea, she told an Italian appeals court that she was not present the evening her British roommate Meredith Kercher was sexually assaulted and brutally murdered in their shared apartment. Grace said she did not think Knox is telling the truth. "I believe her original statement to the police - that she was there in the home when her roommate was murdered was true," Grace told Access Hollywood.
Social networks like Twitter and Facebook exploded with celebratory messages on Monday as the judge proclaimed Knox's innocence, allowing the study abroad student to finally return home to Seattle, Washington after four years in an Italian prison.
Grace was not one of those supporters, saying that while she would love to believe Knox innocent, "I just happen to know the facts." Grace was even harsher when asked if her show would compete with other networks to get the first Knox interview.
"I'm not trying to get Amanda Knox's first interview because… my show does not pay for interviews...Second, I don't think she's going to tell the truth anyway, so what's the point?" Grace responded.
It is, of course, hardly the first time Grace has gotten fired up about a verdict. She famously proclaimed that the "devil is dancing tonight" when Casey Anthony was declared not guilty in her murder trial in June.
Popular in the Community