Paradigm Shifters is a series of interviews with a select group of women and men from eclectic walks of life. It will highlight unspoken, real-life insights on how they have been able to turn weakness into strength. A naked soul point of view of how their breakdowns were really a preparation for breakthroughs. They are your quintessential paradigm shifters; internal shifts converted into genuine change.
Everything I have ever done has been focused on this underlying theme of shifting the paradigm because, "What we think determines what we feel and what we feel determines what we do." Hence, why Empowered by You takes lingerie, which has traditionally been seen merely as a tool of seduction and redirected that energy as a tool of empowerment.
I hope from these stories you will look at your own situations, struggles and accomplishments through a different lens. At the very least you will be more equipped with real life tools to change your own paradigm. At the end of the day, we are our own Alchemist turning the silver we were born with into the gold we are destined to become.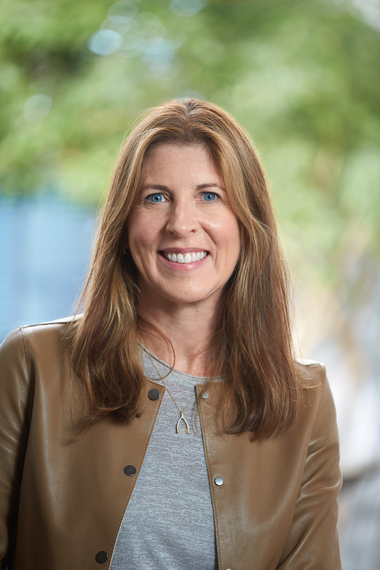 Nancy Green -- President of Athleta (Photo: Athleta)
There has been a lot of buzz about "performance lifestyle" or "athleisure" wear, a sort of fitness-fashion hybrid. How does Athleta embrace this?
What's really important is understanding that today's woman is living her life on the move. Her clothes need to feel great, look great and perform for her. So Athleta is at this intersection of offering premium performance wear for working out and also for her whole active lifestyle and her life on the go. Clothes have to be highly versatile, she doesn't have time to be living with a closet full of clothes that have one end use. The more versatile your clothes can be, the simpler your life can be. That's fundamentally important to what we call 'performance lifestyle' or what other people call 'athleisure.' Styling is just as important as the function, versatility and performance.
Athleta recently collaborated with Derek Lam. Tell me a little about the power of collaboration and a bit about this experience.
We were interested in doing something different and unique because I believe very strongly in this co-creation model. The power of collaboration is that you each bring your own strength, and together you create something new and different. That was what was really exciting when I met with Derek, and his head designer Liz, who ran the 10 Crosby collection, and we all really connected. They were very inspired by our technical fabrics and expertise and we learned a lot about their design approach; they really pushed us on some of the silhouettes. Together we created something that was very unique to the market, and that to me is what collaboration is all about. In whatever form it takes it's always about trying new things and learning from them.
Do you feel that collaboration fulfilled ultimately what you wanted to achieve?
Yes, it brought significant interest in terms of the coverage it got in the market. We're a growing brand, and building our brand awareness is very important. It brought new customers in and built an awareness of the brand that people might not have known about. It's very limited edition so it's special.
You took over as President of Athleta at a time when GAP sales were starting to slump. What motivated you to take the position and what were your goals?
I've always been interested in the activewear sector because I love lifestyle brands and I'm very passionate about the health and wellness space. I'm also passionate about helping people live better, fuller lives through a strong foundation of fitness and wellness. That is core to who I am. I live this lifestyle; I am very active, I practice yoga, I run, I ski, I hike, I paddle board, I've grown up that way all my life. What I loved about Athleta was that I knew the brand, and I had actually met the founder many years ago, and I thought, wow, this brand has potential, it could become something very big, it could evolve and transition to reach so many more women. We wanted to broaden the brand so that it would appeal to multi-generations of women. Mothers and daughters are sharing this active lifestyle. Women of all ages need the same kind of versatility in their clothes. Even if they're not wearing the exact same thing, they share common values and needs as part of this healthy active lifestyle. We realized there's a business opportunity to better serve this range of customers and we're on the forefront of this major lifestyle trend that is not only emerging, but building and growing. That was really fundamental to why I joined.

How is the cultural landscape changing for the modern day woman?
There is a whole new notion of feminism which is about taking control of your own life. That starts with being really healthy and taking care of your well-being, the physical, spiritual, and your mind. That is the foundation for being able to live a full and rich life, take on whatever life throws at us, and reach the potential we all have. And that is our mission at Athleta, to ignite a community of healthy, confident women who empower each other to realize their limitless potential. We understand this is about helping women reach their potential through a strong foundation of health and wellness, and if you have that, then you're open to new experiences, and that brings so much more to your life.
What do you feel is the biggest paradigm shift you've experienced when seeing something differently changed your life?
I think it was while I was living in LA when I got into yoga and saw this emergence of this health and wellness lifestyle. People were making such conscious choices in buying products that reflected that lifestyle. That's when it hit me over the head that this was more than just clothes to work out in, this was representing who they were as a person.
There was a shift from saying, "Look at me for this $1,000 handbag I'm carrying," to people now putting their health and wellness first. The clothes they were choosing to represent who they were as a person were eclipsing luxury brands and spending lots of money on things that might be more superficial. This was a true reflection of what was becoming more important to their inner being and being exposed through their outer being.
What advice do you wish you could've given to yourself when you were just starting out?
To me it's about protecting your vitality and energy and that starts with taking care of your physical and emotional well being very early in life. I was traveling like crazy when I started out in my career. I had four kids and volunteered a lot, and I didn't put myself first in those crazy years. I was a weekend fitness warrior and I wanted to do it all. I wish I had discovered yoga 35 years ago, as for me it's such a powerful practice. It helps me strengthen and balance my body and mind, while keeping me grounded in a very demanding career and active family life. There is so much that women take on in life, we want to have our careers, many of us want children, we want to volunteer; we tend to take on a lot. But I think to do it well, you also have to preserve your vitality and energy so that you can contribute for many many years and you don't burn out. I think you have to protect your health and wellness first, take care of others, and then take on the world.
What kind of legacy do you wish to leave behind?
What I've always been passionate about is helping people realize what they are capable of and reaching their full potential. I've always enjoyed mentoring people and helping them in their careers throughout my professional life as well as my volunteer and personal life. I think about my legacy as transforming from my mentoring others, to how we do this at Athleta on a much bigger scale. It then becomes our legacy, our whole team's legacy, in helping women feel confident and find their potential.
When speaking with Nancy, you realize that behind the major Athleta company there is a vivacious powerful woman who genuinely loves wellness. She wants to lift those around her and inspire the people who she touches with her products. Her work is aligned with her passion for life and it shows.
REAL LIFE. REAL NEWS. REAL VOICES.
Help us tell more of the stories that matter from voices that too often remain unheard.