Twenty years ago, the most memorable event in figure skating history -- a sordid '90s tale of violence, conspiracy, jealousy and sequined dresses -- began to unfold.
On the afternoon of Jan. 6, 1994, figure skater Nancy Kerrigan had just finished a practice session at Cobo Hall in Detroit, on the eve of the U.S. Figure Skating Championships. She had been crowned the 1993 women's figure skating champion after winning a bronze medal at the 1992 Winter Olympics. Women's Gold Medal winner Kristi Yamaguchi is kissed by teammate Nancy Kerrigan, right, at the Winter Olympics in Albertville, France, Feb. 22, 1992. (AP Photo/Marcy Nighswander)
The Massachusetts native came from a middle-class family headed by a father who sometimes worked three jobs to pay for her coaching. Figure skating fans raved about Kerrigan's graceful, almost regal, beauty and manner. Nancy Kerrigan performs during the women's free skating program Friday, Feb. 21, 1992, at the XVI Winter Olympic Games. (AP Photo/Lionel Cironneau)
But she turned in a troubling performance during the 1993 World Figure Skating Championships, ultimately placing fifth. Later that year, at an important pro-am exhibition, Kerrigan fell three times.
"She's not very comfortable being in her new role as the favorite, because she's really naturally very shy," the commentator said. Some wondered whether Nancy could handle the pressure.
She began seeing a sports psychologist and upped her training. The U.S. Figure Skating Championships were going to be Nancy Kerrigan's comeback. She was just 24.
One of Kerrigan's biggest rivals was a rough-and-tumble Oregon skater named Tonya Harding, who had been on the squad with Kerrigan and Kristi Yamaguchi at the Olympics. The 1992 U.S. Olympic Skating Team. From left are Tonya Harding, Nancy Kerrigan and Kristi Yamaguchi. (AP Photo/Phil Sandlin)
A high school dropout, Harding married a man named Jeff Gillooly in 1990, at age 19. They would divorce in 1993. Despite her chaotic home life, Harding had established herself an international force to be reckoned with in 1991, when she set numerous records, including being the first woman ever to land a triple axel jump during the short program. Harding acknowledged the crowd as she came out of her successful triple axel on her way to winning the U.S. Figure Skating Championships on Feb. 16, 1991, in Minneapolis. (AP Photo/Jim Mone)
But Harding was also known in the figure skating world for being something of a problem child. She was late to several competitions. Once, her dress came undone during a championship skate, forcing her to stop her routine. Harding was known for being difficult with coaches and smoked cigarettes even as her struggles with asthma directed sympathetic media attention her way. An undated photo of U.S. figure skater Tonya Harding. (AP Photo)
The battle between Harding and Kerrigan in Detroit at the U.S. Figure Skating Championships in 1994 would be a matchup of raw power vs. refined elegance. Tonya Harding and Nancy Kerrigan pose during U.S. Figure Skating Championships at Joe Louis arena in Detroit. (AP Photo/Merline Summers)
That January afternoon, Kerrigan stepped off the rink at Cobo Hall after finishing practice. She placed guards on her skates and walked through the blue curtains toward the exit and locker rooms. Kerrigan turned when she heard a man running behind her, she said. It happened so fast she couldn't identify him, but she saw him swing what she thought was a crowbar or billy club at her knee.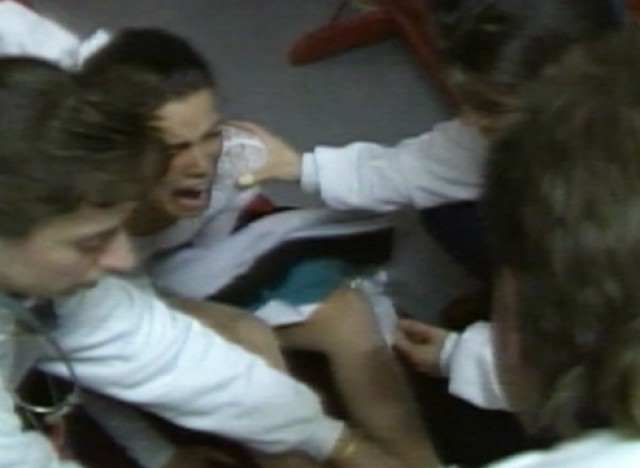 Nancy Kerrigan after the attack. Screengrab via ABC News.
After hitting Kerrigan, who collapsed to the ground, the man took off. Nancy's father, Dan Kerrigan, picked her up and carried her out of the arena.
The assailant struck her thigh, inches away from shattering the knee she used to land her jumps -- and, likely, her professional skating career. "I'm okay," she said at a press conference the next day. "I'm pretty upset and angry that someone would do this." Nancy Kerrigan describes how she was attacked by an unknown assailant during a news conference Friday, Jan. 7, 1994. (AP Photo/Lennox McLendon)
The attack made headlines across America.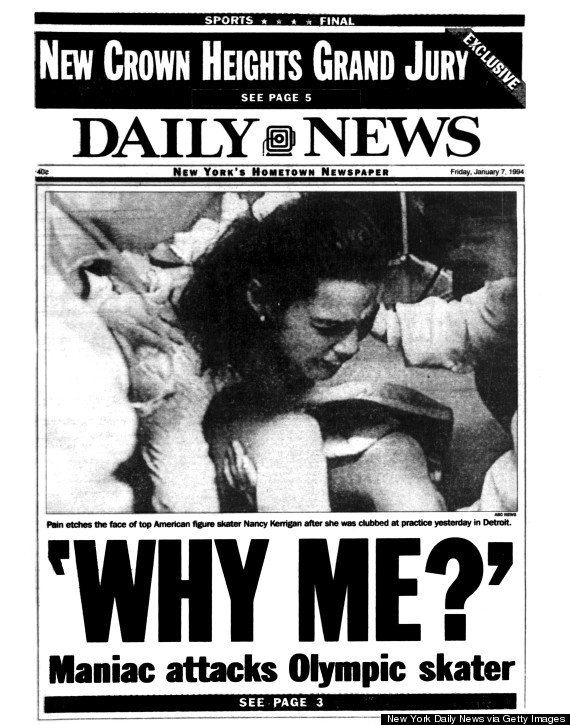 New York Daily News front page dated Jan. 7, 1994. (Photo By: NY Daily News via Getty Images)
The day after the attack, a woman called then-Detroit Police Chief Benny Napoleon to report she had heard a recording of four men discussing a plot to injure Nancy Kerrigan. The tipster provided the police with names: Gillooly, whom Harding had been seeing again since the divorce, bodyguard Shawn Eckardt, getaway driver and conspirator Derrick Smith and Shane Stant. Jeff Gillooly, center, ex-husband of figure skater Tonya Harding, enters FBI headquarters with his attorney on Jan. 27, 1994, in Portland, Ore. (AP Photo/Shane Young)
On Jan. 20, 1994, Harding's bodyguard told The Oregonian newspaper that Harding had known about the plot to take out Kerrigan. Authorities pinpointed Stant as having used the black, 21-inch retractable ASP tactical baton he had purchased to assault Kerrigan.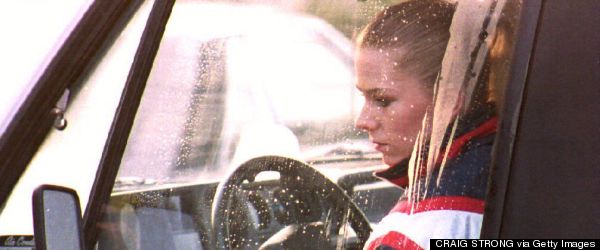 U.S. figure skater Tonya Harding leaves the apartment of her father, Al Harding, Jan. 20, 1994. (Photo credit: Craig Strong/AFP/Getty Images)
On Feb. 1, 1994, Gillooly accepted a plea bargain in exchange for his testimony against Harding. All four men were sentenced to prison.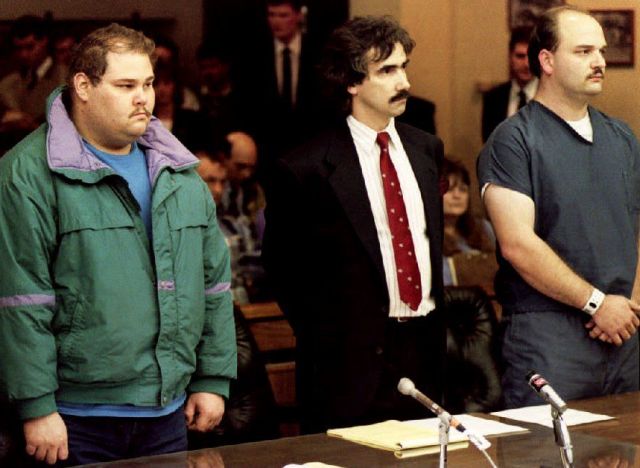 Shawn Eric Eckardt (L), bodyguard of figure skater Tonya Harding, and fellow defendant Derrick Smith (R) are joined by Smith's attorney Robert Goffredi Jan. 14, 1994 during their arraignment on charges of conspiracy to commit assault in the attack on skater Nancy Kerrigan. (CHRIS WILKINS/AFP/Getty Images)
Meanwhile, although Kerrigan had been sidelined from competing in the U.S. Championships to earn a spot in the 1994 Winter Olympics, her rivals agreed she deserved the chance to skate in Lillehammer, Norway. Michelle Kwan, who had placed second, was sidelined so Kerrigan could join Harding to compete for the United States.
It was remarkably awkward.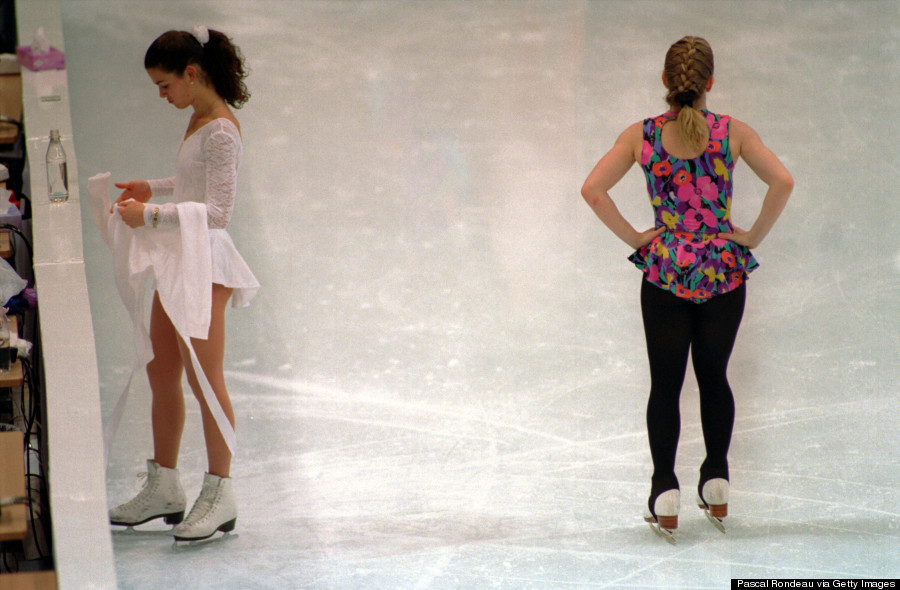 Nancy Kerrigan and Tonya Harding of the United States pass each other without notice during a practice session on Feb. 17, 1994, at the 1994 Lillehammer Winter Olympics. (Pascal Rondeau/ALLSPORT)
When it came time for the two women to compete, Kerrigan skated two of the arguably finest performances of her entire career, seven weeks after the hit that nearly derailed everything.
She barely lost to Ukrainian skating sensation Oksana Baiul, winning the silver medal. Medalists in ladies figure skating smile after receiving their medals Friday, Feb. 25, 1994, in Hamar, Norway. From left, Chen Lu of China, Oksana Baiul of Ukraine and American Nancy Kerrigan. (AP Photo/Denis Paquin)
During Harding's free skate, she stopped and restarted her performance several times. The crisis this competition? A broken skate lace that brought her to tears on the ice. She ultimately finished eighth. USA's Tonya Harding of Portland, Ore., shows her skate to the judges after interrupting her free skating program at the Winter Olympics in Hamar, Norway on Feb. 25, 1994. (AP Photo/Jack Smith)
Harding pleaded to conspiring to hinder prosecution of Kerrigan's attackers on March 21, 1994. She received three years probation, 500 hours of community service and a $160,000 fine, but no jail time. Later that year, the United States Figure Skating Association stripped her of her '94 championship title. Part of her plea bargain also banned her from the United States Figure Skating Association for life, either as a skater or a coach.
Among other pursuits, Harding later took up boxing.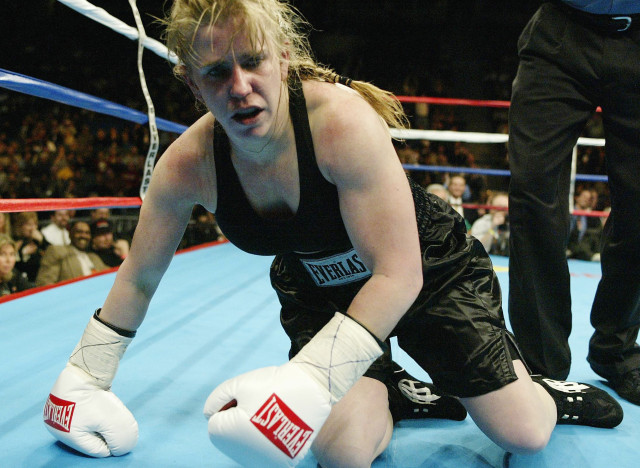 Tonya Harding falls to the floor during her fight with Samantha Browning in a second round during their women's bantamweight bout at The Pyramid on Feb. 22, 2003, in Memphis, Tenn. Browning won the fight by way of decision after 4 rounds. (Photo by Al Bello/Getty Images)
CORRECTION: An earlier version of this story said Tonya Harding pleaded to conspiring to hinder the prosecution of Nancy Kerrigan's attackers on March 21, 1984. The hearing occurred in 1994.
Popular in the Community