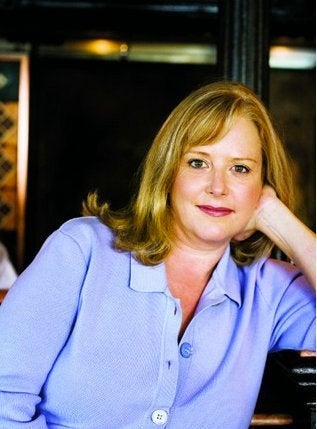 Who: Nancy Oakes, iconic San Francisco chef and founder of Boulevard, last week's winner of the James Beard Award for Outstanding Restaurant (the Oscar for food).
Neighborhood: Lives in Berkeley; works in SoMa.
Current Gig: As trends have changed and restaurants have come and gone, Oakes has kept the seats filled at Boulevard for 19 years. And as evidenced by last week's award, it's only getting better. Frank and no-nonsense, Oakes still has her finger firmly on the pulse.
Oakes sat down with The Huffington Post to talk about the evolution of San Francisco dining, upcoming chefs to watch and how to run an outstanding restaurant for two decades.
Tell me about the night that Boulevard won the Outstanding Restaurant Award. It was incredible and unexpected. I was doing the food for the James Beard Award reception so I was in the kitchen while the awards were being announced. Someone mentioned that Outstanding Restaurant was coming up so I snuck out and stood in the back. And then they called our name. It hasn't really sunk in yet. But I'm beginning to realize the significance of winning that award instead of just being nominated.
Boulevard has been nominated many times before. Why do you think this was the year? The James Beard is a New York event, so I think it has a lot to do with who makes it to the finals. A number of years we've been up against French Laundry and Jean-Georges--restaurants that are internationally known and are part of larger restaurant groups. I think Boulevard is known throughout California, but we're a small, single restaurant operation.
Do you think this award signifies that James Beard is now looking West? No, I don't. But New York restaurants have really taken a look west in a way that they haven't done before, especially in regards to vegetables and produce. Jean-Georges' ABC Kitchen is a great example.
If James Beard is a New York event, is there a California event? James Beard really is the restaurant and chef award ceremony for the United States. But one event that is coming up in a really interesting way is the Good Food Awards. It's a food and product-focused event, not so much a chef-focused one, but it's a great one nonetheless. It's exciting to see producers from the Midwest getting recognition as well since they make so many incredible products.
Boulevard has been successful for almost 20 years. Do you have a formula for long-term success? I think the continuous focus on one restaurant has very much contributed to our success. I did open Prospect and I'll run over there, but Boulevard is where you will find me every day. We also have a very loyal team. The butcher has been with me since before we opened Boulevard, as have several others, and that helps tremendously. I think when people talk about Boulevard they often mention consistency. These people who have been with me for years, they're the ones making it consistent; they're carrying the message forward every day.
How has Boulevard evolved over the years? When we started out, we were a neighborhood restaurant. Now we've transitioned into more of a destination, and things have become more complex. Italian food has really conquered the world, but it has carried the same message for years. As an American restaurant, we have more elasticity to try new things. That allows me to do something Japanese, for instance, and still approach it with reverence.
How has the San Francisco dining scene changed over the years? It's become very Italian. It was very formal Continental with restaurants like Ernie's and Doro's. And then came Stars; it was a firecracker. With Stars and Chez Panisse we saw that you could still have interesting food without the formal atmosphere, and ingredients became as important as technique. Then there was a period where you had ingredients but no technique, the "figs on a plate," if you will. But when you're committed entirely to the ingredients, it can be very limiting. Now you are seeing restaurants using both the ingredients and technique; restaurants like Commonwealth, AQ and Saison, where chefs are using organic cream and freezing it with nitrogen. They are taking culinary risks and doing something really interesting.
Do you think the ingredient-focused style is over? No, I don't think that's going anywhere--the salumi, the simple meat and produce--I think that's here to stay. But I'm very thankful that there is a place for that style. Everyone feels like you need to choose sides, ingredient-driven or technique-driven, and I don't know why that is. You don't need to take a pledge of allegiance.
So you are relieved that these styles have been able to coexist? Oh yeah! You have choices now, which creates a much richer dining landscape. Do you want to take Aunt Maven and Uncle Harry to Saison when they're in town? Thank god you have choices. But when you want to be challenged and amazed you go to Saison or Coi. You don't always go out to eat because you are hungry; people are curious about food. That's the evolution, really.
Which rising star chefs are you watching? I love Jason Fox over at Commonwealth. What Danny Bowein did at Mission Chinese was really interesting in his own way. He's such a piece of Americana: born in another country, raised here, and then finding his Chineseness but Americanizing it. It's amazing. Emmanuel Eng over at Maverick is another. And Dana [Younkin], my chef here at Boulevard. She constantly pulls us in a more modern and interesting direction. I also really like the chef cooking at Haven: Kim Alter.
What do you do in the city besides cooking and eating out? I have a good friend who gets me out to museums; that's my other passion. I went to school for art and she's making me reconnect with that, which I appreciate. I think a trip to the Legion of Honor and dinner at Aziza is the perfect day.
What are your thoughts on the upcoming foie gras ban? Oooh god. I think foie gras got picked on because it's an easy target. And an outright ban probably isn't a very good idea. If you really want to educate people, that has to become your focus--not legislation. When there's no demand for foie gras, there will be no more foie gras. I feel particularly bad for the Gonzalez family [owners of Sonoma-Artisan Foie Gras, the only foie gras producer in California]. That family said, "fine, keep us to higher standards than anyone else in the market," and it still wasn't good enough for John Burton and his PETA girlfriend. Everyone in California is saying, "support your local farmers," and now we've just kicked them out. They are a good family that really tried to excel by following the rules. That's my greatest sorrow about this situation.
Try Nancy Oakes's warm weather recipe for Buratta with shaved vegetable salad below. Then, check out photos from this year's James Beard Awards in our slideshow:
Buratta with shaved vegetable salad
Serves 4
2burratta
1head of fennel
2stalks celery, plus 1 cup inner yellow leaves
2heads Belgian Endive
1lemon, juiced
2 T.green Tuscan style extra virgin olive oil
black pepper, toasted
Sea salt
On a Japanese style mandolin, shave the vegetables and place them in a large bowl. Dress with the lemon juice, olive oil, salt and pepper. Arrange the salad decoratively on four plates. Just before serving, cut the buratta into large wedges and place on the salad. Drizzle with more of the olive oil and coarsely ground black pepper, serve immediately.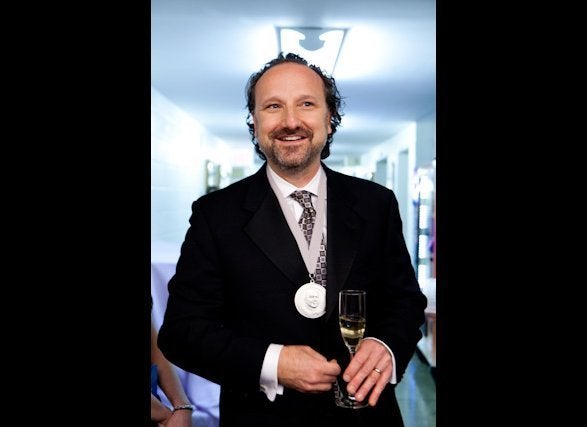 James Beard Awards 2012
Support HuffPost
The Stakes Have Never Been Higher
Related
Popular in the Community