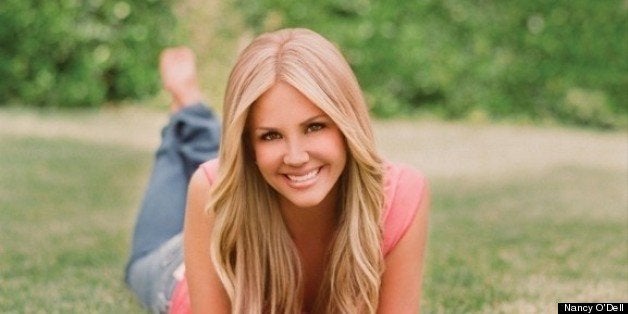 "Hollywood Unplugged," a new series on HuffPost Entertainment, shows our culture's most influential figures in a new light. Instead of focusing on their accomplishments, it examines how they continue to thrive despite the inevitable stress.
Nancy O'Dell may seem cool, calm and collected when she's behind the desk on "Entertainment Tonight," but that doesn't mean she's completely stress-free when the cameras stop rolling. The busy working mom, who co-anchors the long-running entertainment news program, let HuffPost in on some of her stress-relief routines and revealed which Hollywood star's work/life balance she envies for "Hollywood Unplugged."
The Huffington Post: How do you know when it's time to unplug and recharge?
Nancy O'Dell: I'm not really an up-and-down person as far as moods. It takes quite a bit to get me upset or angry, so when I start feeling annoyed at the tiny things, I know it is time to unplug and recharge!

What's the first thing you reach for when you need to decompress?
My husband! He gives the best massages.

If you had to pin an inspirational saying to the wall, what would it say?
The Serenity Prayer. It's already hanging on my wall, just as it was hanging in my bedroom when I was a little girl. My mother gave it to me and she used to always quote it to me. I refer to it often and I always find peace from it. "God grant me the serenity to accept the things I cannot change; courage to change the things I can; and wisdom to know the difference."

Whose ability to balance work and life do you envy?
Jamie Foxx. I was at his house not long ago and noticed just that -- how he seems to manage it all so beautifully. He spends a lot of time with his family, his children, and the charities he supports, all while managing to have a crazy huge music career, acting career and producing career. Plus he has time for his friends, throwing great parties! He stays in incredible shape and he's just about the nicest guy in Hollywood to boot!

Where do you go when you need a change of scenery?
I have three things I always do when I want to decompress: Go for a run in my neighborhood, take a long bath, or grab a magazine, turn on the music, and go out by our pool. It's a serene setting and I love the outdoors.

What do you do when anxiety is keeping you up at night?
Get a foot rub from my husband…is it obvious I like massages?

What's your secret to staying serene on the road?
I'm going to take this one really literally! I have truly been working at staying serene on the road as I am teaching my stepson how to drive! He just got his permit, so we have been spending time in the car together and it's a little nerve-wracking riding with a new driver! I'm now in love with the website DriveItHome.org, which was launched by The National Safety Council with help from The Allstate Foundation, as it is providing me with a lot of comfort. They have a ton of resources on there and the tips given to help parents keep their teens safer on the road are great!
What song, TV show, book or work of art lowers your blood pressure?
Any kind of Spanish guitar music.

What advice would you give your stressed-out self?
"This too shall pass..." and "Don't create the boogeyman in your head!"

PHOTO GALLERY
Celebrity News & Photos
Calling all HuffPost superfans!
Sign up for membership to become a founding member and help shape HuffPost's next chapter
BEFORE YOU GO