WASHINGTON -- House Minority Leader Nancy Pelosi (D-Calif.) announced Wednesday to her caucus that she's staying on as the top Democrat in the House, ending weeks of intense speculation about whether she might bow out, a Democratic source confirmed to The Huffington Post.
The source also confirmed that Rep. Steve Israel (D-N.Y.) will remain as chair of the Democratic Congressional Campaign Committee.
Pelosi's decision, which she kept so quiet about that even her Democratic colleagues and staff didn't know until the last minute, means that the current line-up of House Democratic leaders will largely stay intact in the next Congress.
She formally made her announcement later Wednesday morning at a press conference surrounded by dozens of House Democratic women, whom she made the focus of much of her remarks.
"If we want our economy to flourish and grow, we must lift up women in our economy," Pelosi said. "Women in the academic world, women in health care. Any subject you can name is more wholesome, more successful, more efficient with the involvement of women."
Pointing to that cause, and the need to do more to lift up the middle class, Pelosi said, "I have made a decision to submit my name to my colleagues to once again serve as the House Democratic leader."
Pelosi has kept observers on edge for months. In addition to not giving any details on her future plans, she recently pushed back the date of House Democratic leadership elections for no apparent reason by two weeks, to the end of November -- a move that some read as a sign that she was giving herself more time to make a decision on her future. In addition, Pelosi, now 72, made a big production over the last year about hitting 25 years in Congress, to the point where it seemed she may have been trying to cement her legacy before making a departure on a nice round number.
But Pelosi has never been predictable. She defied conventional wisdom in 2010 when, as House Democrats became the minority again and she lost her post as speaker, she stayed on as minority leader. And there are plenty of people in the party who want her to stick around, in part because of her fundraising prowess: since she first entered leadership in 2002, she has raised $328 million for House Democrats. In this election cycle alone, she raised $85.1 million and hit 692 events.
It sounded like Pelosi may not have even known herself what she wanted to do. She acknowledged Wednesday that her decision to stay in leadership is "an enormous time commitment," and said her brother was urging her not to do it.
Asked when she finally made up her mind, Pelosi said, "Probably, finally, yesterday."
Pelosi's move means that House Minority Whip Steny Hoyer (Md.) and Assistant to the Leader James Clyburn (S.C.) will likely stay in their posts. House Democratic Caucus Chairman John Larson (Conn.) is term-limited in his position, so Rep. Xavier Becerra (Calif.) will be moving up and taking over. Other Democrats are welcome to challenge any of them for the top slots, but current leaders presumably already have the votes locked in.
That means the only real drama in House Democratic leadership is over who will take over as the caucus vice chair.
According to top Democratic officials on Capitol Hill, Reps. Joe Crowley (N.Y.), Barbara Lee (Calif.) and Jared Polis (Colo.) have each thrown their hat into the ring.
The vice chair's responsibilities are relatively minor. He or she is there to listen to members' concerns and relay them up the flagpole. The vice chair also picks out lunches for caucus meetings. But it is a spot at the table, with the potential for an even bigger role to shape the party's direction.
This year's fight will pit Crowley, the leader of the moderate New Democrat Coalition, against Lee, a vocal member of the Congressional Progressive Caucus. Polis -- considered more of a longshot -- is a member of both caucuses.
So far, Crowley appears to be the frontrunner. He ran unsuccessfully for the vice chair position in 2006 and has essentially been gunning for it ever since. Since he began campaigning for his 2012 congressional run in March, he has been meeting with current and new members, aggressively fundraising and helping House Democratic candidates on the campaign trail. He donated more than $240,000 to the DCCC in the 2012 cycle, putting him in the top 15 contributors to the committee.
Lee, more so than Crowley, comes with a built-in constituency: the Congressional Black Caucus, which had 42 members before the election. The CBC is expected to put its full support behind Lee, as is much of the Congressional Progressive Caucus. Progressive bloggers have also already begun pushing for Lee to get the job.
While Crowley is considered a member of Hoyer's circle, one of the co-chairs of his campaign for vice chair is Rep. Anna Eshoo (D-Calif.), a top lieutenant to Pelosi. Lee's co-chairs are Reps. Jan Schakowsky (D-Ill.) and G.K. Butterfield (D-N.C.).
Before You Go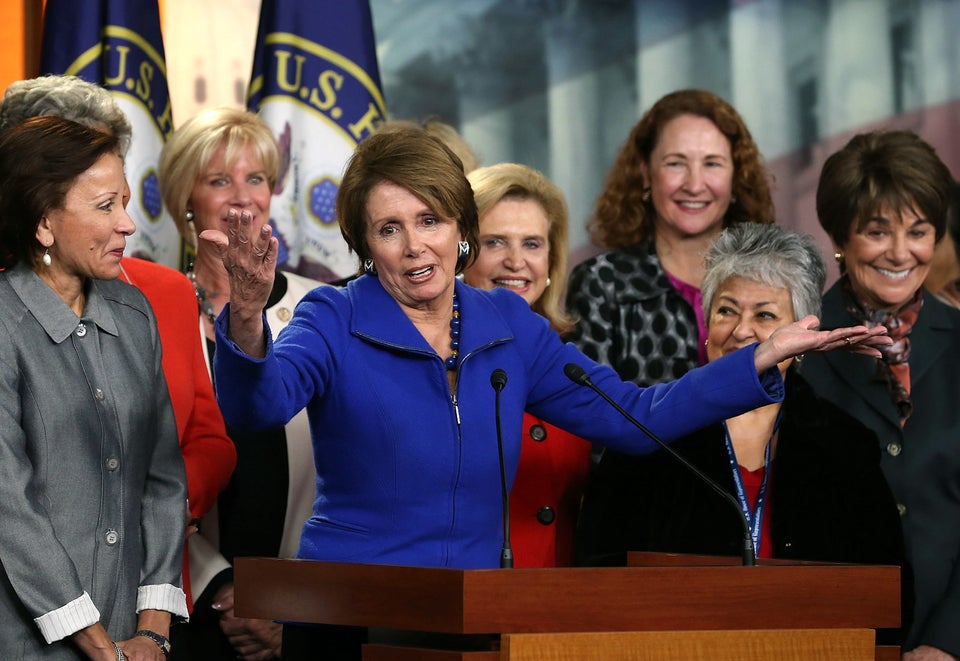 Nancy Pelosi To Stay As House Minority Leader
Popular in the Community