WASHINGTON -- With a House committee conducting the latest of many hearings on U.S. security failures in Libya, House Minority Leader Nancy Pelosi (D-Calif.) said Thursday that it all amounted to a "subterfuge" called "Benghazi, Benghazi, Benghazi."
"What I will say is, again, diversion, subterfuge," Pelosi declared when asked at her weekly news conference about the emergence this week of emails related to the deadly attacks against a U.S. compound on Sept. 11, 2012. "Benghazi, Benghazi, Benghazi. Why aren't we talking about something else?"
Pelosi said that the numerous Benghazi hearings, the attempts by Republicans to hold a former Internal Revenue Service official in contempt, and other items on the House GOP agenda were all meant to deflect attention from what she said was the Republicans' poor record on jobs and helping the middle class.
"Everything you see here, whether it's this tax package, whether it's the contempt that will be on the floor next week ... it's all subterfuge," Pelosi said. "The American people want to know who is going to create jobs, who is going to create growth in our country. And everything [else] is a diversion."
In the case of Benghazi, the newly released emails provide some fresh details about how the White House tried to shape its talking points soon after the attack, although the points themselves were all expressed in public at the time.
The emails were only made public as part of a Freedom of Information Act request by a conservative watchdog group, however, and were not released in response to a subpoena issued by Congress, which had revealed other details about the talking points. Republicans argued that proved the White House was trying to obstruct Congress.
But Pelosi contended that nothing new had been revealed and that there was no obstruction because House Oversight Committee Chairman Darrell Issa (R-Calif.) hadn't asked for those communications.
"The scope of the subpoena that whatever his name is, Issa, was putting forth did not include that email," Pelosi said.
Thursday's hearing before the House Oversight Committee featured retired Air Force Brig. Gen. Robert Lovell, who was the deputy commander in charge of intelligence in Libya and surrounding areas at the time of the Benghazi attack. His testimony managed to highlight how quickly a failure that left four Americans dead was turned into a political fight.
Lovell testified that the U.S. needs to do a better job coordinating its goals and forces so that in the future the military would be able to respond to similar situations more rapidly. He took issue with some of the State Department's priorities during the crisis, such as its apparent concern that armed, uniformed U.S. forces descending upon an unstable scene in a foreign country could worsen the situation.
But he also agreed with a report issued earlier this year by the House Armed Services Committee that concluded the military had done all it could to respond that day.
"What I'm looking at is the future, and how we choose to respond in the future really needs to be along the lines of the military feeling empowered to take action under the authorities that it has, so that we can move forward and do that when the capabilities exist," Lovell told Rep. Gerry Connolly (D-Va.), who wanted to know if Lovell disagreed with the report.
"Do you take issue with the chairman of the Armed Services Committee in that conclusion, his conclusion that [the military] couldn't have done much more than they did with the capability and the way they executed it?" Connolly asked.
"That's a fact," said Lovell.
"I'm sure you can appreciate, General, there might be some who for various reasons would like to distort your testimony and suggest that you're testifying that we coulda, shoulda done a lot more than we did because we had capabilities we simply didn't utilize. That is not your testimony," Connolly said.
"That is not my testimony," Lovell said.
Nevertheless, Republican committee members didn't focus on the parts of Lovell's testimony that agreed officials tried to intervene in the unfolding tragedy. They zeroed in on the parts that showed the White House trying to control the political fallout afterward.
For instance, Lovell confirmed that military intelligence officials said from very early on that the Benghazi attack was almost certainly terrorism, not a protest sparked by an anti-Islamic YouTube video that had been linked to other outbursts in the Middle East. The White House said for days afterward that the Benghazi attack was related to the video, including in those talking points in the newly released emails.
Lovell seemed to agree with some GOP lawmakers who suggested that the State Department's concerns may have slowed the U.S. response, but he also noted that it is the military's job to work in coordination with civilian and diplomatic officials to make sure broader goals are met. He also insisted that his main point was to improve future responses.
"There is more that we should be able to do," Lovell said of the military.
Soon after the hearing, House Speaker John Boehner (R-Ohio) waded into the dustup over the emails, saying that their release through a FOIA request showed that the White House is stonewalling.
"Someone needs to answer why this administration hid these documents -– and tell the American people what else is being concealed. The House used its subpoena power to obtain documents, including emails, last year, but these emails didn't show up until now, after a court ordered their release to an outside watchdog group," Boehner said. "This defiance of the House's subpoena power is the most flagrant example yet of the administration's contempt for the American people's right to know the truth about what happened when four Americans died in a fiery terrorist attack."
Boehner suggested that Secretary of State John Kerry, who was a senator at the time of the Benghazi attack, should be made to testify.
"If the White House won't explain it, Secretary Kerry should come to the Capitol to explain why he defied an official congressional subpoena," Boehner said. "And the White House needs to understand that this investigation will not end until the entire truth is revealed, and justice and accountability are served."
Michael McAuliff covers Congress and politics for The Huffington Post. Talk to him on Facebook.
Before You Go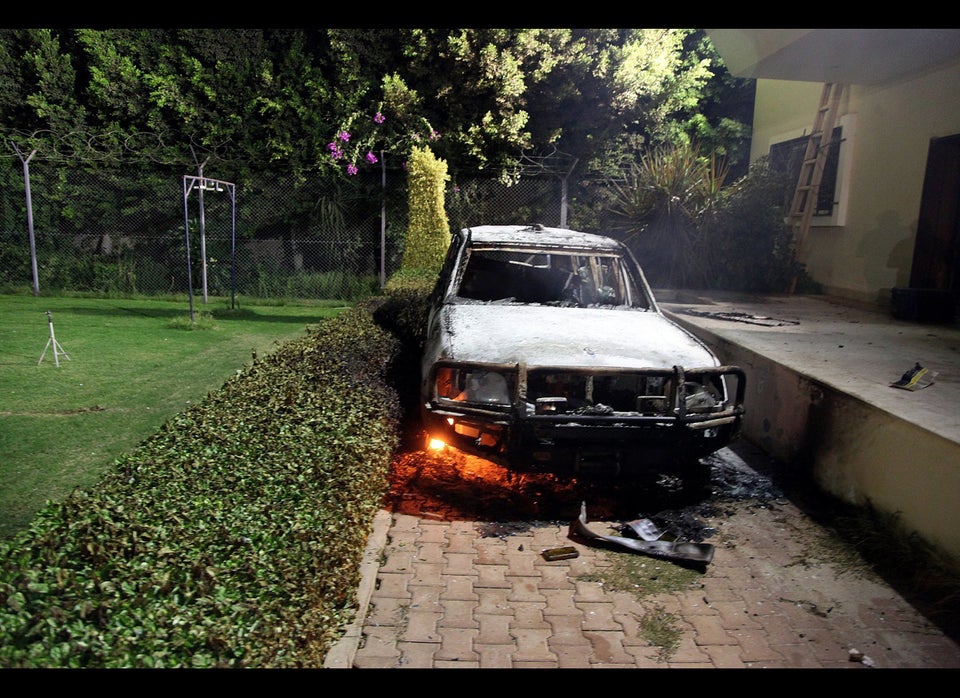 Attack On U.S. Compound In Benghazi
Popular in the Community